ARIDO would like to celebrate the class of 2021 from Ontario ARIDO-recognized schools and ensure their work is appreciated. ARIDO has worked with these schools to promote a selection of 4th year BID student work on BLOG//ARIDO and will be posting the work each Wednesday during the coming weeks.
Lauren Cully
This female sexual health pavilion – a proposed addition to Expo 2020 – aims to make women's health an equal and visible part of human health education. By initiating the experience with a question – asking visitors to share their thoughts and questions related to the topic and visualizing those words embedded in the architecture, the structure forces the user to interact on a mental and physical level. The pavilion will have a staying power that inspires the viewer to reason, evaluate, reflect and take affirmative and assertive action in sharing their experiences while supporting the education of others in female sexual health.
Anastasiya Nesterenko
This project proposed the change of use of an existing church, located in the city of Barrie, into an innovative small-scale airport, connecting the past to the present and finding new ways to encourage community involvement and provide travel convenience, thus enhancing the social and cultural opportunities.

The requirements of the project were to develop a primary (Small Scale Airport facility – mixed occupancy), sub (Paramedic station – D occupancy) and secondary (Veteran's Affairs office – E occupancy) occupancies within an already existing building. A complex functional program was developed to include an appropriate change of use, as per the Ontario Building Code. The primary and sub occupancies were fully developed through a construction drawing process; the secondary occupancy was realized through written and verbal communication only and remained undeveloped. Total area of the proposed project was just over 4000 m2.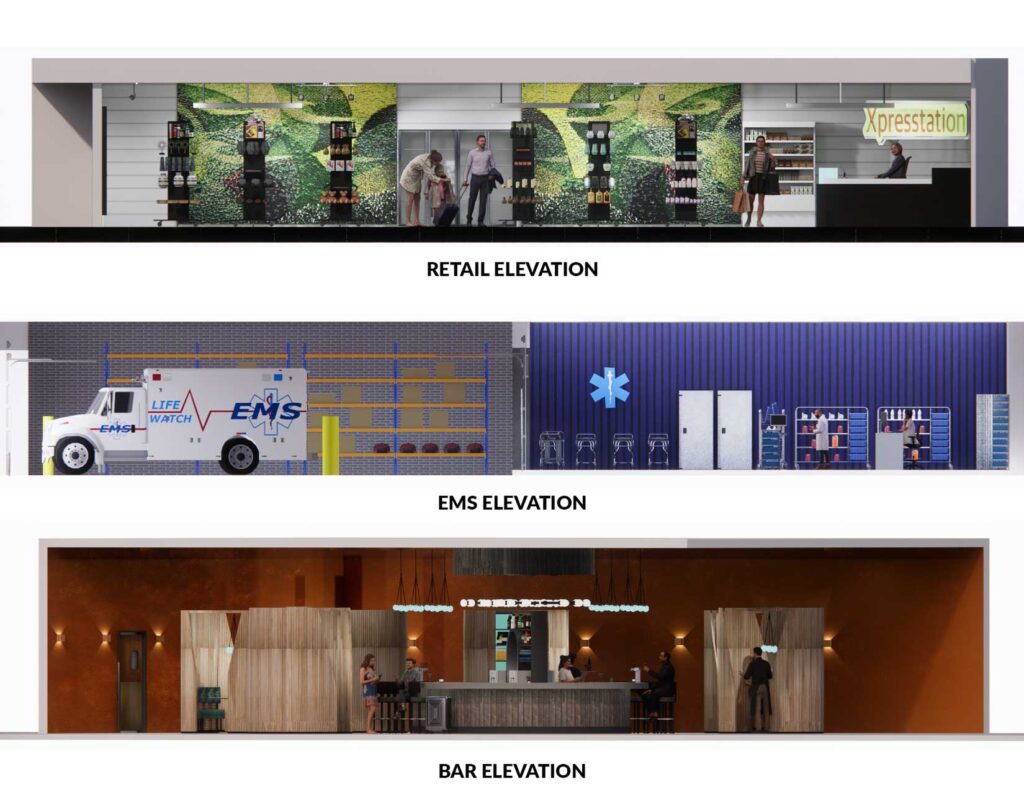 The overall design approach was to bring positive, measurable change to both the communities in which airport will operate and to the facility itself, by encouraging community involvement through the presence of a Veteran's Affairs support office, the use of materials native to the Simcoe region and sourcing local artists for pieces to be displayed throughout the facility.
Wilfreda Eisses
This project consisted of research and design of a pavilion concept for Expo 2020 Dubai with a theme to connect minds, build partnerships, and inspire ideas towards the world of tomorrow through knowledge and action. The objective was to design a pavilion that emulates and communicates a global issue in such a way as to inspire the viewer to reason, evaluate, reflect, and take action.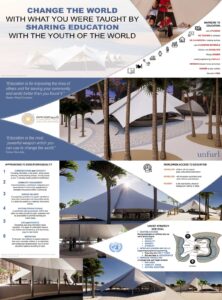 Essential considerations included an access focus incorporating circulation, movement, and exit, a relationship between form, content and message, use of universal symbols to ensure understanding and inspire action, and a design impact with a psychological connection for the participant. Inspired by the Bedouin tent; representing shelter, portability, preparedness for the future and hospitality, the connection to the selected issue of Access to Education is indicated through a raised tent flap becoming a door to possibilities and a future of increased potential for a student and their country.
The pavilion concept incorporated shade from the desert sun, cooling pools of water surrounding the exterior forming a circulation path, projected presentations and images on the interior panels, and touch screen stations around the perimeter.
Bettina Scalone
As an interior design student, I hope to positively influence people's daily lives, offering them attractive, enjoyable, safe, and healthy interiors. Promoting positive experiences and efficiently meeting people's needs are the starting point for designing the developed projects.
The objective was to develop advanced space planning skills and design resolutions applicable to various dwelling types within mixed-use, multiple-level, high rise complexes and create and present deliverables to promote and market real estate.
For the project development, several skills were asked, such as: Investigate the proposed future of residential environments in high-rise structures and incorporate possible design options relevant to a built environment that supports high-density life.
Apply the creative process to the spatial development of interior dwellings. Relate perceptual differences in economic, gender and age parameters with innovative design approaches. Investigate emerging products and materiality to accommodate future design directions relevant to residential units.