A stunning mosaic is the crown jewel of this luxe eatery
Tucked between the side streets of Toronto's chic and glamorous Yorkville, lies the fine dining restaurant Enigma.
The modest exterior located on a cozy residential street belies the 1800 square foot jewel box space and a peek through the windows will whet your palette for a luxurious dining experience.
Our scope involved design concept development, design management and permit application, programming, detailed working drawing, and project coordination.
The space welcomes diners with a bespoke wine display, designed to highlight each vintage in a curving bronze display. The next flourish is the exquisite mosaic tile ceiling. Majestic black, gold, and red floral patterns flow along the walls and ceiling, highlighted by gold trim and light pendants reminiscent of dew drops.
An elongated bar counter exposes the open kitchen and bar where the chefs, baristas, and bartenders make their magic in front of a backdrop of black herringbone tiles, and a golden liquor display. Plush blue leather seats provide a shot of textured colour throughout the space.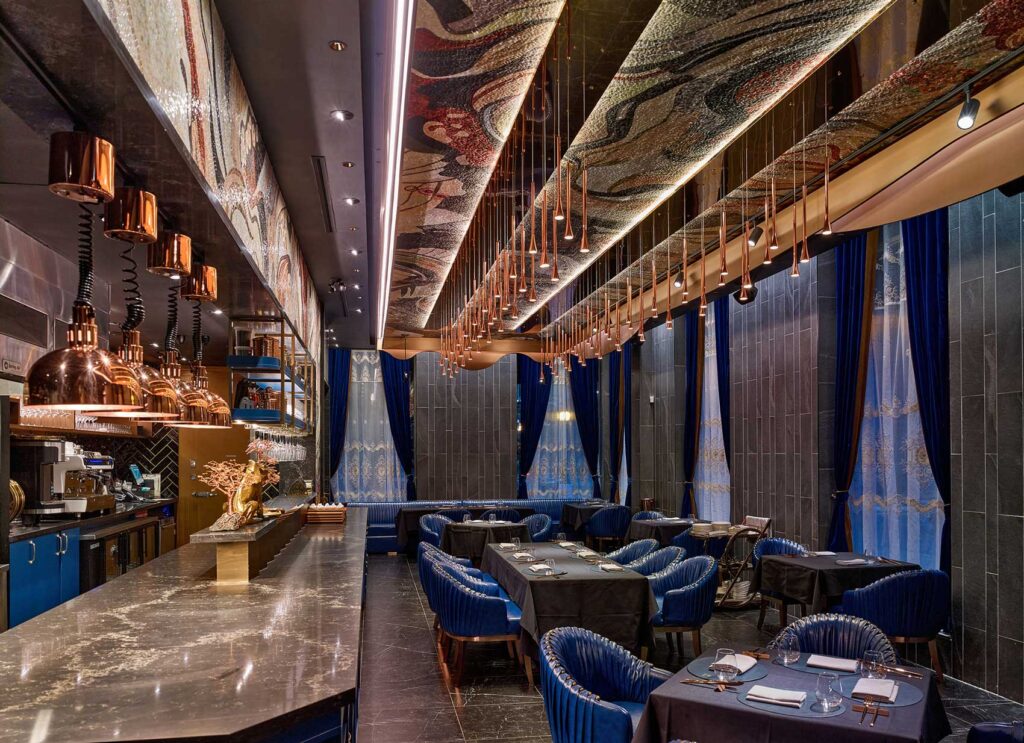 Black quartz on top of blue cabinets create a luxe worktop for the open kitchen and repeat the sleek cobalt colour. Open shelves provide quick access to staff for glassware and decanters and reflect the twinkling atmosphere of the space.
The bar is held up by pleated bronze metal panels echoing the copper and bronze tones used to frame the wine display.
The wide black floor tiles ground the space, providing a respite for the eye from the energy and movement elsewhere, they're also echoed in the herringbone tiles on the far kitchen wall. Slim cut black tiles flow up the walls of the restaurant and provide an understated counterpoint to the incredible mosaic. Lush velvet curtains frame the windows and draw the eye upward to the mosaic overhead.
Stepping into this intimate, luxurious space sets the tone for an amazing restaurant experience.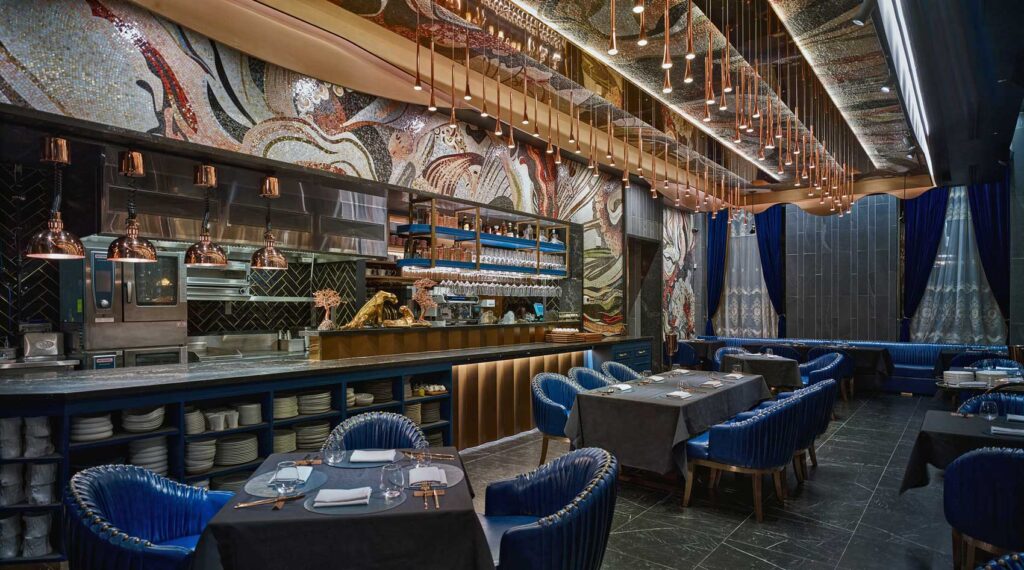 Related