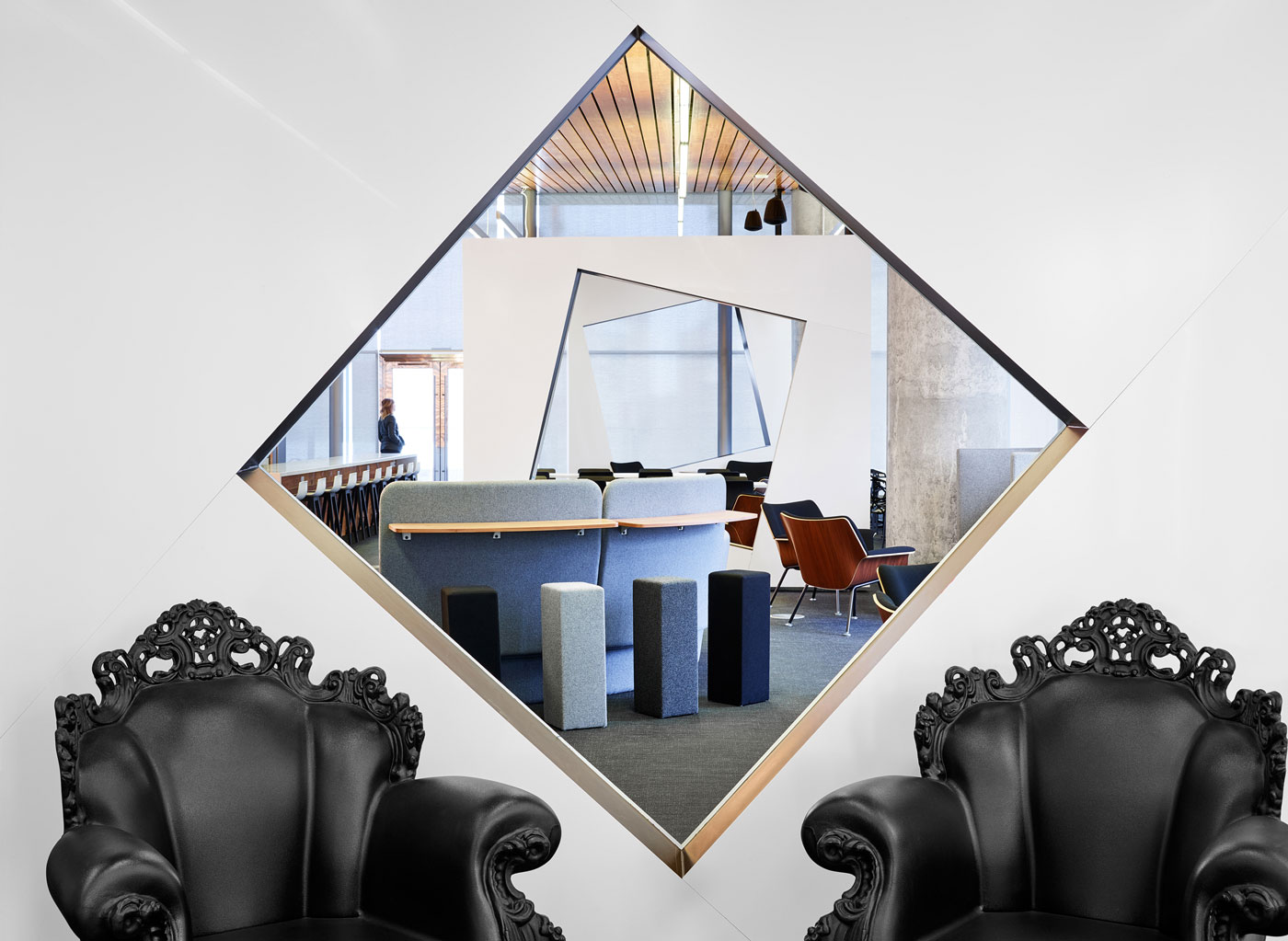 Entertainment company works from show stopping office
Entertainment One is a Canadian-based, global leader in the film, television, and music industry. Their ongoing business growth and strategic acquisitions had left their operations spread across Toronto in five different locations, and they were searching for an office space that would unite the 450 (and growing) staff into a new world headquarters and support the integration of an incredibly diverse group of creative staff.
Interior Designer: Greg Quinn, ARIDO
Design Team: Yuritza Rodriguez, ARIDO; Andrea Niklas, ARIDO
Design Firm: X-Design
Project Photographer: Steve Tsai
They selected a 100,000 square foot space in a brand-new office tower at the corner of Peter Street and Richmond Street West in Toronto, and engaged the design team to provide a brighter and more flexible experience to the staff. Staff can work independently or gather in different types of settings; from casual café meeting areas, to private meeting booths, to full meeting rooms equipped with the latest technology.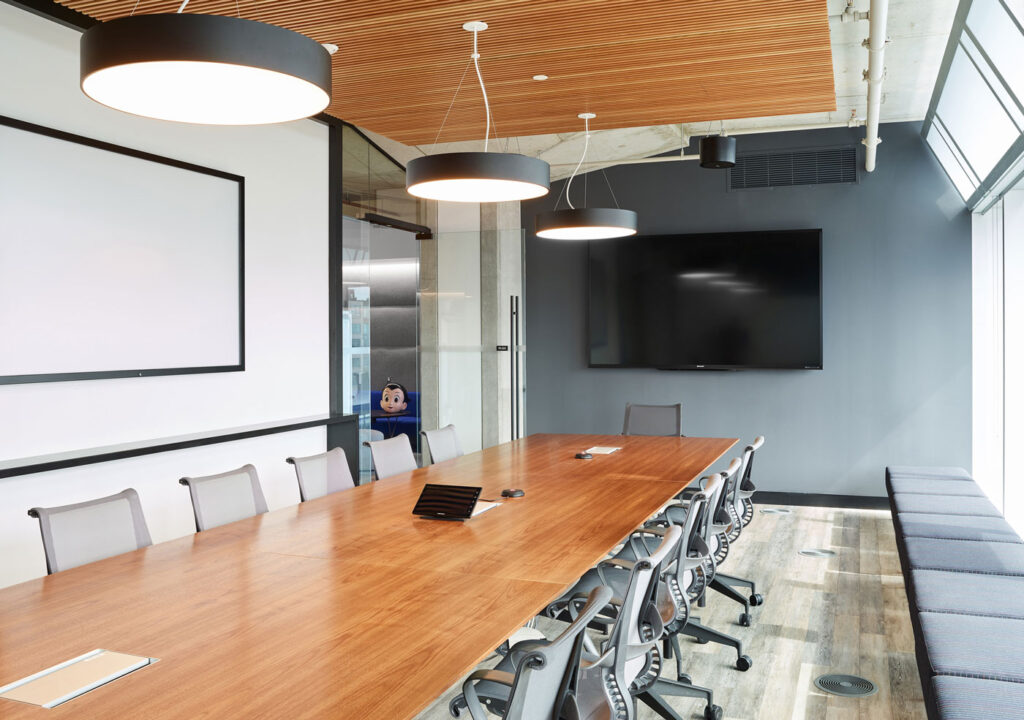 A modern feature stair links the office floors together, and each floor is equipped with café and meeting spaces at the stair landing, encouraging interaction and integration among employees. Each coffee station in the café has a movie marquee designed to let the staff create custom messages, changing and activating the space. When a visitor tours through the office, a simple walk down the stairs exposes the diversity of creative assets for which eOne is responsible.
On the 5th floor, the design team created a multipurpose hub for the organization. Serving as a lunchroom, and meeting place that can be easily transformed to host a yoga class, an all hands meeting, or host an extravagant film festival party. Custom walls rotate around a fixed axis to open and partition the space as required. When the custom walls are aligned, their openings mimic the perspective of looking through the aperture of a camera, and recall the mission of the entire company.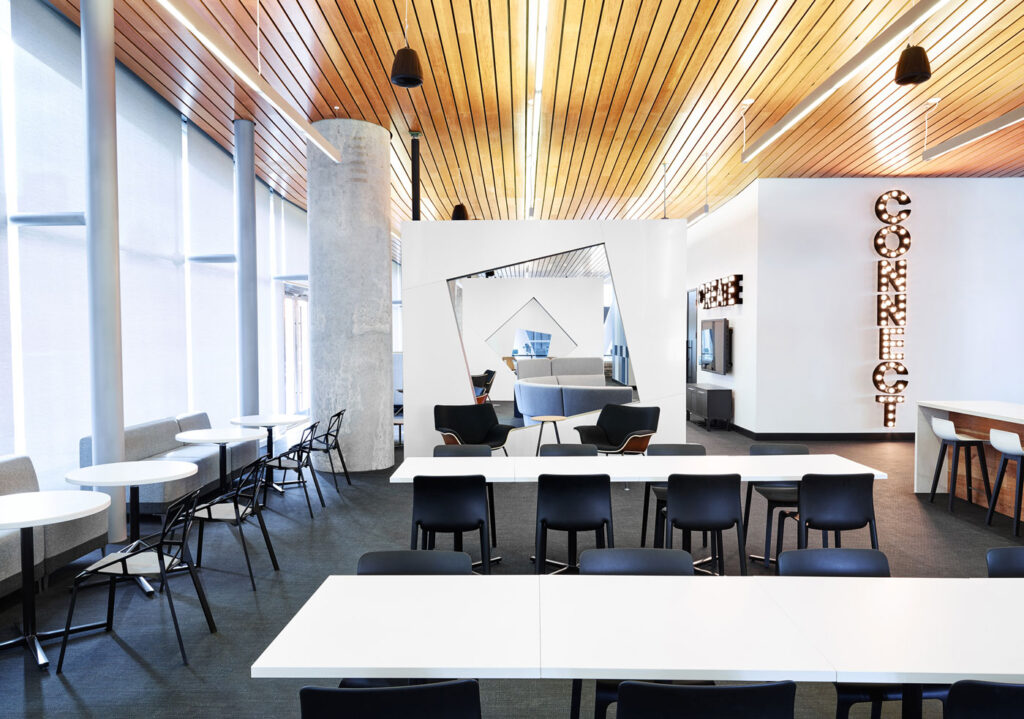 Related
ARIDO Award Winner: Smart City Sandbox

The Sandbox was a result of firm-wide technology pivot that focused on developing new technology platforms to embrace the creation of the Smart City of the Future. This transformation required a rethi ...

ARIDO Award Winner: Red Bull Canada

Creating a space that uniquely brings to life what a brand represents – energy, pushing boundaries, and going beyond the ordinary – without explicit over-branding was our latest challenge with ...