A Space Built on a Collaborative Approach to Design
In embracing post-pandemic design requirements, our client, International Research Development Centre (IDRC), assembled a group of employees to work closely with LWG to create a successful change in management narrative through design – conceptually, functionally and aesthetically. This group was called Mwanzo, a Swahili term meaning new beginnings.
Interior Designer: Bryan Wiens, ARIDO
Design Firm: LWG
Photographer: Kevin Belanger
The project was an opportunity to create a space that welcomed employees back to the office following the COVID-19 pandemic. An opportunity to work closely with the IDRC was embraced to ensure both a sense of ownership and a reflection of the values and focus in the work IDRC does both locally and internationally. As an organisation that champions research and innovation alongside those it works with, this collaborative approach was vital.
An opportunity to create a professionally designed space intentionally reflecting the IDRC's requirements and allowing them to be a central player in the process, and project's success.....what a wonderful and collaborative design methodology!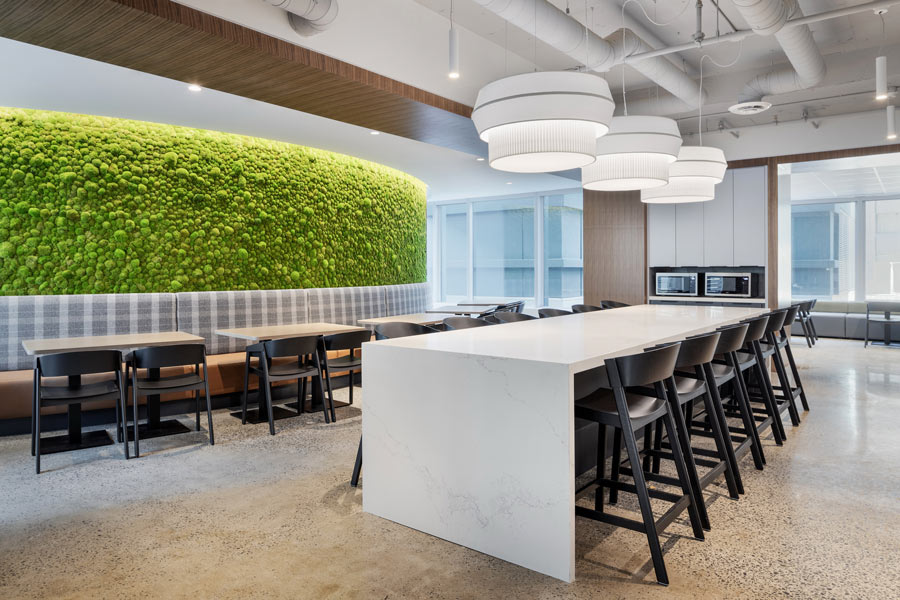 The vernacular of weaving was a key element in many features of the design. Applying the idea that good design is like a well woven fabric, each thread important and critical to the overall success and resulting in unified design solutions. Combining good design with an international development awareness of the universal use of woven materials across cultures, many features reflect this concept. From functional to decorative elements, design and meaning intertwine to create a visually holistic representation of the client's work.
Materials and design features were thoughtfully used to enhance this concept. The collaborative work zones and display areas encompass millwork constructed to resemble an abstract weaving pattern. Textiles, including fabrics, wall coverings and carpet, mimic basic woven looks, plaids and suited jacket materials. Lighting incorporates fabric textures and intersecting patterns, resembling weaving in a variety of contexts.
Related
ARIDO Award: The Hive

The first of its kind in Canada, this 3D printed masonry wall is the result of a collaboration between design professionals, students, and faculty at an Ontario university. Category: CRAFT Interior De ...

ARIDO Award: Spadina Workplace

Designing for human behavior and fostering innovation were the two key strategies for this workplace redesign. The design team aimed to inspire a return to the office not from necessity, but a genuine ...