BID Projects – Sheridan College
For the third year in a row, ARIDO would like to celebrate the class of 2022 from Ontario ARIDO-recognized schools and ensure their work is shared within the ARIDO community and beyond.
ARIDO has worked with these schools to promote a selection of 4th year BID student work on BLOG//ARIDO and will be posting the work each Wednesday during May and June.
Carina Redigonda - BeMindful Wellness Center - Brain Injury Care Facility
"BeMindful Wellness is a holistic healing facility dedicated to improving the quality of life of traumatic brain injury survivors. Through the enriched environment offering cognitive, physical, and spiritual wellness activities, individuals are inspired to use their strengths, build confidence, and pursue their recovery with sensitive care."
The holistic healing approach considers the whole person - through zones that nurture the body, mind, and spirit. Cultivating community and support, survivors are invited to address their abilities rather than disabilities, amplifying the healing experience. Individuals can participate in tranquil activities to promote self-growth, mindful healing, and enhanced skill development.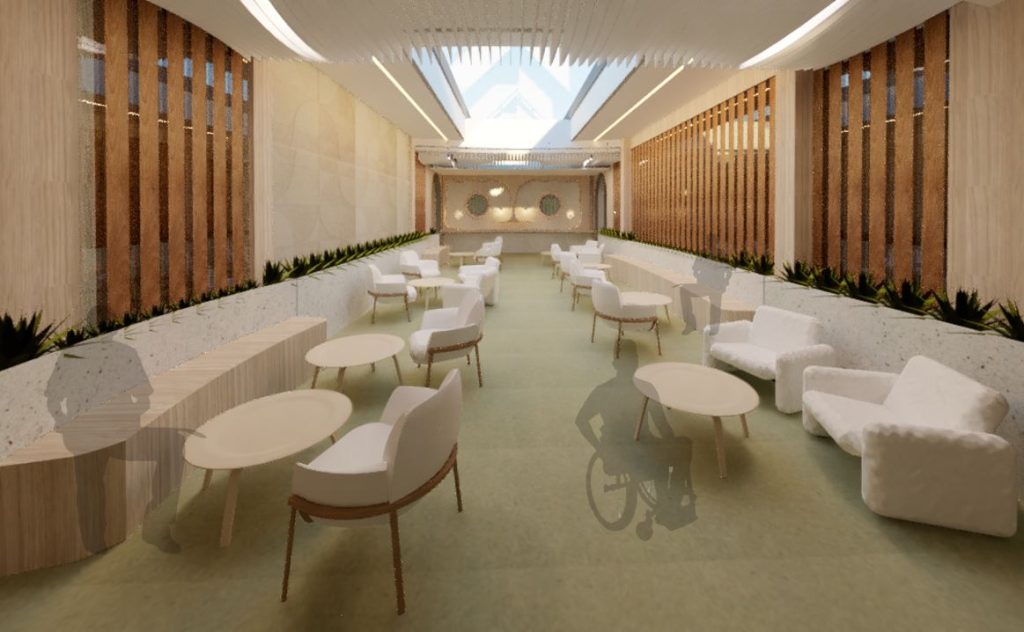 Creating an improved perception of recovery, environment enrichment will promote positive mental health. Inclusive design principles will limit the risk of injury, discomfort, or inability to participate. Through extensive research, the interior has been curated with mindfulness of individual hyper-sensitivity, including light/noise level options, private/public encounters, distinct wayfinding, and sensory control.
Carly Board - The Margaret Connection Centre
The Margaret Connection Centre is a music therapy and support facility that is committed to enhancing relationships and connecting Alzheimer's patients to their caregivers and family.
The centre's goal is to create and develop programs that will mend these damaged relationships by offering a safe environment with specific programs that help build the connection between caregivers and people with Alzheimer's.
The perspectives selected show the design of two key areas: the Common, Dining and Kitchen Area and the Main Music Therapy Program. These areas have been selected as they provide a sense of commonality and connection using a home-like designed environment and musical therapy programs.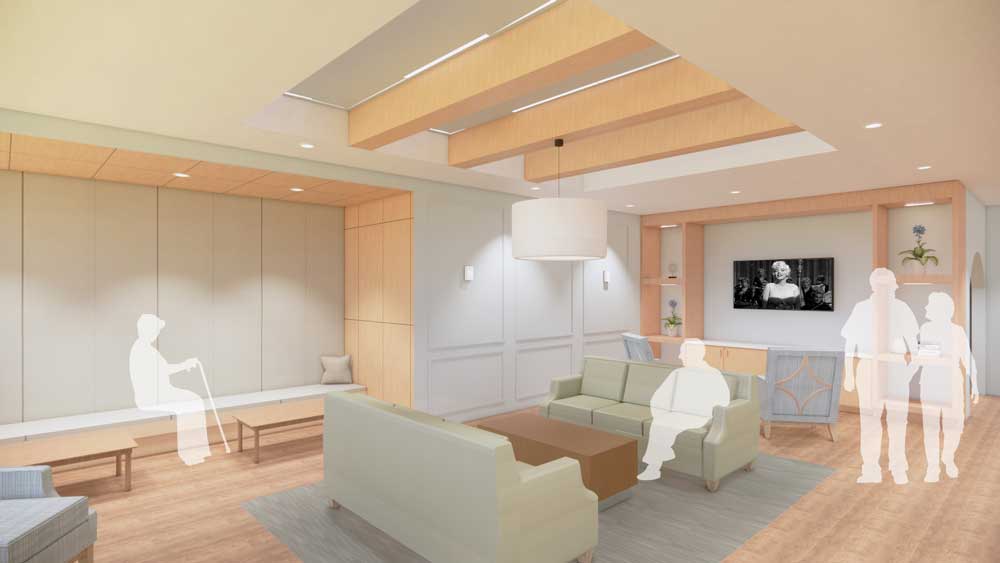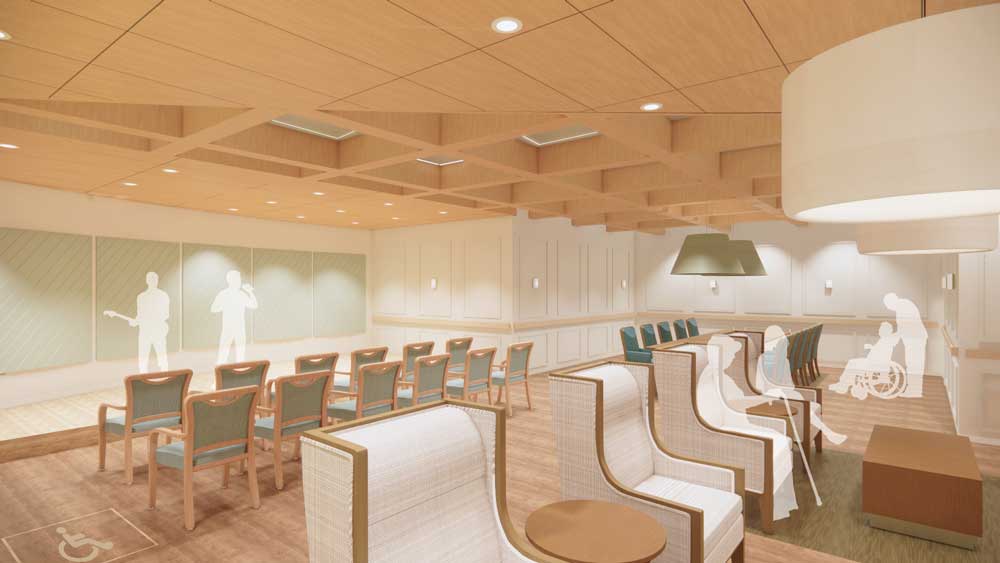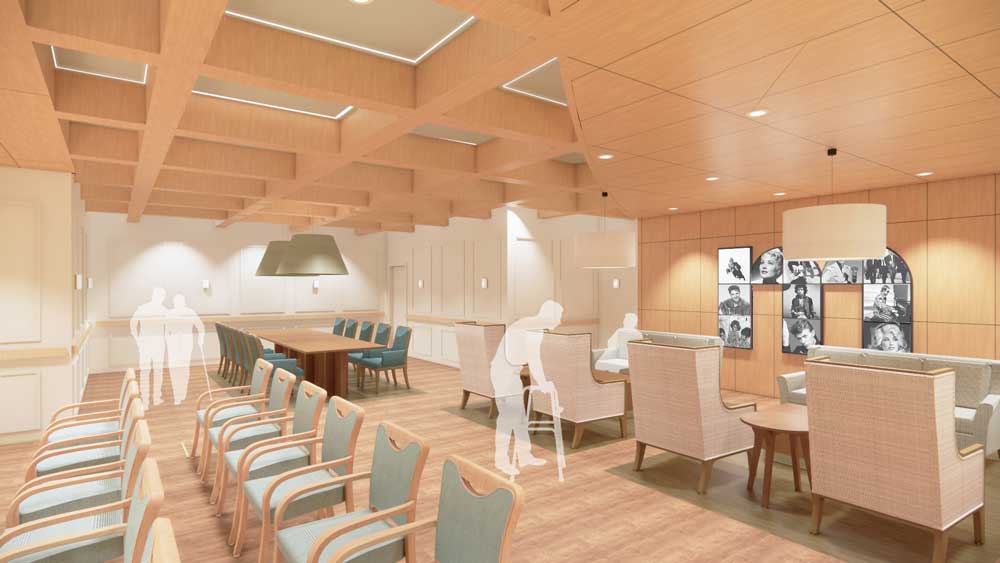 CHEER is a community centre designed for immunocompromised children undergoing and recovering from medical treatment. CHEER understands that these children face many struggles aside from their illnesses, such as negative impacts on their development and higher risks of developing mental health illnesses. These struggles may slow recovery time which, in turn, prolongs treatment.
CHEER is designed in accordance with LEED and WELL building standards as well as consideration for universal accessibility. By offering a wide variety of services and activities such as fitness programs, art classes, mental health counselling, tutoring, and parental assistance classes, CHEER welcomes all occupants into a safe, clean, fun, and interactive environment.
The CHEER facility provides quality care to every child, enables occupants to stay on track in their educational and social development, promotes positive childhood experiences, and inspires hope in every child in order to prepare them for life after treatment.
On the banks of Lake Ontario in Mississauga's Lakeview District sits The Restoration Hub, an 18,000sqft. facility converted from an abandoned WWII munitions plant.
The Restoration Hub's socially responsible program will target post-secondary students in the Greater Toronto Area who have suffered from social isolation, mental fatigue, increased stress, and low motivation over the course of the pandemic. These negative health concerns will be addressed by creating an inclusive, restorative indoor environment for students to rest, study, work, and play.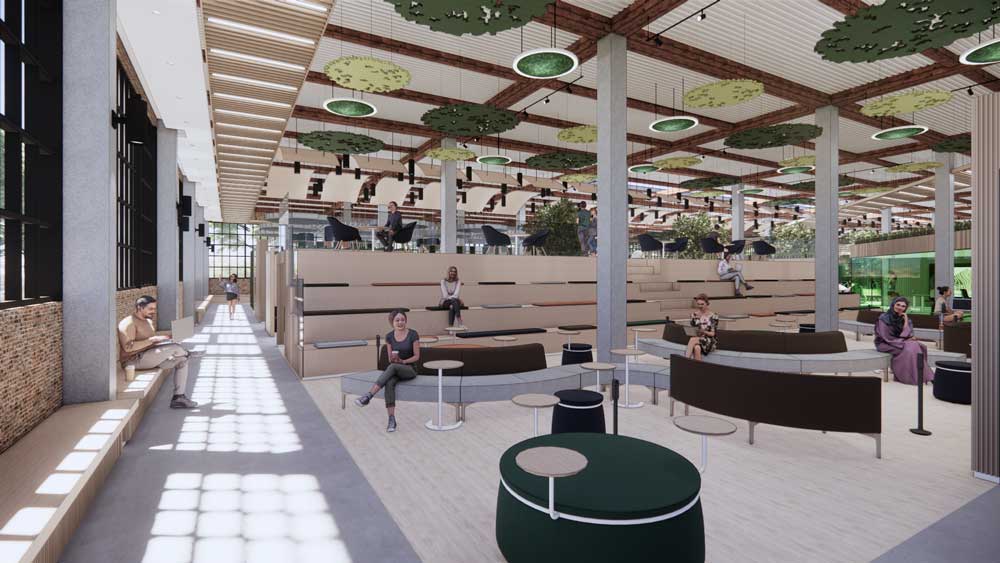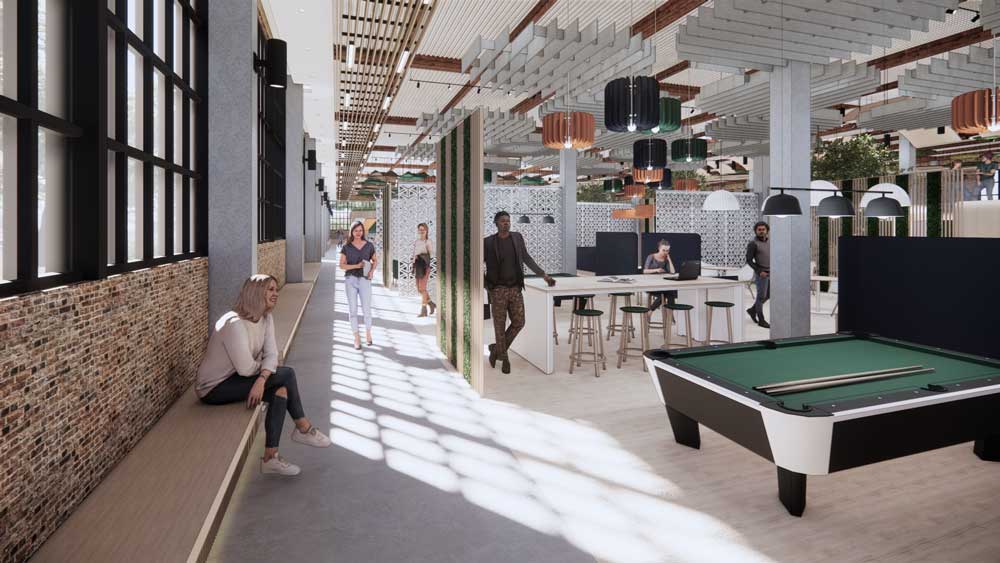 Wood is central to The Restoration Hub's design concept for its ability to facilitate mental fatigue recovery, decrease stress, and improve students' overall mental state. The Restoration Hub will stand as a model of how biophilic design and interior applications of wood can have a positive influence on student health and well-being.
Morgan Hodasy - The Centre for Teen Anxiety Disorders
The Centre for Teen Anxiety Disorders seeks to create an informative, safe, and comfortable environment for teens dealing with anxiety. We offer a variety of individual and group counseling, with an immersive nature approach.
This is designed to be healing to a wide variety of the adolescent population with a purpose to educate an understanding of how to identify, cope, and deal with one's anxiety. The space will focus on the reduction of environmental stressors.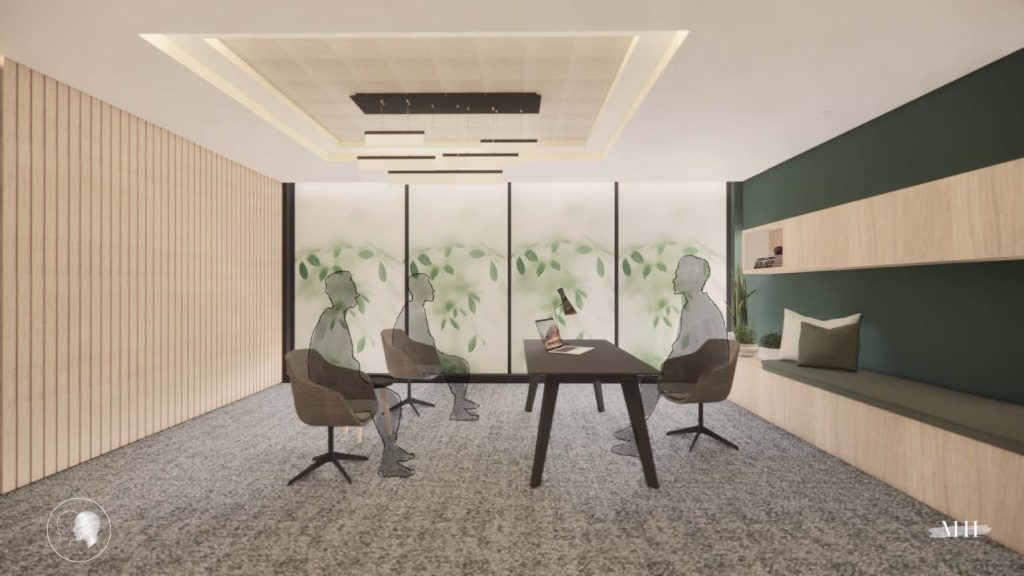 Balancing spaces with open and closed off designs to provide levels of social comfort. These areas are to promote subtle reflection in the process the patients are taking with their mental health journey. Rooms will use simple forms, bringing emphasis to nature with colour and materiality, and have individual points of interest to bring physical and nonconscious comfort to those in the facility.
The Magyar (Hungarian) Központ (Centre) of Ontario would strengthen the Hungarian community and cultural life within Ontario by providing a space for those with an interest in Hungarian heritage and culture. The facility devotes itself to the preservation of Hungarian history and culture through academic and social means by offering educational classes, recreational activities and societal support programs to explore Hungarian culture and history.
To encourage collaboration, flexible spaces and open gathering destinations are vital to the centre. The facility is inspired by the many facets of a cube; where each side, shape and piece represents a crucial aspect of culture. The design is reflective of traditional Hungarian architecture in form, while contemporary in materiality. Strong, geometric shapes are emphasized to connect spaces together, evoking welcoming sensations of individuality and excitement. Users experience varying perceptions of depth as they're brought through a physical interpretation of community and interconnectivity.
Visit Hanna's Instagram account for more @interiorsbyhanna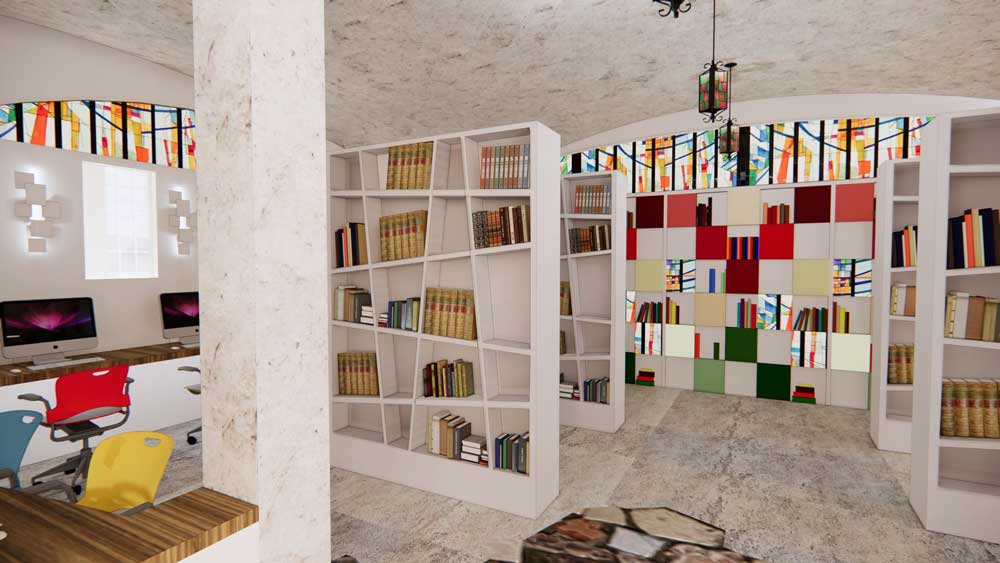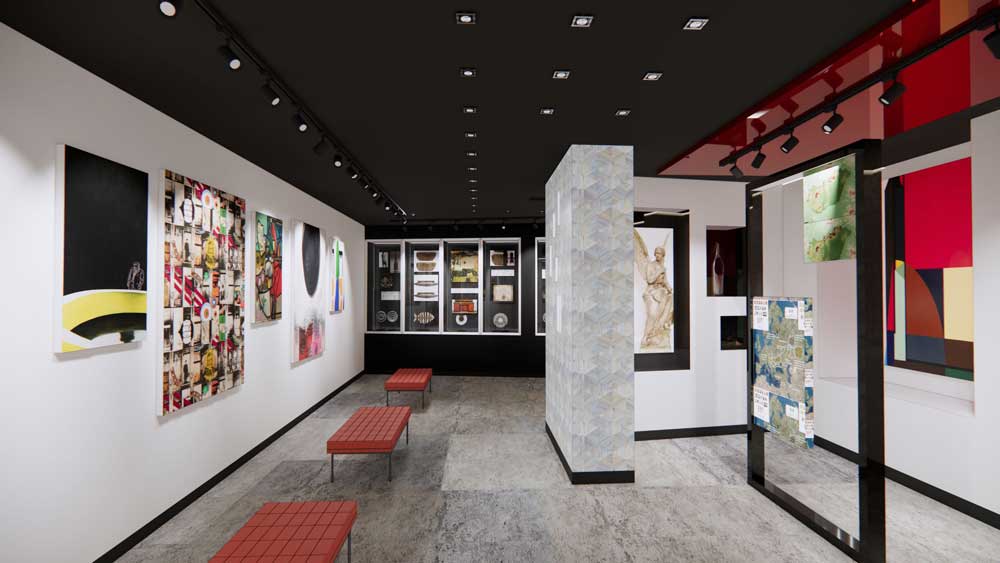 Related
BID projects – St. Clair College

We are thrilled to continue our celebration of the class of 2023 from Ontario ARIDO-recognized schools this year. This is our third year of posting graduating student work on BLOG//ARIDO and we are pl ...

BID projects – Algonquin College

We are thrilled to continue our celebration of the class of 2023 from Ontario ARIDO-recognized schools this year. This is our third year of posting graduating student work on BLOG//ARIDO and we are pl ...

BID projects – Yorkville University

We are thrilled to continue our celebration of the class of 2023 from Ontario ARIDO-recognized schools this year. This is our third year of posting graduating student work on BLOG//ARIDO and we are pl ...