Interior Design Week | September 27-29, 2022
Join the Association of Registered Interior Designers of Ontario for the inaugural Interior Design Week, taking place September 27-29, 2022!
Everyone is welcome at this event, if you're interested in learning more about interior design, the field, and how to work with an Interior Designer, join us! We are also pleased to welcome the interior design community to Interior Design Week!
Location: Midgley Tecnica, 117 Tycos Drive, #Unit B, Toronto, ON M6B 1W3
Date & Time: September 27, 28, 10 AM to 4 PM
Cost: $20 per day, both days $30 (Includes access to the event for all sessions, free design consultation, happy hour networking at Cosentino City on Sept 27, food and beverages)
Can't attend in person? Log in to the livestream for our panel events and access the event from wherever you are! Click here to register for the virtual event!.
Educate Stream – Tuesday, September 27
Panel Series
We are hosting a panel series with a focus on sharing consumer best practices for interior projects, and demystifying the interior design process, and how to work with an Interior Designer for residential or commercial projects.
10:30am Welcome from ARIDO President Jennifer Warling, ARIDO
10:45am Office Moves 2.0 – What does the office design process look like in 2022?
12:00 noon Inside/Out: What a Registered Interior Designer can do to address longevity and maintenance in condos
1:30pm How a retail design expert can help bring customers back through your door
2:45pm How to work with an Interior Designer
4:00pm Happy hour at Cosentino City (665 Caledonia Rd, York, ON M6E 4V8
Design Consultations
Always wanted to speak to an Interior Designer about your project? Now's your chance! Registered Interior Designers will be offering design consultations at the Midgely Tecnica venue.
Your ticket includes one complimentary design consultation. You will receive information about booking your design consultation after registering.
Community Stream – Thursday, September 29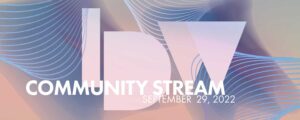 Design Charrette   – High school students in underrepresented communities will be invited to collaborate with Bachelor of Interior Design students in a charrette (design competition). (This event is not open to the public.)
Interior Design Week will close with the ARIDO Awards Gala where the design community comes together to celebrate excellence in design.

Assets for Promotion
Be part of spreading the word about Interior Design Week with these assets and images created specially for the event!
Simply right click or tap and select 'Save Image' to use the graphics provided. We've also provided the text you can use to share more about Interior Design Week!
Event Hashtags
When posting, regardless of channel please use the event hashtags #ARIDOIDW22 or #ARIDOAwards22.
Link to Registration
Please use this link in your promotion: arido.ca/idw