Professional Development Cycle 2021-2023
Registered, Intern, and Educator members are required to complete 12 credits per Professional Development cycle.
4 credits must be Health and Safety and up to 8 credits may be General Education to comply with regulations mandated by ARIDO. If you joined ARIDO partway through the cycle, the requirements are pro-rated based on your membership effective date.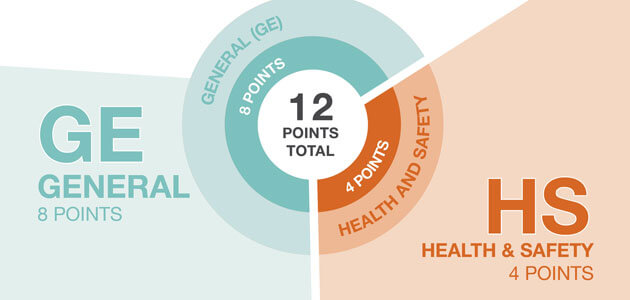 Learning Topics
The topics listed below are grouped by ARIDO's mandated Professional Development program in General Education or Health & Safety. To determine if a course, seminar, or self-directed activity qualifies as Health & Safety or General Education compare it with the information below.
Health and Safety credits for ARIDO are topics related to the Building Code and the health and safety areas that impact the interior environment and the health, safety, and welfare of the public.
General Education (GE)
8 POINTS / CREDITS
Design
General design
Sector specific related design (e.g. healthcare, hospitality, retail, institutional, design for the aging population, etc)
Colour and lighting
Acoustics
Ergonomics
LEED (Leadership in Energy and Environmental Design)
Mechanical systems
Electrical systems
Building systems
Technology
Construction Drawing techniques
Design related software (e.g. AutoCAD, Revit, 3D rendering)
Business Management
Finance
Business operations
Human resources
Succession planning
How to sell your business
Risk management
Public relations
Marketing
Branding
Customer service/relationship management
Professional Practices
Budgeting/scheduling
Contract administration
Construction management
Construction law
Professional liability insurance
Procurement practices
Real estate
Facility management
Equity, Diversity & Inclusion
Recognizing unconscious bias
Creating an equitable workplace
Reconciliation
Designing more accessible and inclusive spaces
Leadership development
Building a culture of inclusion
Health & Safety (HS)
4 POINTS / CREDITS
Building Code Specific
Accessibility and Barrier-Free requirements
Building Code (provincial or national)
Energy Efficiency
Building Code Identification Number (BCIN)
Sustainability
WELL-Building Standards
Occupational Safety and Health administration
Hazard Analysis Critical Control Point
Universal Design
Other Health and Safety
Any other education that covers health and safety areas that impact the interior environment and the health, safety and welfare of the public
IMPORTANT: Course providers offering Health & Safety education will not necessarily qualify for ARIDO's Health & Safety requirement, e.g. ergonomics.
Eligible Activities
Structured Learning - Completing a course or seminar, either in-person or distance learning, in one of the learning topics. Courses taken at a college or university that are not related to meeting the minimum education requirement will qualify. (1 hour of education = 1 CEU Unit)
All of the following credits may be claimed 1 credit claimed per year / Maximum of 2 credits per cycle:
Instructing / Teaching - Development of a course or seminar, either in-person or distance learning, on one of the learning topics.
Research - Conduct research or write a research paper on a topic related to one of the learning topics or a topic related to the profession.
Writing - Writing articles or books related to one of the learning topics or a topic related to the profession. (Including for BLOG//ARIDO)* Interns and Educator members may contact communications@arido.ca to submit content.
Presenting - Development of a presentation related to one of the learning topics or a topic related to the profession.
Volunteering - Committee and/or Board participation that furthers the profession of interior design or in the area related to one of the learning topics. This includes work as part of an ARIDO Standing Committee or for your local ARIDO Chapter.
Mentorship - Serving as a mentor, sharing sessions with new designers, co-op student training in-studio.
Mentee - Participate in a mentorship program where you are mentored by a Registered member. Hours cannot be applied toward the supervised work experience hours needed to become a registered member.
Reporting your Professional Development Credits
ARIDO recommends members report their credits to the ARIDO PD Dashboard via the Membership Gateway.
We have access to view your reported credits and we are able to assist you if needed. You have to option to report to the IDCEC. ARIDO no longer has access to view or assist with the IDCEC. If you report to the IDCEC and you are selected for an audit you will be required to complete a form detailing your credits and provide a copy of all your certificates.
IMPORTANT: An IDCEC transcript alone will not be accepted.
How to Report your Hours in the PD Dashboard
You must report your education activities via the ARIDO reporting system in the Membership Gateway or the IDCEC system.
For questions about the ARIDO reporting system or PD requirements, please contact Jose Tanabe, ARIDO Regulatory Coordinator.
What is the timeline for completion?
Members must complete 12 hours in total over two years. Only courses/seminars taken from July 1, 2021, to June 30, 2023, are valid to report as credits. Any courses/seminars taken before July 1, 2021, or after June 30, 2023, are not valid.
Carryover courses/credits are not allowed.
A certificate or proof of attendance/completion is required for every credit.
What no longer applies?
Work experience or internships to meet ARIDO membership requirements or to completed education programs. Studying/preparing for the NCIDQ exams.
Visits to tradeshows shows, self-guided tours, or showroom tours do not count as research. Shows like IDS, IDEX, etc.
Association membership
Other activities such as volunteering, mentoring, teaching, research, etc. have a limit of 2 credits per PD 2-year cycle and a document/proof is required to report the credit. See Eligible CEU activities above.
---
CEU Listings - Latest Posts
ARIDO provides an opportunity to CEU providers to advertise their events and offerings to the ARIDO Membership via the CEU Listings. These listings are submitted by CEU providers and may be a scheduled event or a virtual offering. They are reviewed by ARIDO for content, and are available for 30 days after the post is published.
Continuing Education Resources
Ontario Summit and ARIDO AGM Recordings
The recordings of the Ontario Summit sessions, Member Townhall, and ARIDO AGM have now been added to ARIDOaccess to the Ontario Summit Session Recordings + CEU Reporting Page.
WEBINARS FROM 2021
The Power of Colour Sessions

Members can watch the two Power of Colour Sessions on the Equity, Diversity, Advancement and Accessibility Resources page.
Other CEUs
While the best effort was made to access and gather the most up-to-date content, ARIDO cannot warrant the completeness, currency or accuracy of the information provided by a third-party and cannot be held liable for any direct or indirect loss or damage which may arise from use or reliance you may make of any information contained therein.
AEC Daily Online learning centre - source of free continuing education courses for designers, architects, and engineers
The Building Code Tutor The Building Code Tutor is a web-based instructional program developed by Muniak Enterprises Inc. that provides practical and interactive training in the fire and life safety requirements of Part 3 of the Building Codes used across Canada.
[note: ARIDO members get a 15% discount using the code IDCBCT]
GreenCE Sustainable Design Continuing Education - Affiliate of Ron Blank & Associates, Inc.
Interiors & Sources Source of free continuing education
[note: registration required to view available CEU articles]
Wallcoverings Association Non-profit trade association offers continuing education via in-person and distance-learning format