Join us for a Virtual Portfolio Prep Event presented by Ontario Career Xpress committee
Published on: Nov 08, 2023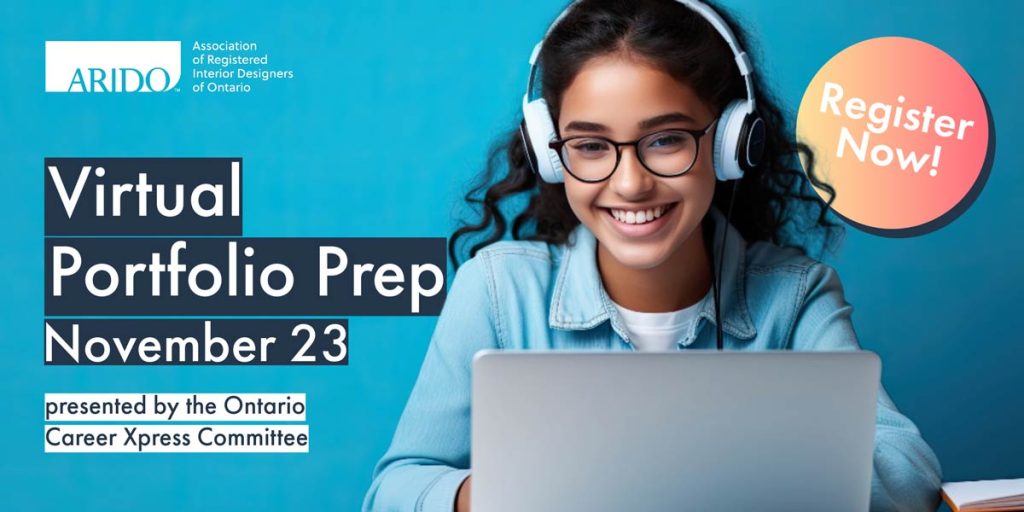 Portfolio Prep is the kick-off event of ARIDO's Career Xpress virtual series for students. This is a preparatory session to help you build confidence in your interview skills, learn the do's and don'ts of cover letter, resume, and portfolio creation.
Additionally, it provides you with practical practitioner advice and recommendations.
Join us November 23, 2023 for a panel discussion by industry professionals on their personal career paths, followed by a Q&A session. This event will also provide an opportunity to network virtually with other ARIDO members.
Event Schedule
5:30-6:00 PM – Registration and Networking
6:00-6:15 PM - Land Acknowledgement and Introductions
6:15-7:00 PM – Panel Discussion
7:00-7:30 PM – Q&A
7:30-8:00 PM - Networking
Panelists
Afsaneh Asayesh, ARIDO |  Envision Design 
Ashley Rumsey, ARIDO | Mason Studio
Bryan Wiens, ARIDO | LWG Architectural Interiors 
Rodney Lover, CEO | Lovers atWork
Robert Lawrence, Vice President | Mandrake
Zack Korzen | Humber College
Registration for this event for members is free and for non-members it is $10.
ARIDO membership is free for students!
Join now and register for free for this Career Xpress event.
Any questions? Please contact ARIDO's Membership Coordinator Maya Vnukovsky