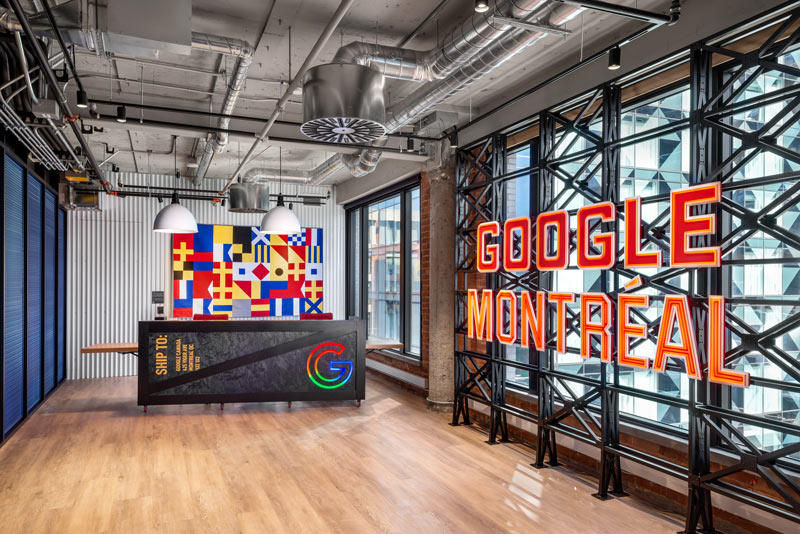 ARIDO Award: Google Montreal
Celebrating a sense of place was the strategy for Google's new Montreal office. Located in the historic Read Building, the office pays homage to iconic Montreal neighborhoods including the Old Port, Chinatown, and Little Italy.
Interior Designers: Anthony Orasi, ARIDO; Alexandra Dobrzynski, ARIDO
Design Firm: iN STUDIO
Design Team: Rosemary Ratkaj, ARIDO; Clancy Snook, ARIDO; Sarah Stafford, ARIDO; Vince Zhao, Intern, ARIDO
Photographer: Gillian Jackson
Many structural elements were left exposed, such as worn concrete, heavy-gauge steel, and raw brick. A feature stair clad in structural steel tubing provides a central landmark for situating one self within the floorplate.
The design team developed an inclusive wayfinding methodology, supported by high contrast signage elements and the inclusion of braille features. With coloured carpeting which changes by floor, the stair supports this strategy. The space also highlights local and Indigenous artists and artisans with custom murals, fibre art, and graphics.
Related
ARIDO Award: Elevator Cabs

The challenge of this elevator cab redesign was to create a mobile portal between a well-aged ground floor lobby that would seamlessly integrate with each of the floors above. Category: DISTINCT Inter ...

ARIDO Award: The Hive

The first of its kind in Canada, this 3D printed masonry wall is the result of a collaboration between design professionals, students, and faculty at an Ontario university. Category: CRAFT Interior De ...