News
ARIDO Spotlight: Mélissa Marchand, Intern ARIDO
Published on: Oct 13, 2023
Introducing Mélissa Marchand, an Intern member whose love for plants, gardening, and foraging fuels her passion for creating nature-focused spaces. With a profound appreciation for biophilic elements, she seamlessly integrates this appreciation in crafting interior spaces.
Mélissa Marchand | Intern member
A recent Bachelor of Interior Design grad from Algonquin College, Mélissa's drive also shows up with her new title, that of Valedictorian for Algonquin's Faculty of Arts, Media and Design.
Read on about her next steps forward into her interior design career.
1. Tell us a bit about yourself?
Hi! I'm Melissa 😊 I am French Canadian, and I was born and raised in Ottawa and have resided most of my life in Ottawa. I have recently accepted a Junior Interior Designer position with an architecture firm in Whitehorse, Yukon and will be relocating at the end of July!
My love for plants, gardening, and foraging is what drives me to design environments that are cohesive with nature in a way that replenishes its surrounding ecological systems. I am continuously pursuing my desire to create spaces that allow us to reconnect with nature through the lenses of artistic pursuits, spatial justice, and sustainability.
Thoughtful and nature-focused design is always at the forefront of my academic, professional, and creative pursuits, and I am always wanting to design with intent and purpose.
2. Why did you choose to study and practice interior design?
Before delving into the world of interior design, I had the opportunity of studying and working in the event management industry. It was during this time that I found my true passion for design. Through my experiences in event management, I honed a skillset in set design and developed a deep appreciation for creating captivating interior spaces that included biophilic elements.
Driven by my innate curiosity and desire to explore the endless possibilities of merging my event design knowledge with my profound love for nature, this invaluable journey led me to pursue a Bachelor of Interior Design. During my studies, my goal became clear: to design biophilic interiors that draw inspiration from our everyday lives and seamlessly integrate with how we inhabit and interact with our interior spaces.
3. Can you describe your style in one word? Biophilic (or biophilia)
4. How do you approach work-life balance?
One of the main challenges I face in achieving a work-life balance is dealing with the expectation of being constantly available outside of my regular work hours due to the accessibility and feasibility of technology. To establish a clear separation between my work and personal life, I have found that effective communication and setting boundaries with clients, coworkers, and employers from the start of any new project or partnership is crucial.
For instance, when it comes to work-related emails, texts, or calls received outside of working hours, I make it known that I will not respond immediately but will do so during the next working hours. There are some exceptions where being accessible after hours is necessary, but as a general rule, I try not to respond during those times.
Additionally, by doing so, I remove the pressure on myself to feel the need or expectation to respond right away or promptly, and can truly allow myself to enjoy my personal life without feeling like I should respond to work related affairs.
5. How do you spark your creativity?
My creativity is ignited through my keen perception and appreciation for the intricate details woven into nature's tapestry. This profound admiration for the natural world fuels my passion for design and serves as a wellspring of inspiration for all my creations. To spark my creativity, I find it most effective to step away from ongoing projects and any potential distractions.
Instead, I immerse myself completely in nature, seeking solace and inspiration. By connecting with the serene and awe-inspiring aspects of the environment, I allow my mind to roam freely and discover fresh ideas that guide my creative process.
6. What are the biggest challenges you faced and how did you overcome them?
One of the significant challenges I encountered was navigating a world primarily designed for neurotypical individuals while being neurodiverse myself. However, I have come to realize that my neurodivergent brain provides a valuable advantage.
It enables me to perceive and engage with the world from a distinct perspective, which proves beneficial in my industry. This unique vantage point allows me to tackle challenges within the built environment in innovative ways that may have otherwise been overlooked.
By leveraging my neurodivergent strengths, I strive to create inclusive and diverse environments that cater to the needs of neurodivergent individuals like myself. Overcoming these challenges has been a journey of embracing my differences and harnessing them as assets in my professional endeavors.
7. What did you discover that you didn't know before? How did interior design or your projects shape you personally?
I believe I make new discoveries almost everyday as I am an active learner. However, if I had to pick one significant realization, I made early in my interior design academic journey is the profound impact that interior design can have on physiological, psychological, and cognitive well-being, and our surrounding environment.
As I dove deeper into Biophilic Design, I discovered how thoughtful design choices can create spaces that nourish and sustain our well-being. This knowledge transformed my perspective and ignited a passion within me to prioritize sustainability and biophilic design principles in all my projects.
Overall, the past four years of my educational journey in interior design has not only expanded my knowledge and skills to be successful in the industry, but has also shaped me into a more conscious and empathetic designer.
8. Do you remember the first design that struck you or lingered in your mind?
Absolutely! Architect Chris Precht's designs have had a lasting impact on my memory. Among them, "The Farmhouse" project holds a special place as one of my absolute favorites. This innovative modular building system addresses the pressing challenges of climate change, population growth, and food shortages.
Its aim is to reconnect urban dwellers with agriculture and enable them to adopt a more sustainable way of living.
The concept resonates with me deeply and continues to captivate my thoughts. This design concept also inspired my senior thesis project, in which I developed a residential home that provides nourishment for our body, mind, and earth, called "The Garden Home".
9. What is one thing you did for the first time recently?
It has not happened yet, but in two days (June 21st), I will be speaking in front of thousands of people for the first time as I deliver the valedictorian speech for the faculty of Arts, Media and Design Convocation for Algonquin College.
Watch Mélissa's convocation address here!
10. How would you describe your last year?
The past year has been truly remarkable and filled with significant achievements! So far in 2023, I have accomplished the following:
- Participated in the ARIDO Student Showcase ""Culture in Design"" at the 2023 Summit
- My teammates and I emerged as the winners of the World Design Challenge competition in March, which was organized in collaboration with Algonquin College, UPES University, and The World Design Association.
- I successfully completed my senior project titled "The Garden Home: A home that Nourishes our body, mind, and earth"
- Another remarkable achievement was completing my Bachelor of Interior Design, with my graduation set to take place this Wednesday, June 21st, 2023. Additionally, I feel honored and privileged to have been awarded the title of Valedictorian of the Faculty of Arts, Media, and Design.
Reflecting on the past couple of months, I am filled with a sense of fulfillment and excitement for the months ahead!
11. How did you develop your distinctive style?
By continuously incorporating my love and passion for nature in all of my designs!
12. What is a quality you most cherish in your designs?
The quality I most cherish in my design is creating a sense of connection. More specifically a human-nature connection.
13. Did social media affect your work? If so, how?
Undoubtedly, social media has had a significant impact on my work. It has offered me an alternative platform to establish connections and network with fellow design professionals, not only within Ontario but also on a national and international scale.
The advent of platforms like Instagram has been particularly influential, as it has provided me with a valuable space to showcase my design work throughout my studies, serving as an innovative alternative to the traditional portfolio format.
Through social media, I have been able to reach a wider audience, gain exposure, and receive feedback, all of which have played a crucial role in shaping my work and fostering professional growth.
14. What advice would you give someone who is interested in interior design?
Whenever meeting new BID students, I always highlight the importance of nurturing one's passion, embracing creativity and individuality, to lead their studies with curiosity, and never stop exploring and pushing the boundaries of design.
15. How can people connect with you? What is your preferred method of communication?
Connect with Mélissa on Instagram or LinkedIn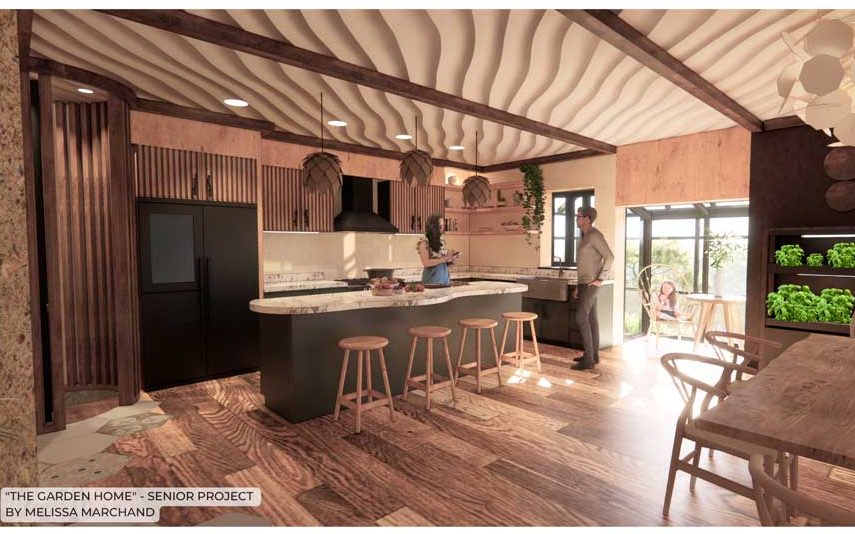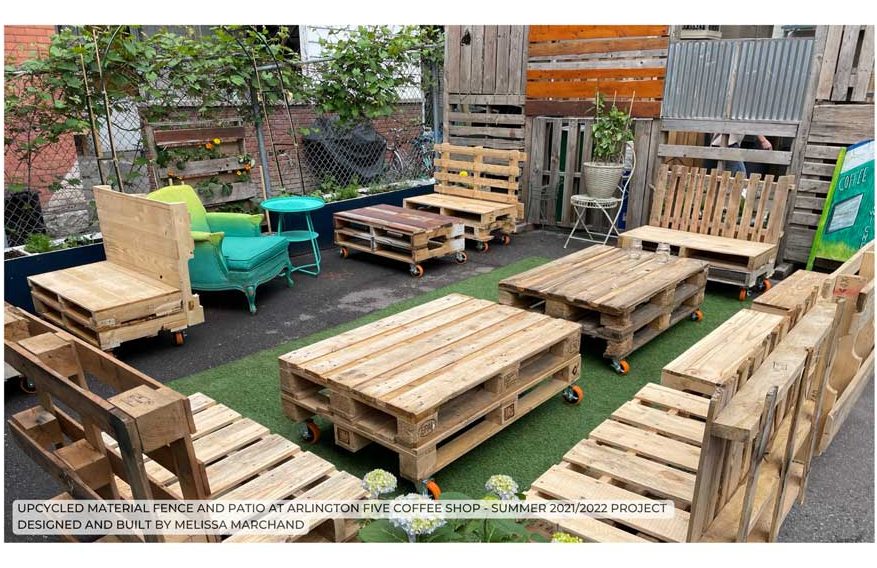 ARIDO Spotlight
The purpose of the ARIDO Spotlight is to spark meaningful conversations.
We think honest and real conversations are at the heart of community building. Every voice matters and that there is a place for everyone in these conversations.
We feel it's far more touching and honest to hear from the members who make up our design community – from members at large firms to small business owners, students, newcomers and independent creatives.
Would you like to be featured? Complete this form at the link below:
-The ARIDO Communications Committee
Don't hesitate to contact Ali Moenck at communications@arido.ca if you have questions.