News
ARIDO's 2023-24 Provincial Advocacy Committee
Published on: Sep 22, 2023
This committee is focused on sharing the impact of Registered Interior Designers and the importance of hiring a qualified professional to the public and industry.
These members are focused on empowering our community to be advocates and building awareness around the value of design!
It's about finding new ways to be loud and proud about the title 'Interior Designer', and the ARIDO credential.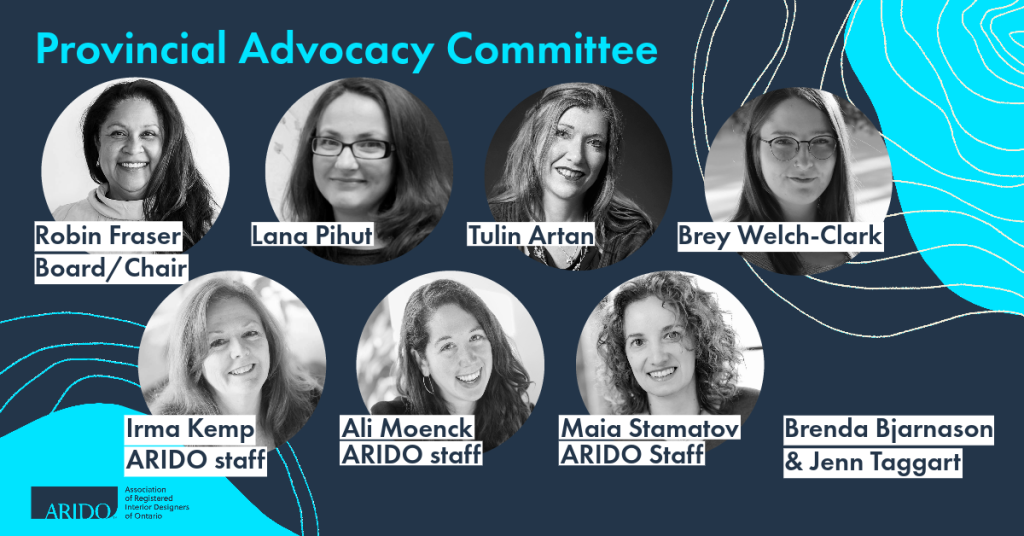 The 2023/24 Provincial Advocacy Committee is:
Robin Fraser, ARIDO (chair)
Brenda Bjarnason, ARIDO
Lana Pihut, Intern, ARIDO
Tulin Artan, ARIDO
Jenn Taggart, Industry Partner
Breymann Welch, Intern, ARIDO
Irma Kemp, staff
Ali Moenck, staff
Maia Stamatov, staff
We're thrilled to present the ARIDO committees for 2023/24. These individuals have stepped forward to advance ARIDO's current Strategic Plan and build equity, diversity, and inclusion into all that we do.
We'd like to thank everyone who raised their hand to participate and we can't wait to see how you advance ARIDO's work this year!