News
TIDC presents Design Forces Speaker Series: Building + Retaining a Diverse Design Team
Published on: Sep 18, 2023
Join TIDC for the third installment of their Design Forces Speaker Series.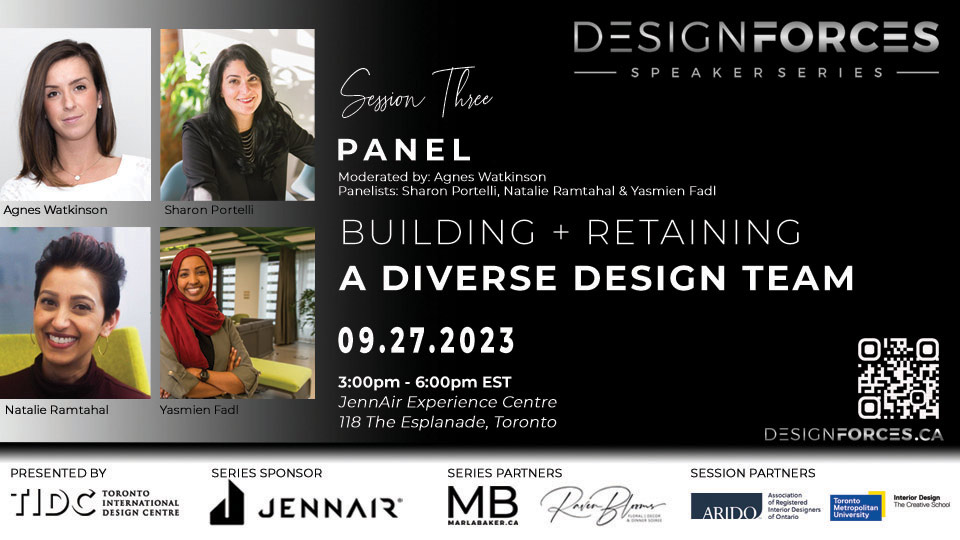 Session Three:
Building + Retaining a Diverse Design Team
Wednesday, September 27th, 2023
3:00pm – 6:00pm
JennAir Experience Centre – 118 The Esplanade, Toronto
This meaningful and timely discussion will assist your firm in implementing best practices for Building + Retaining a Diverse Design Team.
Join the all-star panelists as they share how their organizations have overhauled hiring practices to build more diverse teams, how they encourage and support those teams, and how these initiatives have improved their businesses. Get the inside scoop and overview of current labour trends and how business owners can hire, train, and retain diverse teams for their design firms.
In this session we will:
Examine the current lack of diversity in the Design Industry from education to the workforce.
Dive into what you can do as business leaders to remove unconscious biases and dismantle barriers to access for underserved communities.
Provide you with actionable items and checklists for how to find and assess candidates.
Share tips for improving company culture to create an encouraging and supportive environment.
Reveal the importance of diverse teams and how they make a positive impact on businesses.
Earn 1 IDCEC CEU Credit*
Accreditation pending
Moderated by: Agnes Watkinson, Co-Founder of NextGen Professional and NG Women
Panelists:
Sharon Portelli, CAE – Executive Director and Registrar of ARIDO
Natalie Ramtahal, PhD Student – Manager of Administration and Equity at the School of Interior Design, Toronto Metropolitan University
Yasmien Fadl, ARIDO – Head of Workplace Design, Experience & Change Management at TD Bank
Sponsored by: JennAir Canada
100% of ticket costs will benefit the Toronto Metropolitan University (TMU) Student Emergency Fund.
Your $40 contribution will go directly to students in need.
Emergency/Discretionary funding is intended to provide students with short-term assistance with severe financial need. It can cover payments such as, but not limited to, TTC monthly passes, gift cards for grocery stores or drug stores, funds for books, class materials, etc.
The School of Interior Design has seen a growing need for this type of funding. Within the first semester of the 2022-23 academic year, we had a student (from an equity-deserving group) who needed financial support, which the School could not provide. Supporting students is needed now more than ever and we're so grateful for your generosity.
Visit www.DesignForces.ca for more information.