This Toronto home is a colourful reflection of the owner's vibrant personality
Colour was critical in our Valleyview Residence project because we wanted this home to be as interesting as our client. He had a wonderful collection of rolled prints, trinkets and knick knacks that he had collected over the years from his travels, or were gifts from friends and family over a long period of time that all told a great story, and we wanted to create plenty of opportunities to display them.
Designer: Luca Campacci, ARIDO
Design Firm: Level Studio
Photographer: Vinh Le
During our first meeting, our client said how he always wanted the colourful Eames Hang it all Rack which we put up in the foyer. What's funny is that all the colours in the rack piece ended up somewhere in his home. It was a great jumping off point for the entire scheme and we felt that being bolder with colour was the best way to emulate our client's wonderful personality.
We started from the living room and worked our way out. We pitched a rounded sofa as it would work with the existing layout of the room better and from there, we carefully selected pieces that were functional, flexible and allowed our client to entertain large groups of people with ease.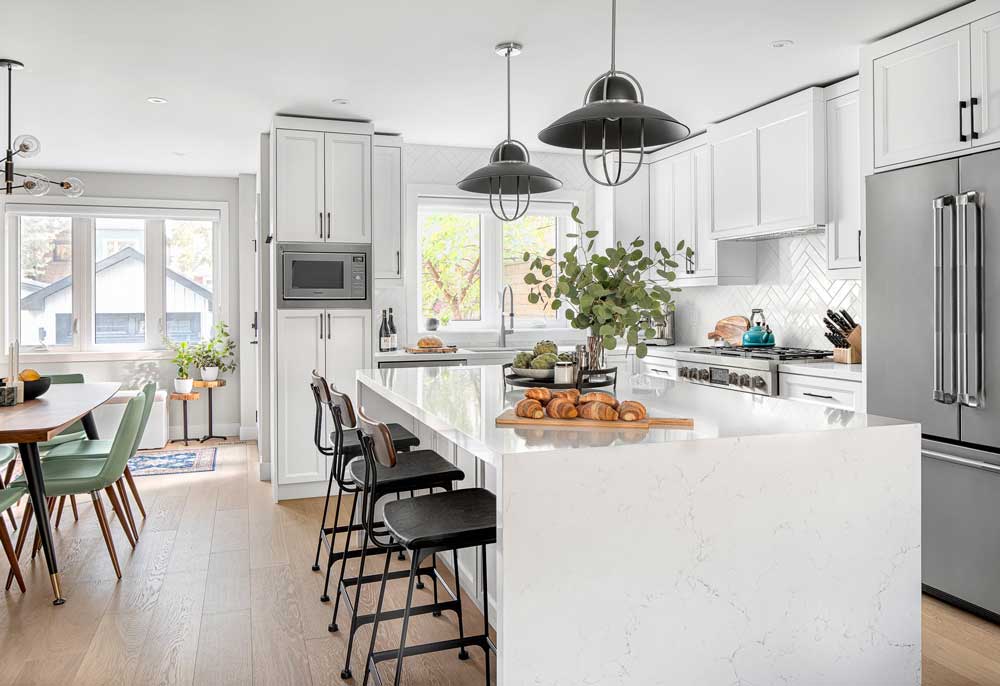 The fireplace was a challenge as we replaced an electric one with gas and the client wanted to keep elements of the existing concrete wall. So we came up with a linear design to salvage as much of the concrete as possible.
The dining area had a long wall that was perfect to curate a gallery of prints and trinkets from various friends and family. Each piece told a wonderful story and the ability to tell each one over a dinner party was an idea our client gravitated towards.
The primary bedroom feels more serene and relaxing. A repeated diamond shape was used in the wallpaper, rug and throw with more subtle, muted colours that ties into the ensuite. Subtle gold accents complete the room.
We selected a moody teal for the den as there was a large window with lots of natural light so it would never feel dark. Our client is an avid reader and we wanted to give him all the space possible to display his books, pictures, and trinkets. We were inspired by the colours in the custom rug and pulled from them.
It was decided that the basement would be the best place for the TV as the space allowed for a better furniture layout with a sectional. The series of fun planetary prints also continues to bring colour throughout the scheme.
By letting colour be our main guide throughout the design process and using the client's amazing print collections and trinkets, we created a vibrant and bold interior that was the perfect reflection of the owner's personality.
That's what makes this Valleyview Residence a one of a kind, unique home full of stories and mementos to be enjoyed for years to come.
Related