A colourful celebration of past ARIDO Awards
The ARIDO Awards Gala continues to be the industry's premier design awards in Ontario. We are thrilled the ARIDO Awards will return to an in-person format this year on October 5th, 2023!
To show just how excited we are, over the next few weeks we will be taking a walk down memory lane and looking back at some past ARIDO Award winning projects as part of our celebration of this year's 40th ARIDO Awards Gala.
This week we are featuring award-winning interiors designed by Registered Interior Designers who created inspiring, energizing, and vibrant spaces that tell a story through the use of colour and innovative materials.
ARIDO Award Winner: Spin Master (Floor 1-6)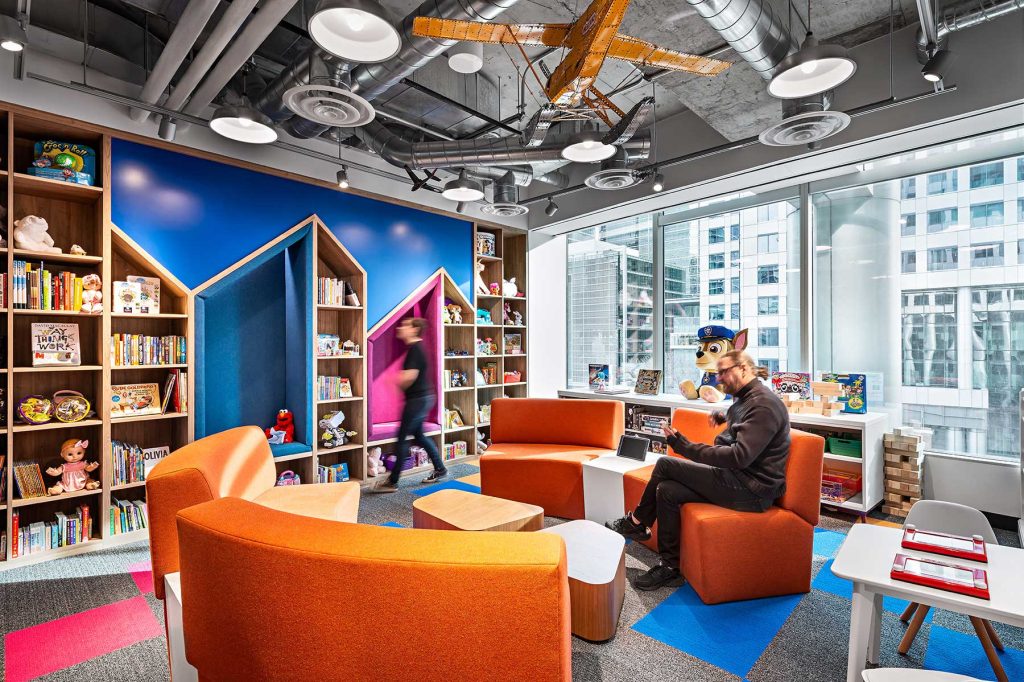 In order to create a customized home for Spin Master that is a reflection their brand and culture, our strategy began by chiseling away as much of this corporate office tower interior as possible.
The shell of the "Uncorporate Headquarters" was hollowed out to reveal a rough concrete box with all of the patina of years gone by. The ground floor reception draws guests in, leading them up a stack of toy blocks into a five-floor factory of innovation.
Interior Designer: Anthony Orasi, ARIDO
Design Firm: iN STUDIO
Design Team: Guy Painchaud, ARIDO; Heidi Painchaud, ARIDO; Rosemary Ratkaj, ARIDO; Vince Zhao, Intern, ARIDO
Photographer: Gillian Jackson
Read full article here.
ARIDO Award Winner: Niagara College Welland Student Commons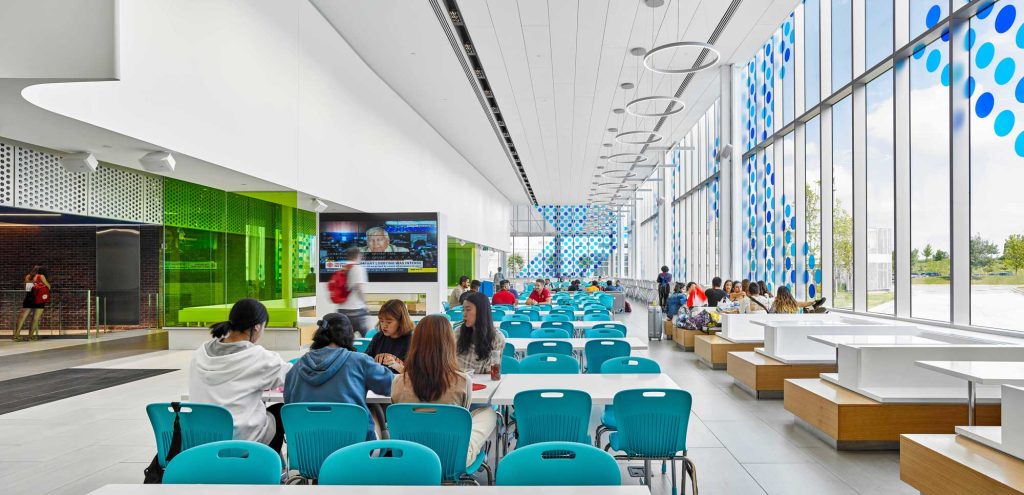 Since its inception in 1967, there have been many iterations in the evolution of the Welland Campus, creating an unnavigable building cluster, connected by dark corridors. The creation of the Student Commons provided an opportunity to create a social hub that rationalizes the building layout, establishes a new, north-facing entrance to campus, enhances branding and wayfinding, and enables natural light and external views to uplift the daily student experience.
Playful details reinvigorate the campus' visual identity, including custom-designed pendant lights shaped like X's and O's, whimsical circular LED lights that break up the ceiling, and large-scale supergraphics that are visible from inside and outside the building. The oversized lettering, chevrons, and dots applied to the Commons' fully glazed expanse give the college an instantly recognizable brand.
Interior Designer: Valerie Gow, ARIDO
Design Firm: Gow Hastings Architects
Photographer: Scott Norsworthy
Read full article here.
ARIDO Award Winner: The Co-operators Regina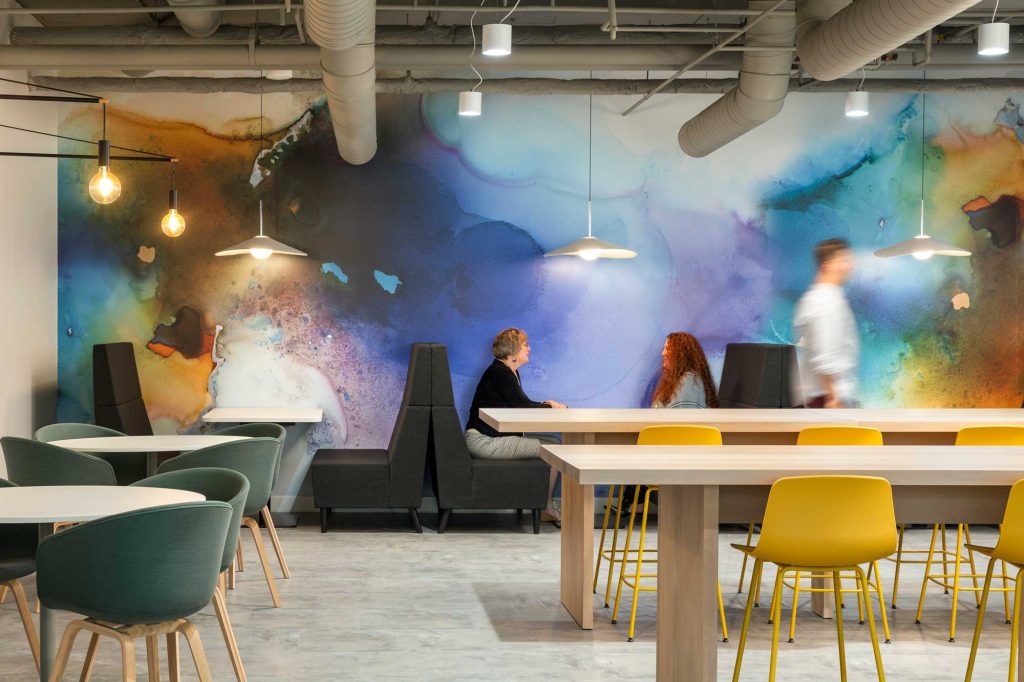 The Co-operators wanted to ignite creativity, have staff engage with the brand and rich history, and provide an amazing food experience and client facing space. This required the interior design team to re-imagine how the existing aging building might be adapted to meet The Co-operators' goals.
As the first of several office re-designs across Canada, the design strategy needed to balance brand consistency along with moments that celebrate local culture and a sense of place.
Interior Designer: Pia Green, ARIDO
Design Firm: HOK
Design Team: Caitlin Turner, ARIDO; Rowena AuYeung, ARIDO; Charlene Isaacs, ARIDO
Photographer: Klassen Photography
Read full article here.
ARIDO Award Winner: Uber Canada Headquarters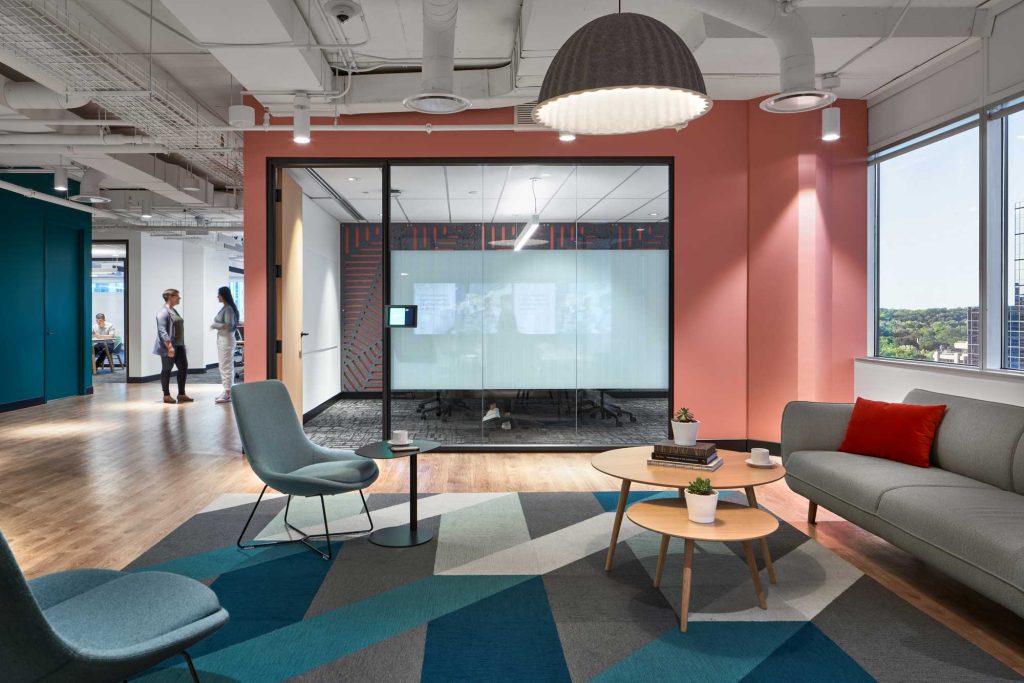 Inspired by the theme of movement, both literally and figuratively, the interior design for the new corporate headquarters of Uber Canada evokes a sense of forward momentum.
The elements of rhythm, repetition, bold lines, and contrasting details converge to reflect both Uber's global growth and trajectory as a world-leading technology enterprise, and its drive to get people where they want to go.
Interior Designers: Peter Heys, ARIDO; Leslie Tuttle, ARIDO
Design Firm: B+H
Design Team: David Zhou, ARIDO; Marianna Ng, ARIDO; Inga Kantor, ARIDO; Abi Kim, Intern, ARIDO
Photographer: Doublespace Photography
Read full article here.
Designing healthcare spaces for kids: Introducing a sense of exploration and curiosity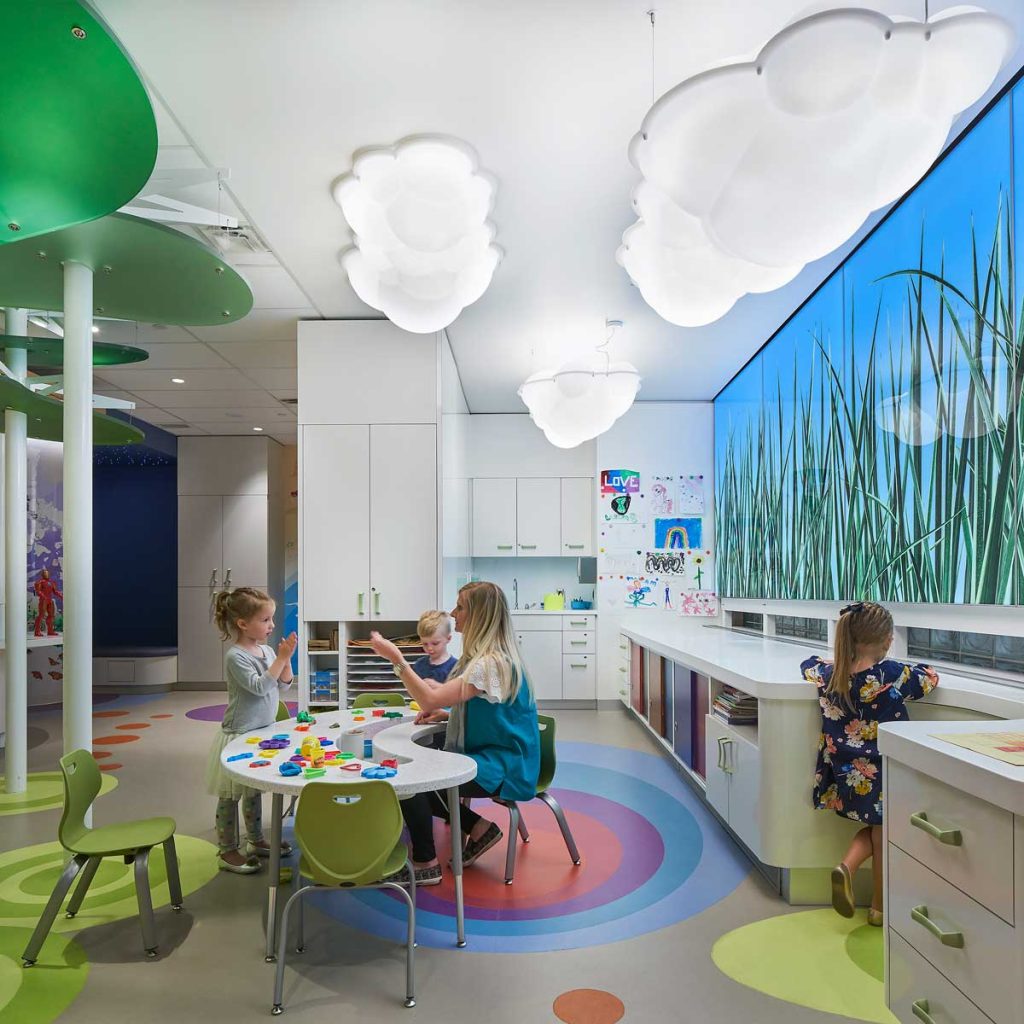 What's it like to design a healthcare space for children? Is it possible to infuse that space with imagination and whimsy, while simultaneously following the practical rules of a healthcare setting, such as infection control, times of operation, and safety?
These are the questions that inspired Stantec's designers to take a unique approach to the redesign of the Women's Auxiliary Volunteers (WAV) PlayPark at SickKids Hospital in Toronto. The PlayPark is a volunteer-run space for the siblings of young patients who are at the hospital for treatment.
Over the years, the much-loved PlayPark had become outdated. Stantec's designers were tasked with not only updating the look but upgrading the space to be more functional and accessible.
Interior Designer: Laurena Clark, ARIDO
Design Firm: Stantec Architecture Ltd.
Photographer: Richard Johnson
Read full article here.