A modern take on classic design creates a tranquil oasis in this new build 
Located in Southern Ontario, this 2,100 square-foot new-build bungalow boasts a spacious open concept layout that will serve its owners as their forever home. Our clients were looking for a timeless, modern take on classic design that was light and bright but warmed up with wood, organic materials, and natural textures.
We didn't want to get caught up in anything trendy so all excess details were stripped away to achieve a clean, cohesive, and outright relaxing feel to this home!
Designer: Nicole de Vries, ARIDO
Design Firm: Maison Blonde
Photographer: Brad de Vries
Our clients wished to have a functional layout for cooking and hosting, which led us to design a bright, open concept kitchen with tons of counter space. Timeless, high quality, and neutral finishes, as well as mixing old and new elements, brings longevity to the space and will make it enjoyable for years to come. The thoughtful simplicity and clean lines will keep the space feeling calm and ageless.
The centerpiece in this kitchen is a stunning island with a polished and beautifully veined quartzite slab that ensures easy maintenance and durability. The slab rests on a custom solid white oak island with 50 cubic feet of storage hidden behind six doors, keeping seasonal items handy for the owners.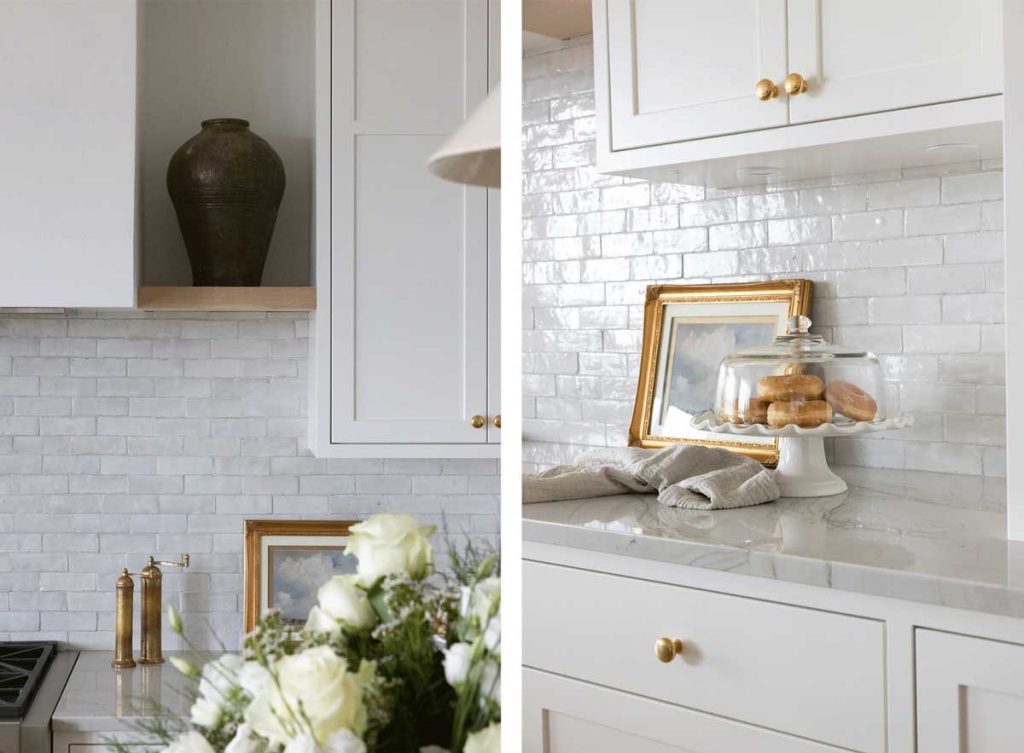 White Cle tile is carried from the far left side of the kitchen all the way across to the storage cabinets and up to the underside of the hood and shelves. These unique, handmade tiles add organic texture in the space, with their variation in size, colour, and contour.
The hutch cabinets on the right side of the kitchen feature a full walnut interior for a dramatic surprise once the doors are opened to make the morning coffee! And there is an added bonus in this corner of the kitchen; the custom built-in furnace vent to warm chilly feet while waiting for the coffee to brew.
Throughout the space we used unlacquered brass fixtures and hardware to add a sense of timelessness to the project. The special thing about them is that with time they will develop a natural patina, adding warmth and longevity to the surfaces. We also chose antique brass and ceramic pendants, a modern take on a classic that won't go out of style.
The walk-in pantry, a Maison Blonde classic, with an arched entrance, open shelves for storage and display, and full cabinets on the left provides even more storage for the owners. We lit up the shelves inside with a clear glass globe pendant to add some sparkle to this nook. The lower cabinets along the back wall are only 12" deep, which makes them perfect for canned goods and makes for easy access without having to shuffle the cans to see what's in the back. So convenient!
In the living room, we designed a custom fireplace as the focal point, along with inset cabinetry and open shelving on both sides to contrast with the natural black granite stone.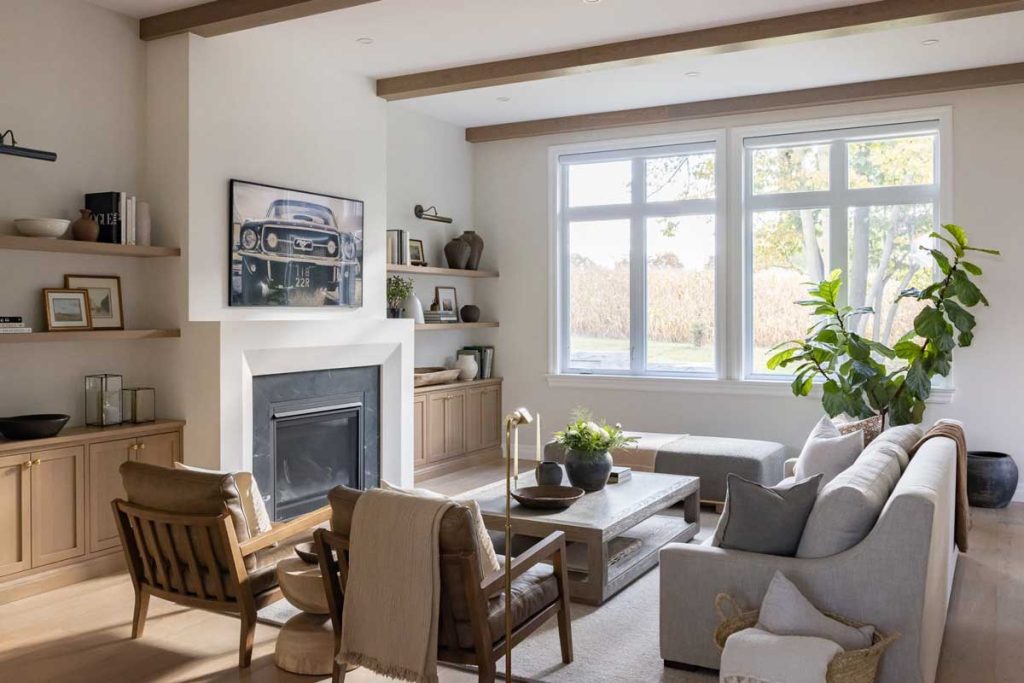 We carried the unlacquered brass details into this room as well, by dressing the built-in cabinetry in stunning hardware to add a warm and inviting feel in the space. The shelves above are styled with decorative accents complemented by a picture light in brass finish.
The bright walls in this room are complemented by the symmetrical white oak built-ins and the fireplace, while the warm toned flooring perfectly accents the furniture, decor, and ceiling beams!
We created a relaxing and tranquil feel in the ensuite and powder room by placing bright shaker style bathroom cabinets dressed in unlacquered brass hardware to add warmth. The ensuite features face-frame cabinetry with custom, apron-front quartz counters while the elegant wall sconces in brass finish help carry that unified look throughout the entire home.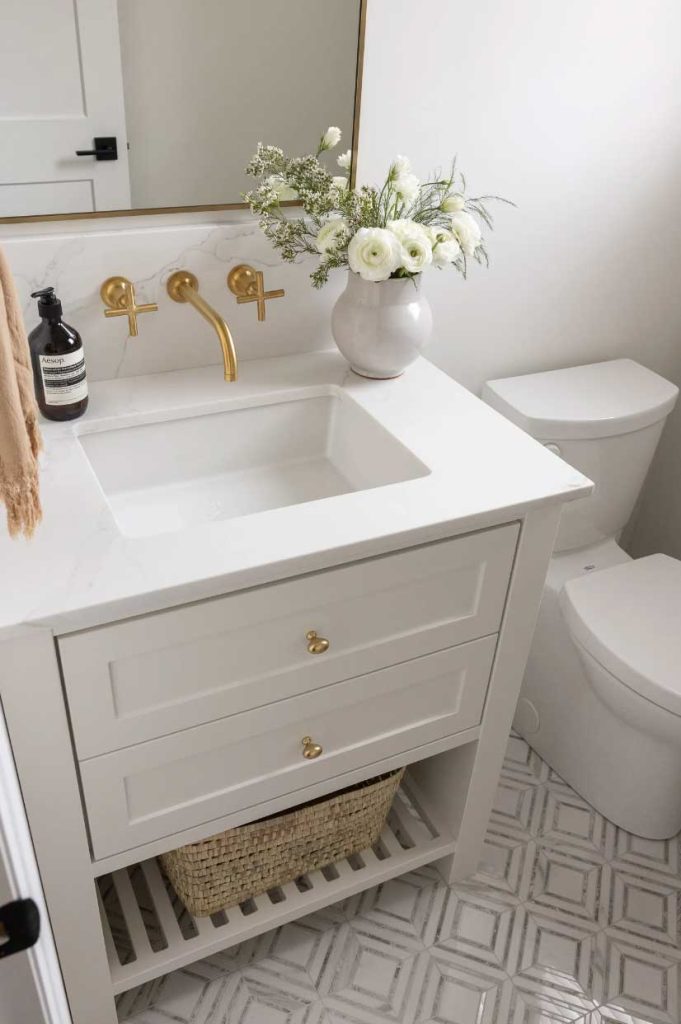 By using a lot of natural stone, aging brass, textures, and wood to add warmth we made this newly built bungalow into a tranquil oasis for our clients with a cohesive, clean and relaxing feel throughout the entire house. They fell in love with their new home so much, the client cried tears of joy for a month after the reveal!
Related
Luxury with a view

Sometimes the shape of a room dictates the furniture and millwork layout. In the case of our Esplanade project, the open living, kitchen, and dining room had an unbelievable view of Toronto with the w ...

ARIDO Award: Elevator Cabs

The challenge of this elevator cab redesign was to create a mobile portal between a well-aged ground floor lobby that would seamlessly integrate with each of the floors above. Category: DISTINCT Inter ...