News
ARIDO Student member Meaghan Maass wins third place FORM Student Innovation Competition
Published on: May 16, 2023
For a sixth consecutive year, the FORM Student Innovation Competition invited interior design students, architecture and any related discipline from Canada, the United States, and, for the first time from Mexico, to create furniture pieces using Formica® brand products. A panel of esteemed industry experts assessed 150 projects from 31 colleges and universities. Participants showed their creative prowess in defining maximalism which manifested as furniture with multiple patterns, distinctive architectural forms or vivid, eye-catching colours.
As she was looking for a design-related project to complete on her reading week that she could have some fun and experiment with, Meghan Maass, Student, ARIDO, a recent graduate of Fanshawe College in Ontario, came across the announcement of the FORM Student Innovation Competition on the Formica website. She immediately jumped at the exciting opportunity to be creative and explore a new side of design.
Meaghan Maass, was awarded third prize for her "Mooi Modular Storage Units" design. The Mooi modular units draw inspiration from the new maximalism movement and abstract rock formations while offering versatility and adaptability. These multifunctional units can be rearranged to serve as shelves, storage or seating, catering to various needs and preferences.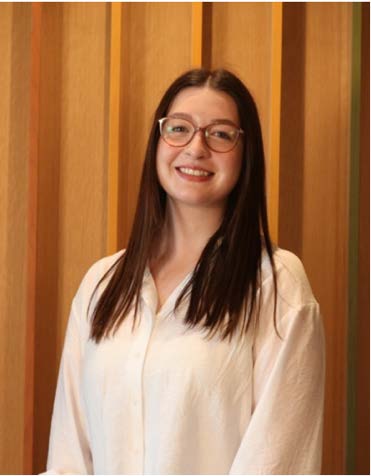 Design process
Meaghan started the process of creating her Mooi Modular Storage Units by doing research and finding concept inspiration. As this was her first time working on a project inspired by New Maximalism, she first wanted to understand the style to better master it.
Afterwards, she moved into a design ideation phase where she began experimenting with different forms and shapes and seeing how they could be transformed into different furniture pieces. After gaining inspiration from rock formations and mountain peaks, she originally designed the units to function as a nightstand. However, after experimenting with her design in a 3D perspective, she discovered it could have many versatile uses. And so, Mooi was born.
Throughout the development of her project, Meaghan experimented with different objects but became drawn to the concept of modular furniture and thought it perfectly fit the principles of the New Maximalist movement. "I loved the concept of how one piece of furniture could have many different uses and functions and be as unique as the user. I felt the design of the unit itself was simplistic yet could be the perfect addition to a maximalist space. This is done through its colour and general shape while also serving as a versatile and functional piece of furniture," says Meaghan Maass.
Meaghan chose to use Formica's SurfaceSet® 1193 Gold Braze, 1198 Jadeite and 1196 Purple Dye laminates for their bright, vibrant colours, which lend a vibrant and eclectic look to her design.
Meaghan now has another string in her bow and is ready to join the job market and embark on her interior design career. She is hoping to move into commercial design as she's always been drawn
to projects of that type.