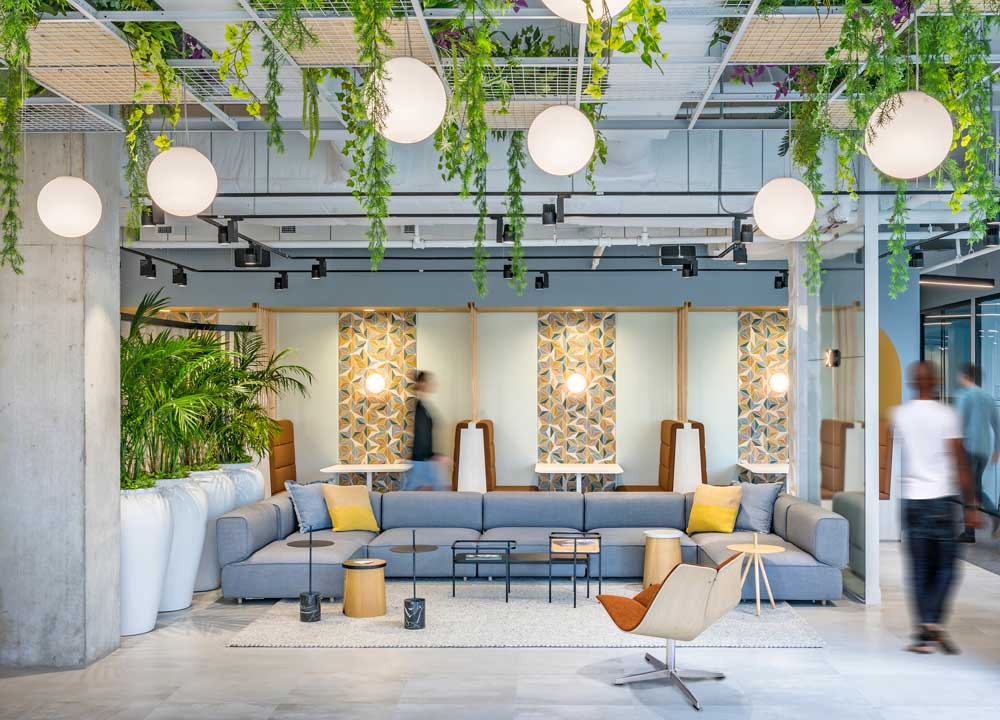 These interiors are a celebration of green and sustainable design
Since April is Earth Month, we rounded up a few projects by Registered Interior Designers published on BLOG//ARIDO that showcase environmentally conscious or sustainable design practices. These projects create a seamless synergy with nature while keeping the health and wellbeing of occupants top of mind.
Recycled or salvaged materials, adoption of biophilic design principles, and careful selection of colour palettes and materials are just some of the ways these designs are reducing negative impacts on our environment.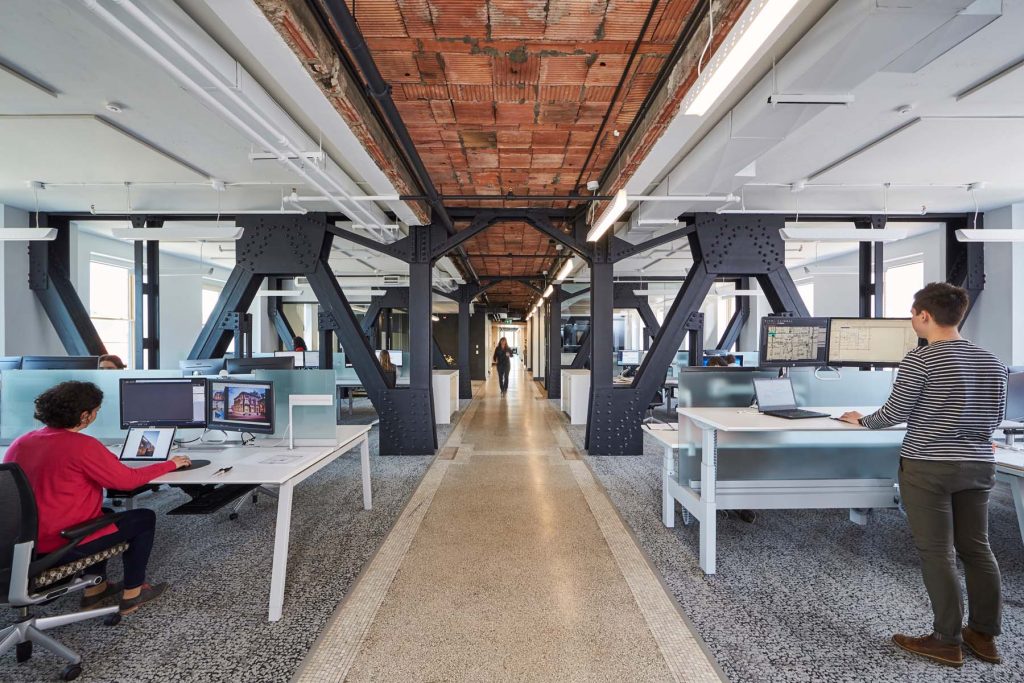 Good bones? This updated office space is a sustainable and beautiful upgrade
This project was an astounding 10,000 square feet of a 1917 heritage building which had been abandoned for three decades. The design team spent six months studying integrated teams to create a modern, sustainable workplace that reflects the ways in which productivity and teamwork has evolved.
The project succeeds by balancing heritage renewal and sustainable design into a meaningful interactive workspace. Specialized coatings were applied to meet life safety requirements, which allowed the design team to showcase the incredible exposed steel trusses.
The original details are celebrated throughout the space. Original marble mosaic, terrazzo floors, exquisite plaster ceiling mouldings, and speed tile have been salvaged and restored where possible.
Interior Designer: Dora Lomax, ARIDO
Design Firm: McCallumSather
Photographer: Banko Media
A playful balance of creativity and sustainability in this award winning project
Inspired by the brand's history of innovation and problem solving, the design team created a custom art installation between two-stories of stairs to ground the space and greet visitors and employees alike upon entering the reception area.
Custom-made from components of obsolete medical technology, this thousand-pound 'chandelier' considers one of today's biggest challenges in healthcare: how to break the cycle of waste and obsolescence of medical equipment and technology.
Interior Designer: Caitlin Turner, ARIDO
Design Team: Meagan Buchanan, ARIDO
Design Firm: HOK
Photographer: Karl Hipolito and Meagan Buchanan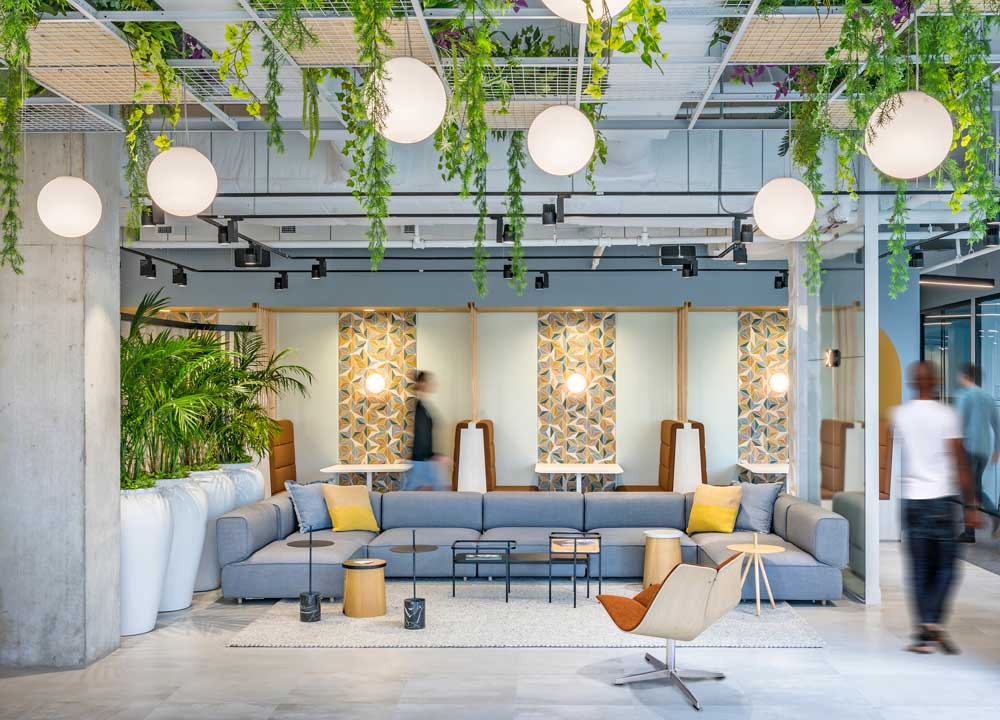 Biophilic design as a guiding principle in this co-working interior
From the outset, the client wanted to redefine coworking spaces by creating a deep connection to the surrounding neighbourhood, while reinforcing an indoor/outdoor connection.
In order to create a seamless synergy with nature and its natural elements, the design team behind this project adopted biophilic principles by incorporating extensive greenery throughout the walls, ceiling, and freestanding elements, further promoting a sense of sustainability within the space.
Interior Designer: Sabrina Giacometti, ARIDO
Design Team: Jessy Helmer, ARIDO; Katelynn Marshall, Intern ARIDO
Design Firm: Straticom Planning Associates Inc.
Photographer: Bob Gundu
Latest outpost hails an exciting new phase for this coffee roaster
Wanting to expand on their success, Hale Coffee decided to create a fourth location at Bloor & Church St. in Toronto to provide their signature coffee and snacks to this busy Toronto intersection and working professionals.
This new location needed to feel like an extension of their main shop, aligning with their signature eco-friendly, sustainable, and client-first design. Knowing that sustainable materials and environmentally conscious design were important to our client, we went with a very natural and light-coloured palette featuring raw woods, like unstained red oak throughout the entire design.
Interior Designer: Jude Kamal, ARIDO
Design Firm: Sansa Interiors Inc.
Photographer: Bruno Belli
Related
ARIDO Award: The Hive

The first of its kind in Canada, this 3D printed masonry wall is the result of a collaboration between design professionals, students, and faculty at an Ontario university. Category: CRAFT Interior De ...

ARIDO Award: Florette Restaurant + Bar

While interior designers traditionally aim for perfection in their projects, this design team chose to highlight the imperfect, comforting aspects of this new restaurant space on Toronto's Queen Str ...