A vibrant masterpiece sets a playful tone in this cottage interior
The aptly named Jellybean Cottage, inspired by a vibrant custom painting, merges form and function with the client's love of colour. Supporting local artisans and developing a deep and meaningful bond with their family and surrounding community were among the key goals for this project.
Our clients, a senior couple with grown children, desired a space that looked to the future; a space that met their current needs and anticipated possible changes. The cottage was designed to allow multiple generations to enjoy a fun and relaxing space together, while also enabling the owners to comfortably transition to living in their cottage full time and age in place.
Interior Designer: Melissa Franklin, ARIDO
Design Firm: Madison Taylor Inc
Photographer: Niamb Barry Photography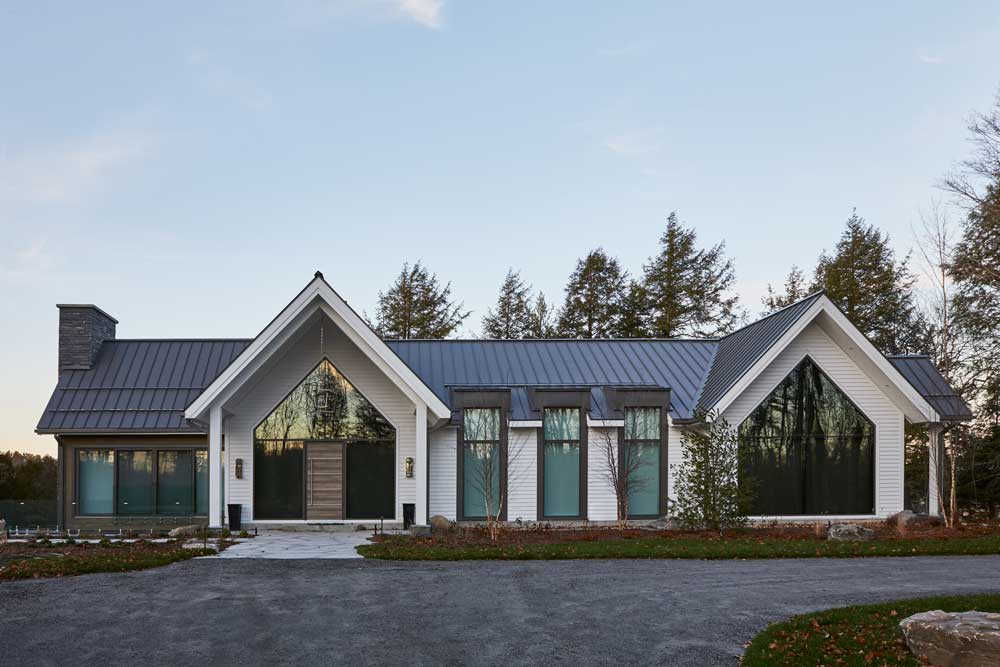 Our team was tasked with creating a truly integrated home, that seamlessly combines modern architectural design, memorable interiors, and practical landscape architecture. We went beyond the boundaries of a traditional Muskoka cottage aesthetic and designed a space that is innovative and unique to the owners' personal tastes and history. With a total area of 7,100 square feet, the Jellybean Cottage merges the clients unapologetic love of colour and unique details, with elements seen in a traditional Muskoka cottage.
The exterior is a true reflection of contemporary design, with traditional form being merged with simplified geometry and detailing. Informed by nature, the geometry of the building is highlighted by a variety of textures and seamlessly integrates into the surrounding environment. Expansive windows bring the outside in, while the vaulted roof transitions into the interior carry the exterior forms throughout.
In the cottage's mudroom, a bench provides a unique design feature that maximizes the function and space of the room. This custom piece beautifully integrates dog kennels built into the underside, while doubling as a functional bench for the clients to comfortably sit and put on their shoes. The dogs are also given an unobstructed view to the outdoors, helping to keep them calm and entertained.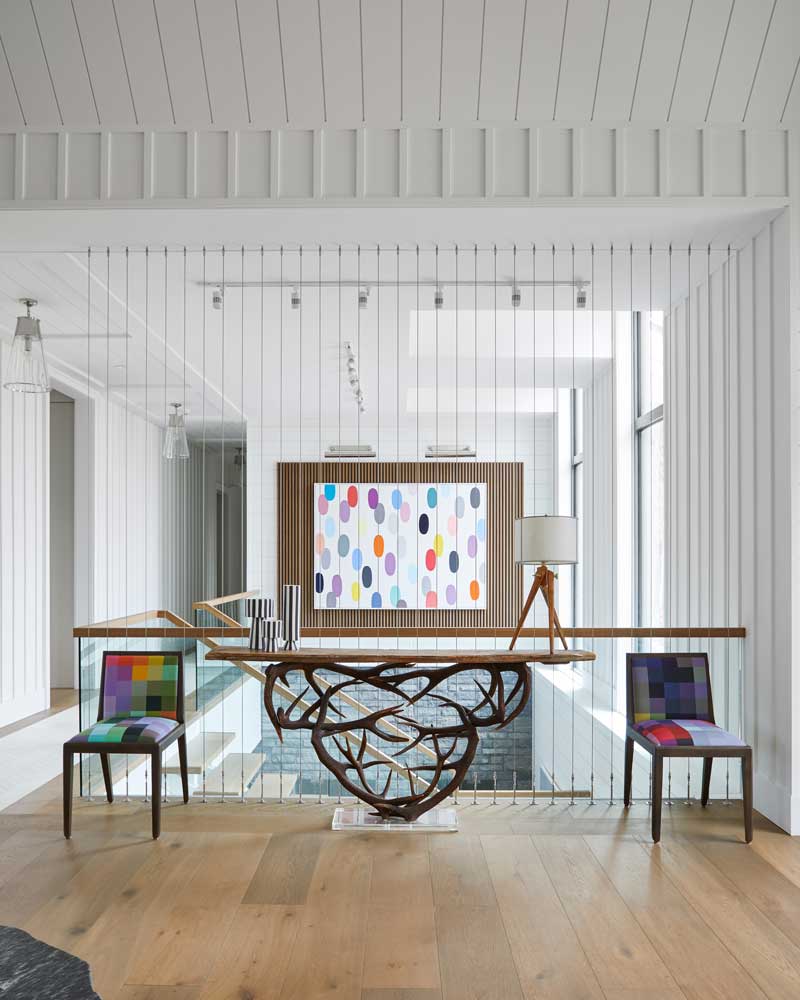 Inspired by Toronto's thriving art and creative community, the client was interested in incorporating purposeful design elements throughout the cottage. Instantly setting the tone throughout, occupants are greeted by a commissioned "Jellybean" painting completed by renowned Toronto artist Peter Triantos. The custom art piece that hangs over the staircase was the inspiration behind the colour scheme for the open concept main floor. Similar colours are featured on furniture and accessories bringing new life to the classic neutral backdrop that will stand the test of time. Encouraged by the joyous colours of the "Jellybeans", the lighthearted and vibrant energy radiates throughout the cottage.
Throughout the entirety of the home shiplap, board and batten (wood moldings placed over the seams of panel boards) and mid-tone woods interact to create a thoughtfully layered and cohesive interior. Expressive pops of colour like vibrant teal and subdued lilac and purple can be seen throughout the multitude of lounge and gathering spaces, each of which allow for both intimate or large family gatherings.
Divided amongst the main level are the primary gathering spaces including the great room, kitchen, and Muskoka room, facilitating a social and relaxed environment. Meandering down a private corridor leads to the primary suite, which is easily accessible and spacious to allow for the owners to gracefully transition to full time living.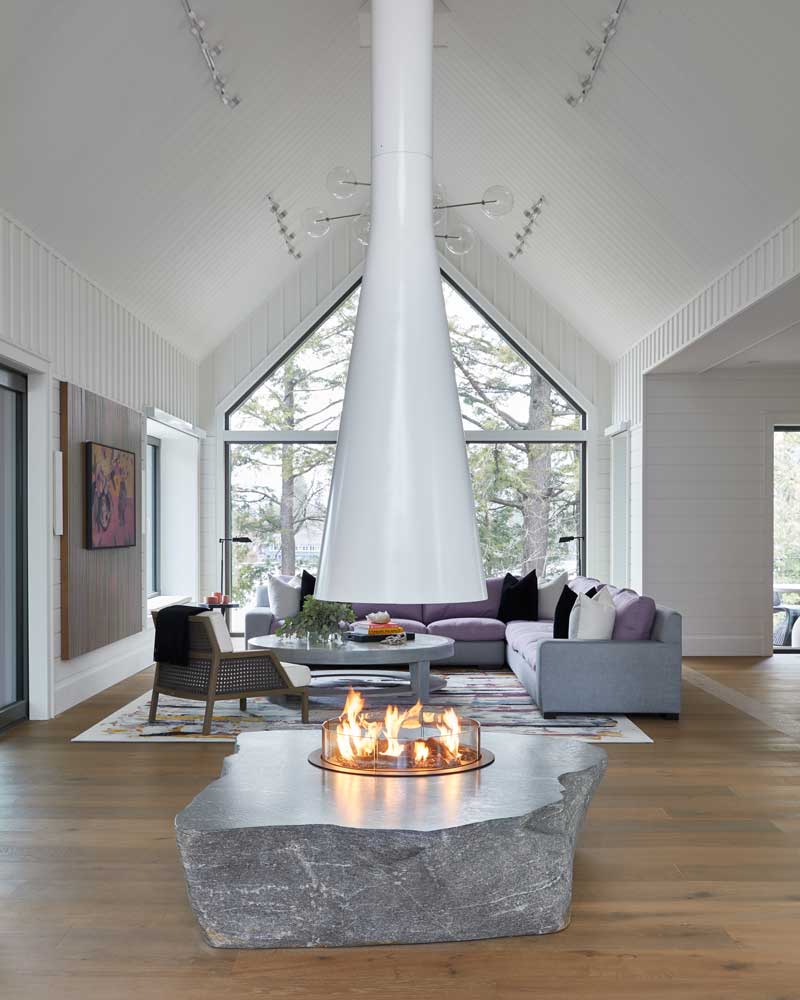 A key feature of this cottage is a locally sourced granite stone fireplace with a suspended chimney, setting a warm and welcoming atmosphere upon entering and providing an open sightline all the way through to lakeview windows. Combining traditional Muskoka granite with a modern form.
Transitioning to the lower level, the occupants are guided down a custom staircase featuring vertical aircraft cables. These mimic the form of the vertical board and batten and serve as a safety divider without obstructing views. The lower level of the home has been designed with multiple sleeping arrangements, allowing family and guests a comfortable place to stay.
The sustainability of the cottage and surrounding environment was a priority for the client in order to ensure it could be enjoyed to generations to come. Window location is optimized to utilize the amount of sunlight flowing indoors. A steel roof was also selected for its long-term durability, beautiful aesthetic and to reduce unnecessary waste from traditional shingles.
Our team also came up with creative, sustainable ways to reuse multiple inventories and implement them into the new space. About a dozen light fixtures and several pieces of furniture were salvaged and thoughtfully repurposed to suit the new design. A prime example was the great room sectional sofa, which, aside from the worn upholstery, was in excellent condition. Instead of unnecessarily discarding the piece, we reimagined it with colours from the "Jellybean" art effectively making the old furniture piece new and working it into the space beautifully.
The success of this project is probably best summed up in this quote by our client. " We really trusted Melissa and her team to deliver us an amazing project and we are absolutely thrilled. She knew how much our previous cottage meant to us and how we wanted to be able to carry the same feel forward and it is just perfect. The attention to detail and care on the project has been really wonderful. We have only had to be involved as much as we wanted and were able to leave the rest up to their team."
Related
Retiring in Style

To start her retirement, our client purchased a bungalow in her childhood hometown of Grimsby just as the pandemic began in 2020. She reached out to us to help refresh her home, with plans to update w ...

The Perfect Après-ski Retreat

Our brief for this project was to design a retirement vacation home for our clients on a piece of land they purchased 15 years ago in Whistler, BC. This home is also meant to host their expanding fami ...