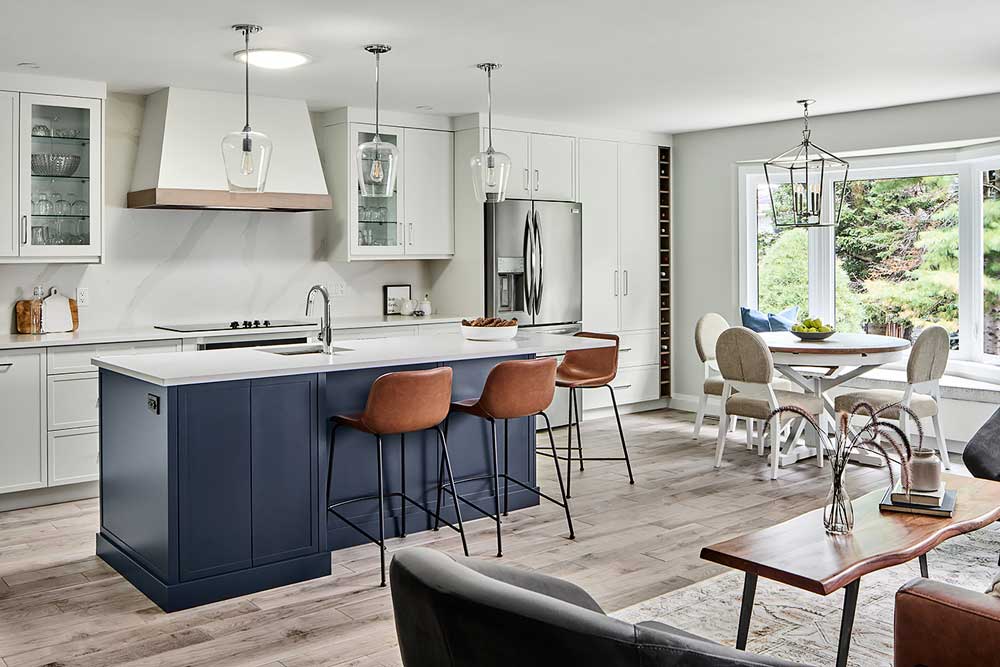 Retiring in Style
To start her retirement, our client purchased a bungalow in her childhood hometown of Grimsby just as the pandemic began in 2020. She reached out to us to help refresh her home, with plans to update with new finishes, relocate the kitchen island, and replace the old corner shower stall in the ensuite.
Interior Designer: Tracy Clipsham, ARIDO
Design Firm: Liv 4 Design
Photographer: Kelly Horkoff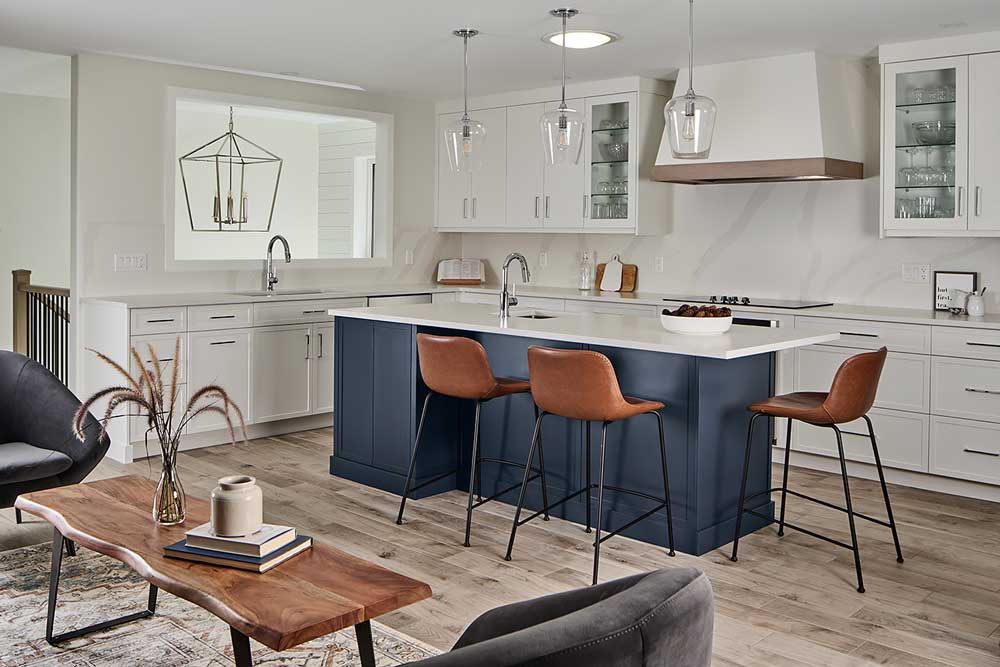 During the initial consultation, we discussed the direction the design needed to take, and came up with a plan that would involve modernizing the interior with some lively accent colours, opening up the space to allow for more natural light, and creating a functional space plan.
The new layout for the open concept living space incorporates a large kitchen island, ample cabinetry that stretches along the back wall as well as an upholstered window seat to create a tranquil dining nook. To allow more light into the stairwell and the kitchen we created a cut out in the wall between these two spaces as well as changed out the glass block window for a frosted pane above the main entrance.
We felt it was important that while we renovated and modernized the space we would also focus on ways to make the home more accessible for future years. We accomplished this by switching out the existing door knobs for levers and ran the same flooring throughout to eliminate any thresholds for a barrier free space.
We selected porcelain faux wood tile and quartz countertops for easy maintenance. We also took some space from the main bedroom area and created a larger ensuite to incorporate an accessible curbless shower.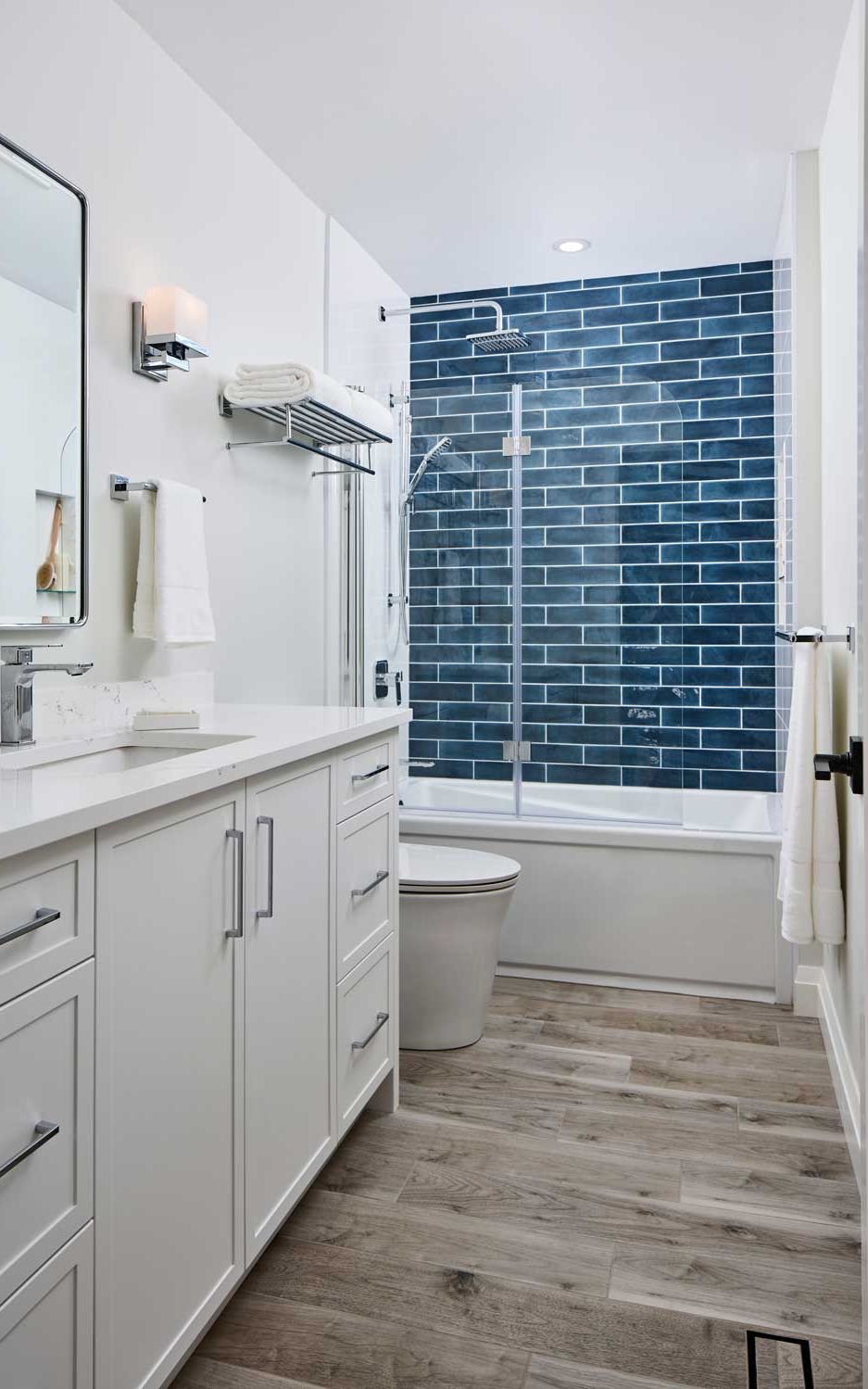 For guests, we upgraded the main floor bathroom with brand new finishes and hardware, and added beautiful vibrant blue shower tile to liven up the space. We also updated the bar area in the basement, making it a perfect hub for entertaining.
"We had to have a sense of humour for this project. Honestly, looking at the before and after pictures makes me wonder why I bought it in the first place. Must have been the location! But the contrast is startling – even being on this side of the reno – still amazes me when I look at the pictures. Not to mention we were in the middle of a Covid lockdown with no end of supply chain issues. Remarkable, to say the least." - Denise (owner)
Related
Luxury with a view

Sometimes the shape of a room dictates the furniture and millwork layout. In the case of our Esplanade project, the open living, kitchen, and dining room had an unbelievable view of Toronto with the w ...

ARIDO Award: Elevator Cabs

The challenge of this elevator cab redesign was to create a mobile portal between a well-aged ground floor lobby that would seamlessly integrate with each of the floors above. Category: DISTINCT Inter ...