Community is the healing force in this rehab transitional residence
CONNECT Communities  is a transitional residence near Hamilton, ON for those recovering from a stroke or acquired brain injuries. Built off our client's Life Redesign Model, we were asked to design a space that resembled a residence more than a medical facility. Our strategy was to create a place for inclusion and seclusion, allowing people to heal within a community of others along the same journey in a comfortable and pleasant environment.
Interior Designer: Patty Clydesdale, ARIDO
Design Firm: DPAI Architecture Inc.
Photographer: Michael Muraz
Since the project was built off CONNECT's Life Redesign ModelTM  and the building was to feel like a home first, every design decision needed to be about what one would do in their own home. We achieved this through a unique home-style, relaxed format which groups residents at varying stages of recovery in each apartment, in a comfortable and comforting setting. There was a conscious goal to create spaces not only for communal living, but also smaller spaces for personal reflection. The kitchen and living rooms are communal spaces, which allow for interaction but at the same time can be used as a quiet space for reading or personal reflection.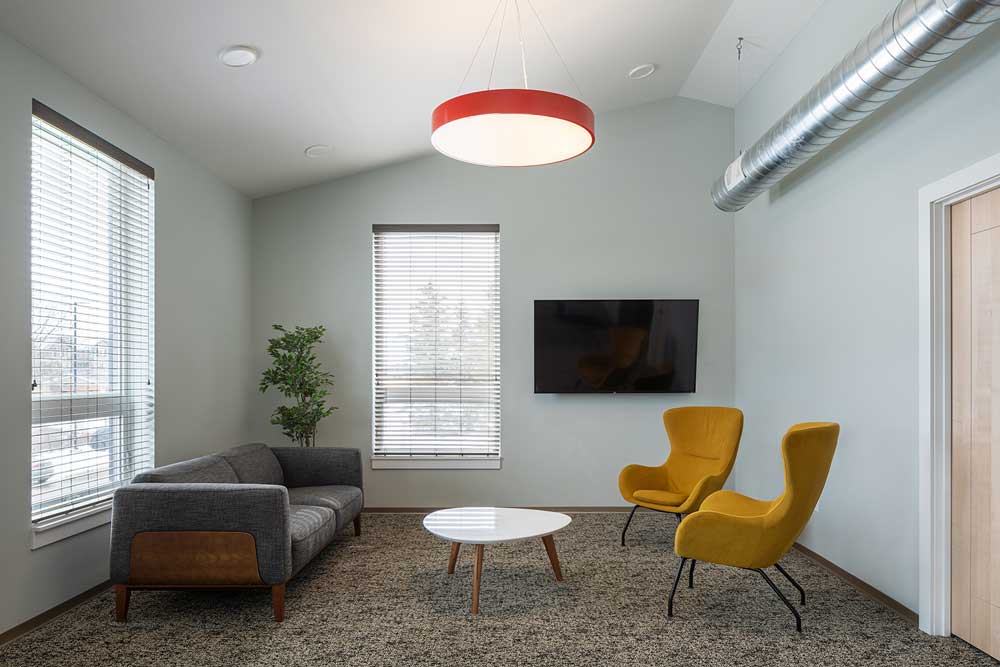 The Life Redesign treatment programme requested that traditional barrier-free code requirements be incorporated in a creative way or hidden where possible, creating a definitively residential environment. We wanted to achieve a more home-y feel with warm toned wood flooring and comfortable furniture both in communal spaces and private bedrooms.
The 42 bedrooms with accessible ensuites and communal living spaces are connected to amenity spaces and offices. The living spaces are complemented by a tangible connection to the landscape and thoughtful access to the surrounding community. This care facility consciously fits within the context and scale of the Hamilton residential community in which it exists.
Though suburban dwellings surround the property on two sides, nature abounds to the east where the residence overlooks the scenic Eramosa Karst Conservation Area. Just steps past the intentionally transparent box-wire fence lie walking trails through a Carolinian woodlot, and a provincially designated area of Natural and Scientific Interest-- karst land formations. This required our team to collaborate in a meaningful way with the Hamilton Region Conservation Authority.
The surrounding conservation land was an important consideration in our design and inspired the visible connection to nature which was accomplished by placing the building components apart from each other to create narrow connecting corridors with large windows. This allowed natural light to flow in and provided endless views of the conservation area directly through the building. The concept of natural light as a healing element is not new, but the goal for the living spaces went further, with a desire to have a meaningful connection to the surrounding residential community. We created courtyards between residences and large balconies to encourage integration with neighbours and passersby.
CONNECT Communities strives to make their patients' lives better by providing them with a nurturing and innovative community environment while they recover from their injuries. We designed a unique interior that was to feel like a home more than a facility and complemented the living spaces by a tangible connection to nature and thoughtful access to the surrounding community.
Related