This classroom design projects the future
The Ted Rogers School of Management at TMU expanded their ability for diverse, experiential learning with the Classroom of the Future. This inventive interior was designed as a flexible, non-hierarchical, non-directional prototype classroom that can be used as a lecture hall, study space, student lounge, and even a venue for TEDx presentations.
Interior Designer: Patty Clydesdale, ARIDO
Design Firm: DPAI Architecture Inc.
Photographer: Michael Muraz
The interior is designed around four custom soft geometrical bright orange seating pieces positioned in a way that promotes casual and comfortable interaction in a non-hierarchical environment.
Above the seating units are dimmable ceiling light fixtures constructed from LED lighting strips clad in a translucent stretch acoustic fabric. Additional seating is provided in two areas for laptop use. One is a long narrow hallway adjacent to the main classroom space, lined with a long bar height table and stools. The other is a table that stems off of the central classroom surrounded by soft blue seating cubes which can also be distributed throughout the space for varied seating options.
The classroom also features multiple interactive projectors that cast images onto three walls, offering ultimate flexibility in viewing angles. The lecturer can roam freely about the space with a wireless microphone and remote for changing the projected images. A state of the art, centrally located, omnidirectional speaker ensures high sound quality in all parts of the room. Students can remotely receive the presentation on their laptops to provide further functionality to the space.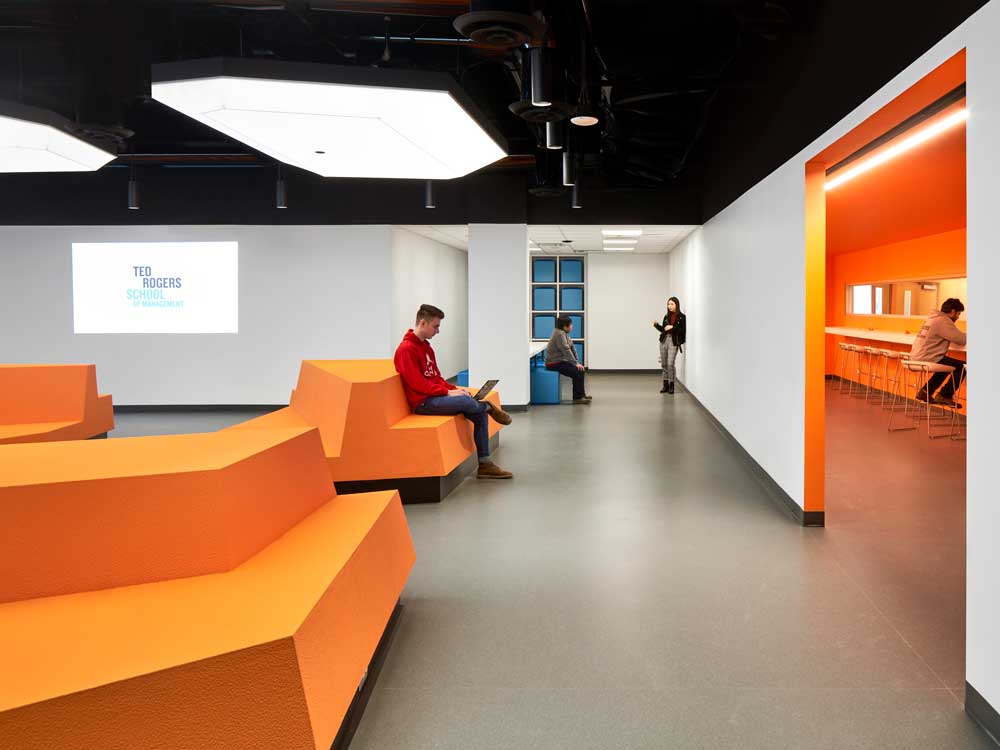 The innovative "unranked" design of the lecture hall was intended to create a sense of community participation and foster interaction between students and lecturers - a departure from the hierarchical seating found in most post - secondary environments. Traditional lecture halls place the professors front and centre of the classroom to optimize the students' attention, but this can discourage interaction and discussion, and can even feel intimidating for some, instead of encouraging them to share and voice their opinions.
Related
ARIDO Award: School of Continuing Studies

Interior and exterior are in dialogue at York University's new School of Continuing Studies building. The interiors respond to and compliment the unique exterior geometry of the building. This strat ...

ARIDO Award: CIBC Conference and Learning Centre

A people focused approach was the starting point for this new three floor conference and learning centre in Toronto. The client needed a space where they could host executive and employee training, as ...