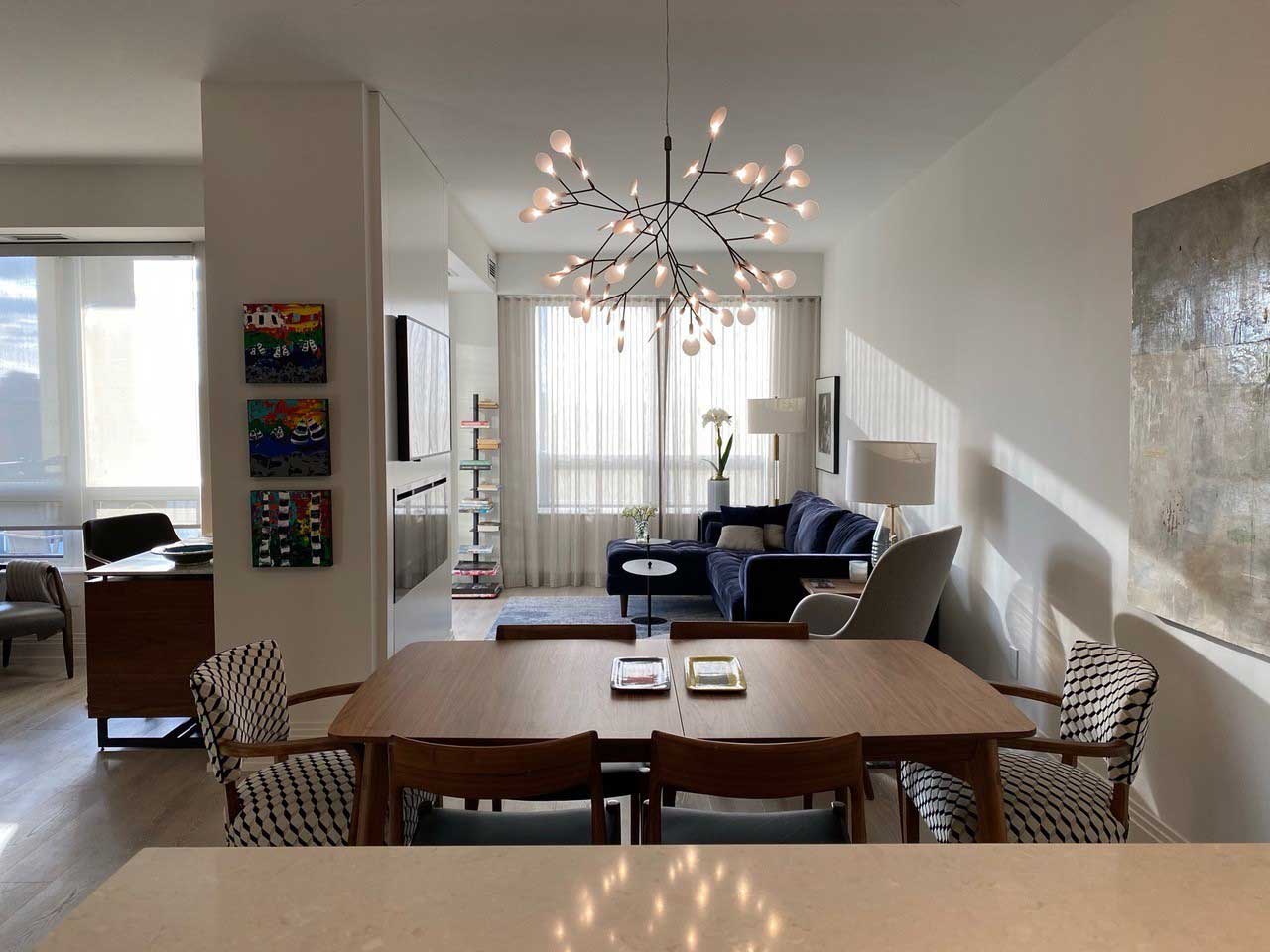 This Toronto condo is a perfect mix of tranquility and invigoration
This updated one bedroom condominium located in a bustling Toronto neighbourhood reflects the energy of the surrounding area while also providing our clients with a place to relax and recharge. Our aim was to design the perfect space that would bring balance to their busy lifestyle. We achieved this by upgrading and opening up the kitchen and living space, and adding invigorating accents without sacrificing the boutique hotel aesthetic.
Interior Designer: Simon Rowlands, ARIDO
Design Firm: Rowlands Associates Inc.
Photographer: Rowlands Associates
An existing cramped den space was opened up towards the living room to provide a more spacious versatile area for working, reading, and relaxing. A new electric fireplace was installed in the wall between the two rooms to create a warmer ambience in the living room area. We included a wet bar in the den for a more unique and inviting experience, perfect for entertaining or for a relaxing drink after a busy day. This is a very flexible, layered space that feels inviting and comfortable to be in.
Between the kitchen and the living room is the dining area where a mid-century dining table allows for entertaining smaller groups. The bar stools around the kitchen peninsula provide an inviting space for connecting and converging. The walls throughout the condo were brightened to complement our client's art collection which was one of the main objectives of the project. Careful attention was paid to the selection of materials, colours, and furnishings to create a unified look, while accents and variations within each area were added for interest. For example, pops of dark blue and black are used throughout to add interest while wood tones warm up the palette.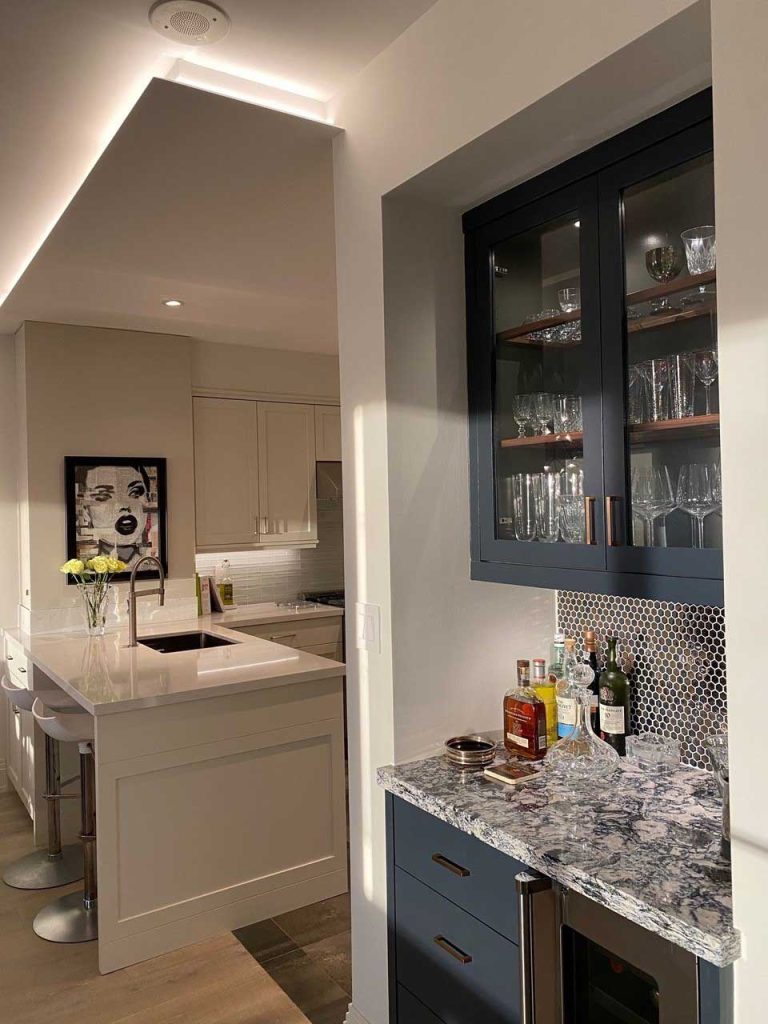 One of the key elements in these spaces is lighting. There is a combination of cove lighting, chandeliers and pot lights in the kitchen and dining area for example. Throughout the living and den spaces, table lamps, and a floor lamp for reading combine for a subtle and interesting composition of both functional and ambient lighting.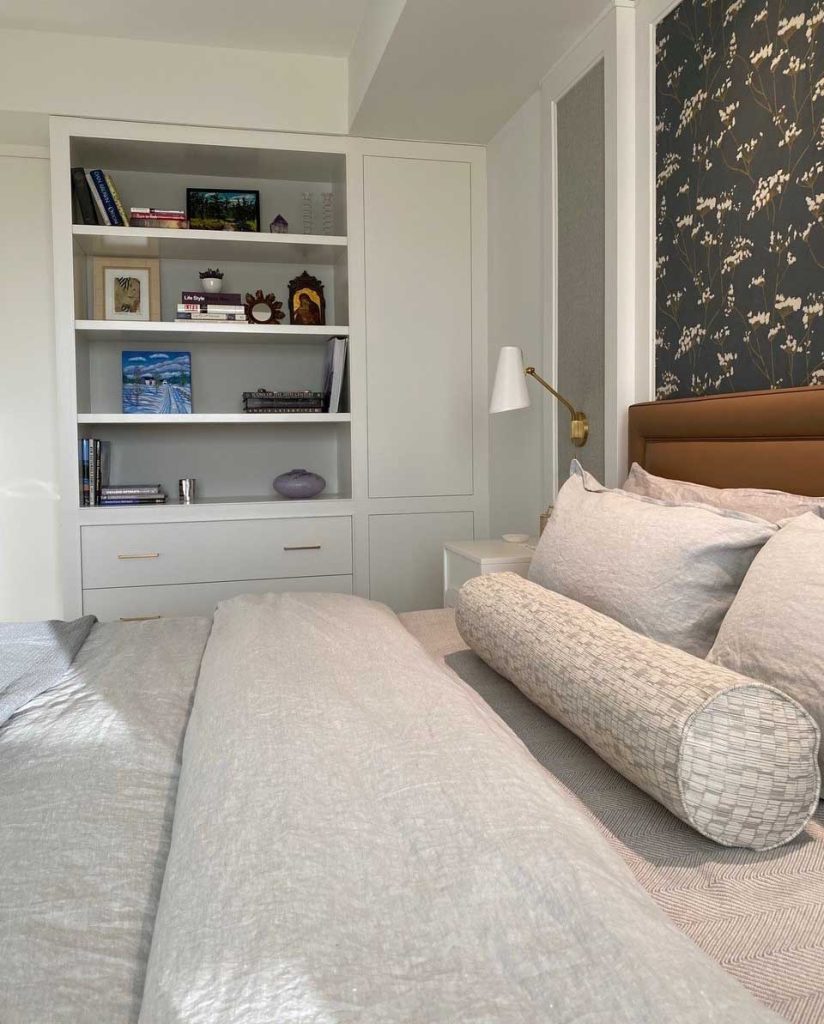 The inspiration for the master bedroom suite was the aesthetic of a tranquil boutique hotel, an original and unique space with a calm and relaxing ambiance. By using a combination of a leatherette headboard with accent floral wallpaper above it we designed a custom headboard that adds character and warmth in this room. Vertical fabric paneling on both sides of the bed that incorporates practical bedside lamps, adds to the concept of a boutique hotel feel we wanted to achieve.
Despite its tiny footprint, this one bedroom condo is perfectly designed to suit our client's needs, whether they wish to enjoy some quiet time or entertain their friends. We struck the perfect balance by providing them with an open and flexible living space and a tranquil boutique hotel style bedroom they can retreat to and recharge.
Related
Retiring in Style

To start her retirement, our client purchased a bungalow in her childhood hometown of Grimsby just as the pandemic began in 2020. She reached out to us to help refresh her home, with plans to update w ...