News
It's time to renew
Published on: Jan 30, 2023
2022 has been another year of growth and change for ARIDO. Can you feel the shift that has started to take place?
Together, we are forging ARIDO's path forward as an industry leader to advance equity, diversity, and inclusion within the association and our communities.
We are working towards building a thriving community, focused on our Bold Statement and three guiding focuses of fostering community, inclusive engagement, and reinforcing value.
It's time to renew your ARIDO membership. Please renew your membership by the January 31st deadline.
Since the start of January, we've shared many ways ARIDO has built inclusive engagement, fostered community, and reinforced value throughout the past year as guided by our Strategic Plan.
This renewal period we want to share these achievements, the people pushing them forward, and the way our collective impact, as individuals and as an Association, is moving the needle on our goals.
Reinforcing Value
Cultural betterment of the interior design industry with the end goal of increased value within the community, and increased awareness by the public and end users of the value of interior designers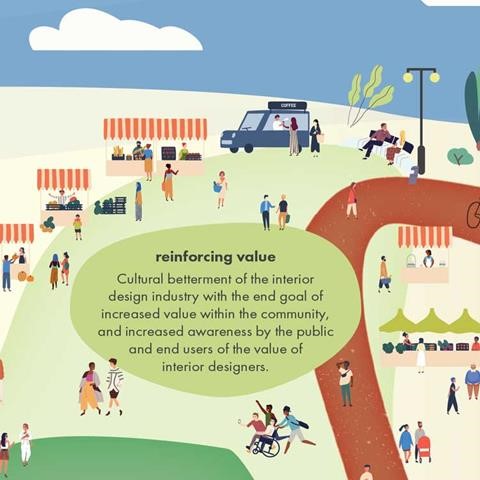 Provided access to education on equity, diversity, accessibility, and advancement, such as the 2022 Ontario Summit Education series and the Nov 25th 'Learn the Lingo' session on inclusive language with Discourse Agency.
Join one of the subcommittees of ARIDO's Equity, Diversity, Accessibility and Advancement Committee to be part of leading ARIDO's EDAA work.
Inclusive Engagement
Create safe and inclusive spaces where the community feels engaged and inspired to become an ARIDO Ambassador in this work.
From June to October, 73 Interns were mentored by 51 Registered members via the ARIDO Mentorship Program.
Career Xpress Portfolio Prep event on November 24th equipped emerging professionals with information about the interior design field and what to know at the start of their interior design career.
How can you be involved? Provide your knowledge and expertise to an ARIDO Committee such as Practice Advisory, Communications or Membership. (calls to join committee open after the AGM)
Fostering Community
The ARIDO Community is a diverse, inclusive, and safe space for all existing members, new members, industry partners, and stakeholders to participate authentically.
Over 100 high school students participated in the Student Design Charrette during Interior Design Week, showcasing the field as a meaningful career path, which can engage a range of skills and abilities.
President Jennifer Warling, President-elect Sabrina Carinci, and Executive Director Sharon Portelli hosted roundtable discussions with ARIDO Chapters to discuss the future of the chapters, how they align with ARIDO's future, and how we can build greater community across Ontario.
Join your local Chapter Board to build community and advance the profession locally. (The Chapter Nominations process opens after the ARIDO AGM)
We want to take time to celebrate ARIDO's collective achievements in 2022.
This work is member and volunteer led, and these individuals provide their expertise and insight to propel the Association forward.