Harty House is Wrapped in Calm and Peacefulness
Harty House, a suburban oasis located in Ajax, Ontario, is a residential renovation project designed by Toronto-based design firm Atelier Sun. The design overcomes the challenge of converting a cookie cutter builder home into a minimal and tranquil living space, with emphasis on natural materials and exquisite details throughout.
Interior Designer: Andrew Sun, ARIDO
Design Firm: Atelier Sun
Photography: Joel Esposito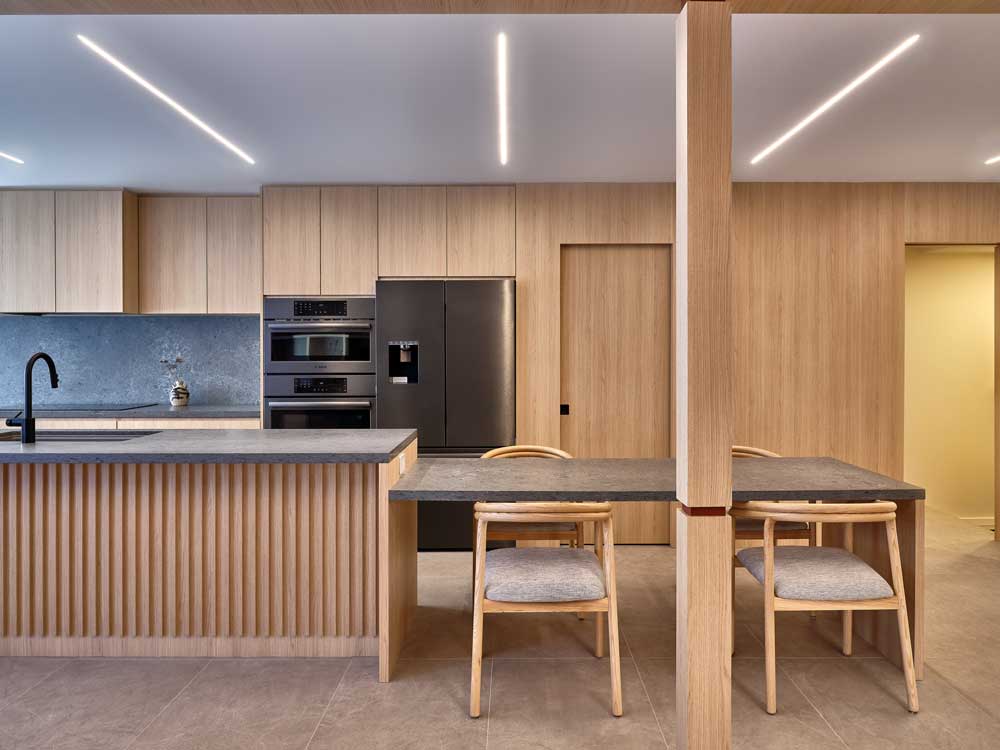 The house was built in the 80s under the mass-produced development madness with excessive structural elements such as columns and beams in the space.
"It was such a challenging site. We were surprised to see seven columns floating in the middle of the ground floor within an 850 square foot floor area. We had to incorporate the structural elements into the function and aesthetic of the design by minimizing the visual clutter of the existing condition and effectively creating a minimal and comfortable living experience." Andrew Sun, the principal designer, noted.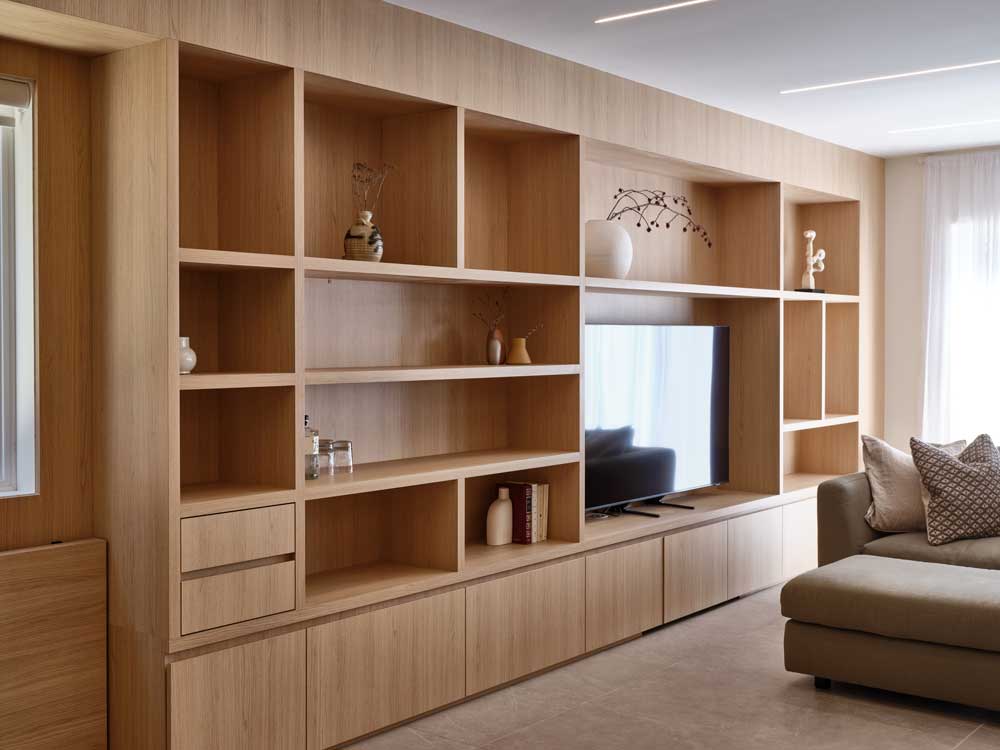 The foyer has a welcoming nook wrapped in wood panels, integrating bench seating, a shoe rack and closet, creating a cozy atmosphere at the entrance of the house.  Adjacent to the foyer, a floating staircase becomes the extension of the millwork.
A wood panel stair wall not only acts as a privacy panel which perfectly marries the structural support of the stair, but also becomes the canvas that captures the beautiful shadow casting off the steps.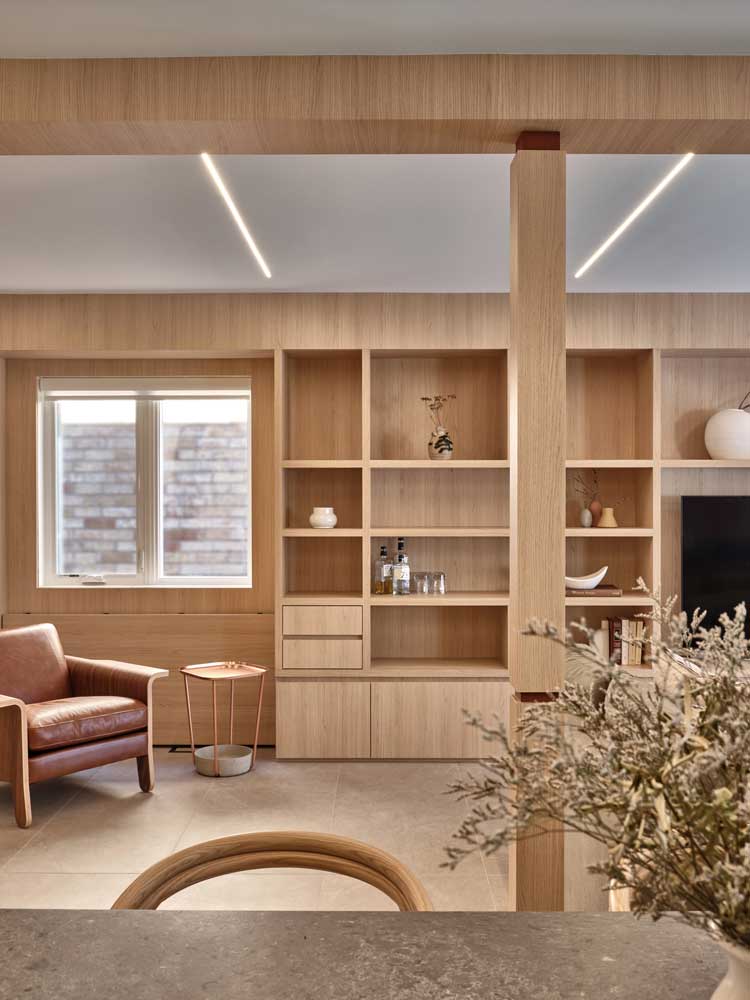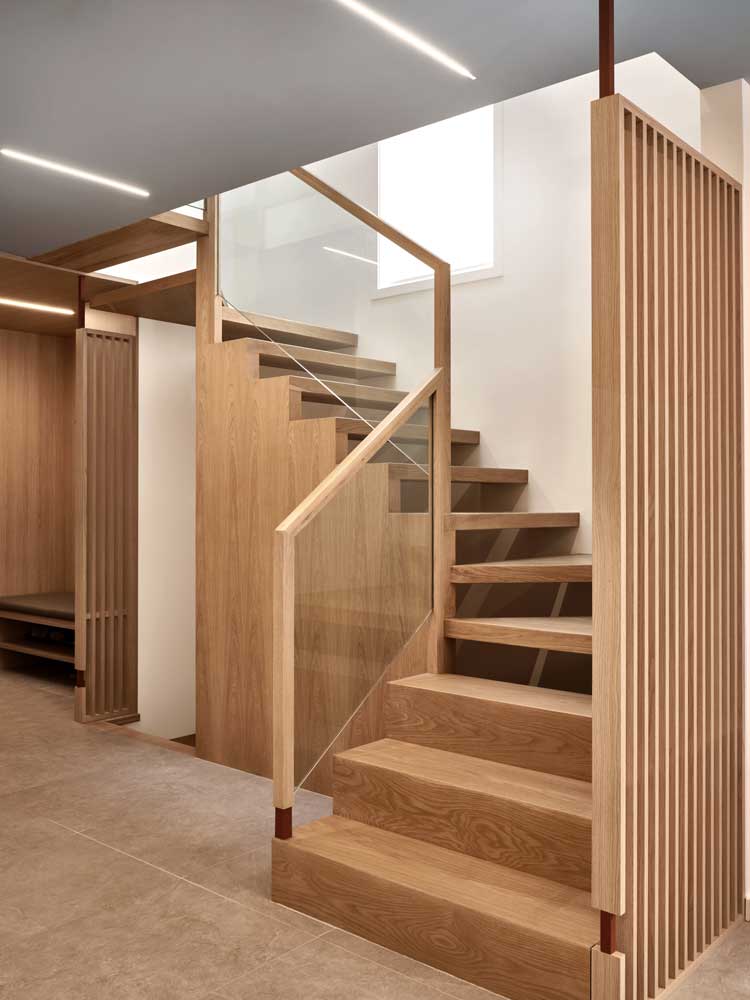 In the living area, a central beam and column is wrapped by wood finishes with bronze coloured accent details at the top and bottom. This acts as a sculptural piece that frees most of the original load bearing walls in the space. The living room and workspace is on one side of the open floor plan, and is designed with wooden millwork which integrates storage, display and flip down tables. 
The kitchen and dining areas wrapped with wood panels are located on the other side. Wooden pocket doors lead to the hidden pantry, a dog shower, and separate entrance to the garage.
With a four bedroom and three bathroom configuration on the second floor, the design is still able to capture the hospitable and inviting atmosphere into the space.
The emphasis on natural material, delicate details, and intricate craftsmanship throughout the entire space reconnects the owner to a calming and peaceful lifestyle.
Related
Luxury with a view

Sometimes the shape of a room dictates the furniture and millwork layout. In the case of our Esplanade project, the open living, kitchen, and dining room had an unbelievable view of Toronto with the w ...

ARIDO Award: Elevator Cabs

The challenge of this elevator cab redesign was to create a mobile portal between a well-aged ground floor lobby that would seamlessly integrate with each of the floors above. Category: DISTINCT Inter ...