News
World Braille Day – January 4th, 2023
Published on: Jan 04, 2023
Celebrated by the UN, World Braille Day raises awareness and understanding about the importance of braille as a means of communication for blind and partially sighted people around the world. 
Braille is not a language, it's a system of communication. It's a system where six dots within a cell are used to convey letters and numbers, including music notation, math calculations, and scientific symbols, and was invented by Louis Braille who was born in France in 1809. A childhood accident caused Braille's blindness, but he persevered and went on to pursue more education and become a teacher. Braille was inspired by Captain Charles Barbier's method of 'night writing' which was a system of dots in a grid, designed for soldiers in trenches to be read by feel.
Braille is typically written in two formats, contracted and uncontracted braille. With uncontracted braille, each letter is spelled out using one braille cell. Contracted braille is a shortened version which saves space and permits faster reading and writing.
For individuals with vision loss, learning braille is a key to literacy, independence, and is important when digital tools are not an option, for example in meetings, elevator buttons, floor signs and other components of daily life.
We've shared a few resources which might be particularly interesting to our members, as designers of space for humans. CNIB has produced Clearing Our Path, a collection of guidelines for accessible environments for people with vision loss which includes recommendations on interior environments, signage, acoustics, paths of travel and much more. 
Take a look at these images of tactile signage from projects by Registered Interior Designer, Vitorhya Shields, ARIDO of Shields + Associates. 
Braille uses in the built environment
Img 1 - Image of a stair sign indicating two floors, Stair C, and G for ground level with braille underneath each word.
Img 2 - A design for tactile signage for a space indicated by the number 2. 
Img 3 - Tactile signage outside a business which reads "Shields & Associates Interior Design Consultants" with the suite number in raised lettering and braille.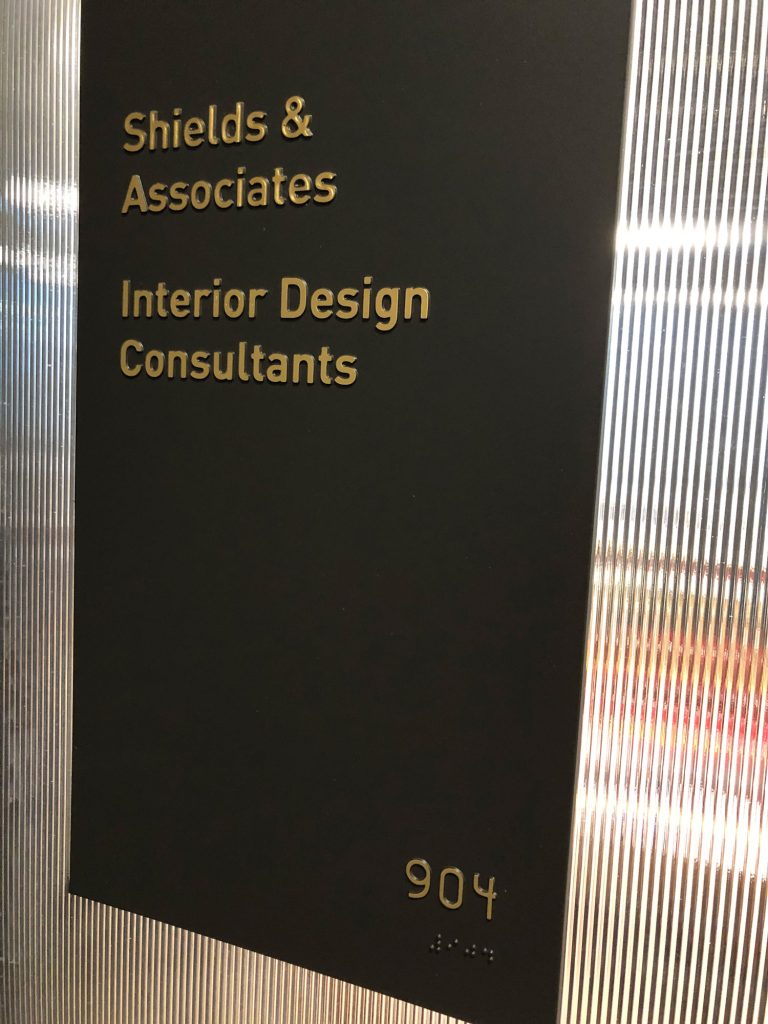 Resources and Information
Video on the Invention of Braille
Clearing Our Path - Guidelines produced by the Canadian National Institute for the Blind on design for accessible environments which includes recommendations on interior environments, signage, acoustics, paths of travel and much more. 
Tactile Signs - Clearing our Path