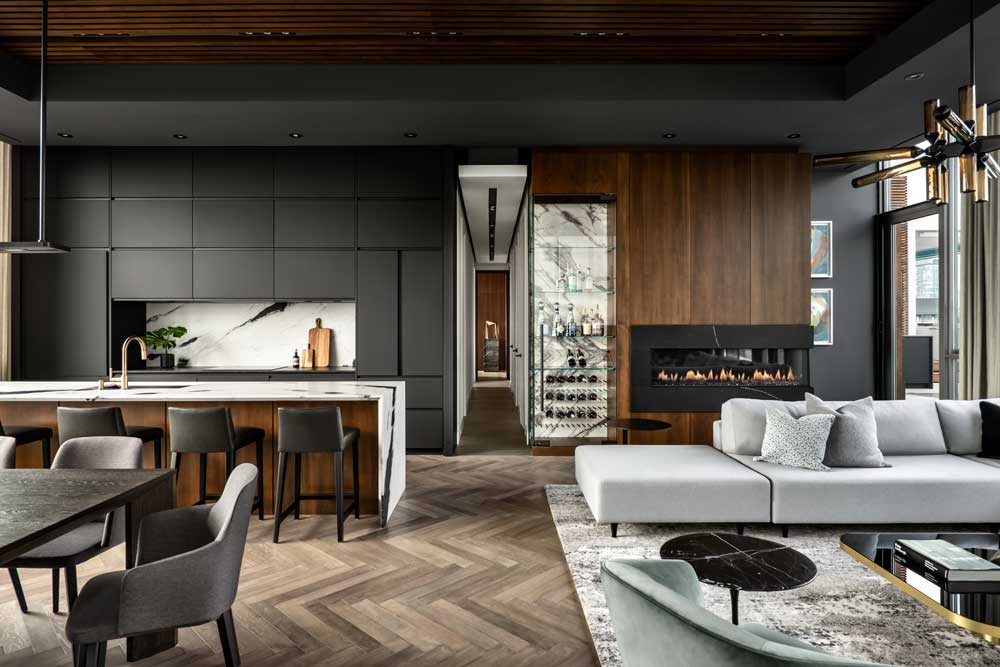 ARIDO Award: Charlotte Street Penthouse
Our design team transformed this downtown Toronto penthouse suite into a sophisticated home that aligned with our client's tastes and busy, modern lifestyle. Our strategy was to completely renovate the suite and establish a simplified, contemporary home that was warm, welcoming, and inspired by a refined-masculine and sophisticated aesthetic.
Interior Designers: Kelly Cray, ARIDO: Neil Johnsohn, ARIDO; Jennifer Welsh, ARIDO
Design Firm: U31
Photographer: Gillian Jackson
Wellness was top of mind when considering the design for this home. We wanted the home to provide calmness and elegance through simplified lines, details and natural quality materials. The client's demanding medical profession required that his home be his sanctuary and a haven, as well as a place to gather with friends and family.
The wood architectural details, combined with the natural stone, marble and wood flooring elements promote a sense of wellbeing, as does the abundance of natural light. Designed with floor to ceiling windows, it looks onto the expanse of the terrace and is a perfect refuge from life's pressures.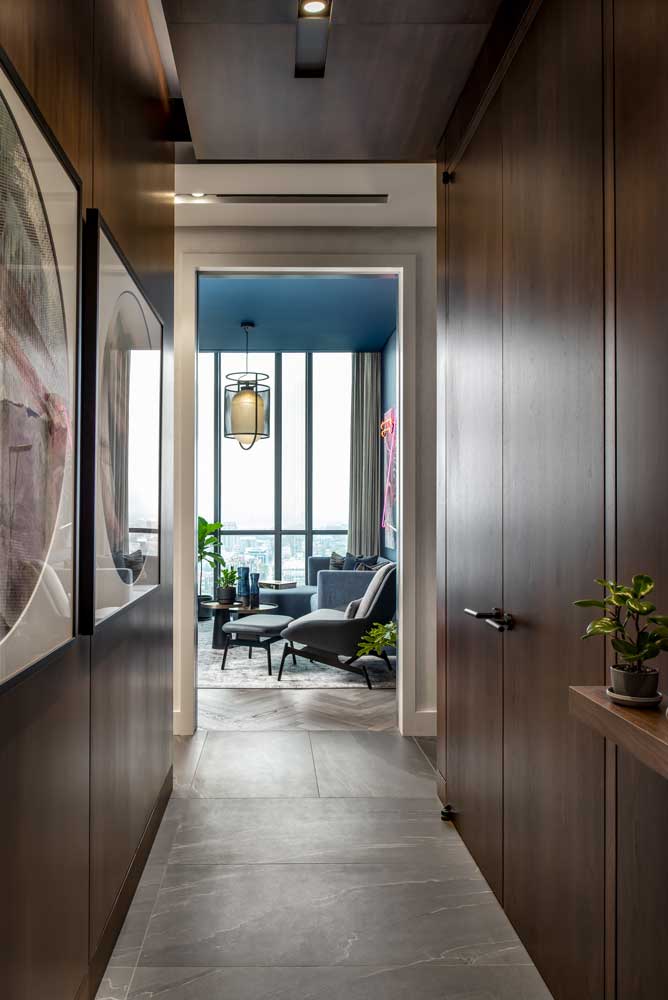 According to many studies, exposure to wood products indoors creates similar health benefits to those created by spending time in nature as it helps to reduce blood pressure, heart rates, while improving well being, creativity and cognitive abilities.
Architectural wood detailing is carried through the interior and exterior in various iterations, fostering warmth. It is present from the very first moment one enters the home in the floor to ceiling wood panelling and closets in the hallway leading to the living area.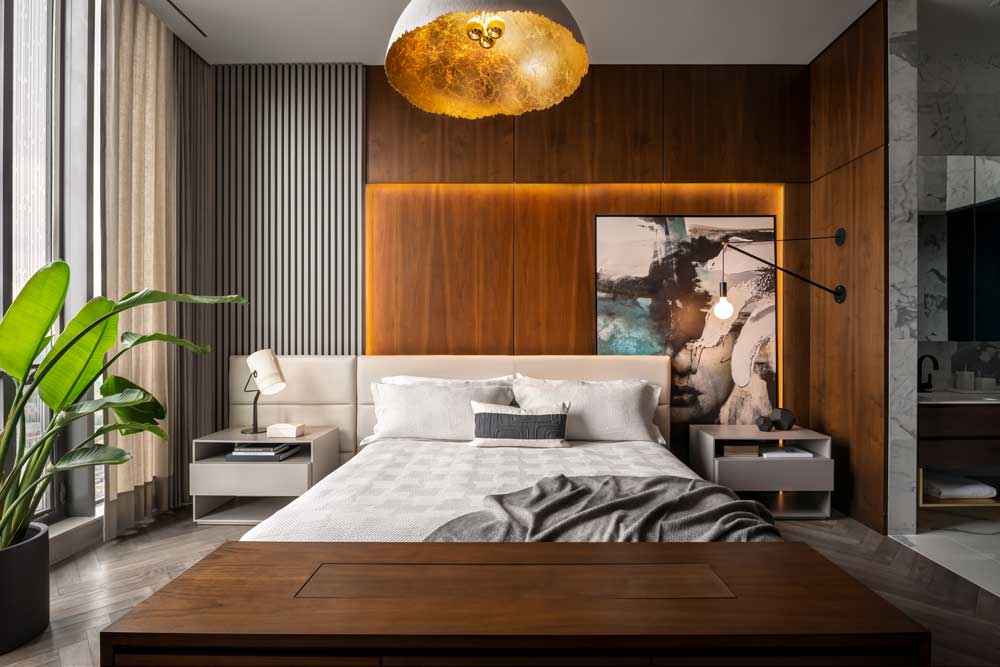 In the bedroom it provides a handsome backdrop to the streamlined bed and frames the opening to the exposed wet room off of the ensuite. Here, it contributes to the contemporary luxury hotel room vibe which the client appreciates.
In the open concept living and dining area, the wood slatted drop ceiling creates a dynamic feature above. The warmth of wood in the terrace helps to transform a once sparse and uninspired space into an inviting social oasis.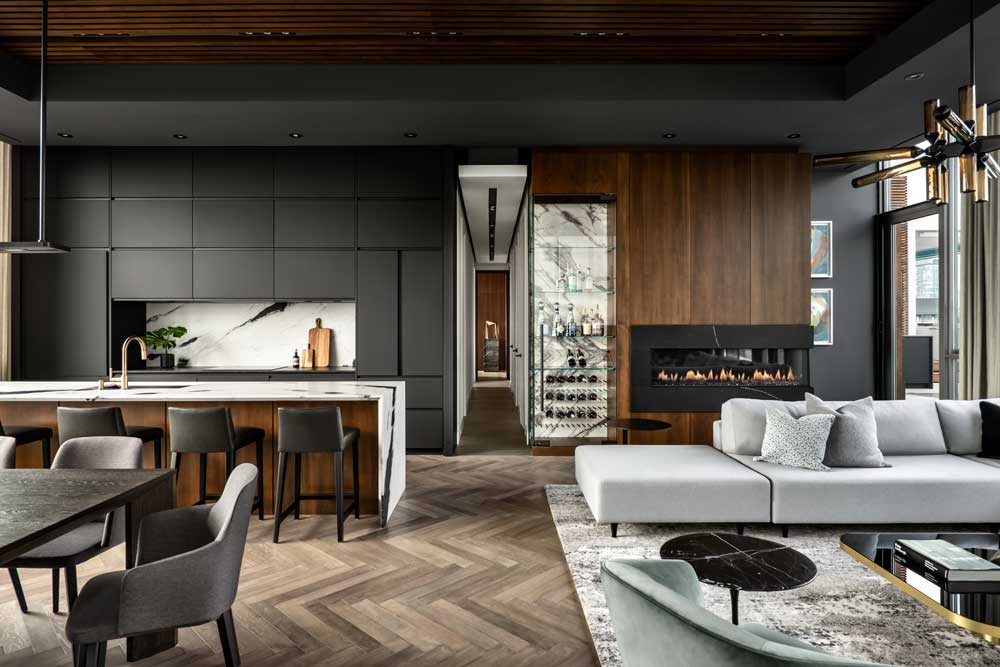 Natural stone adds to the rich materiality in this interior; it was used for the dramatic waterfall kitchen island and backsplash. We also crafted a modern floor to ceiling wine cooler in back-lit elegant Alabaster stone and tempered glass.
Our design team incorporated new hardwood herringbone flooring in a medium tone to provide both a light warmth and timeless elegance, against the other more contemporary elements like lighting, vibrant art, bright coloured accents, and furniture forms.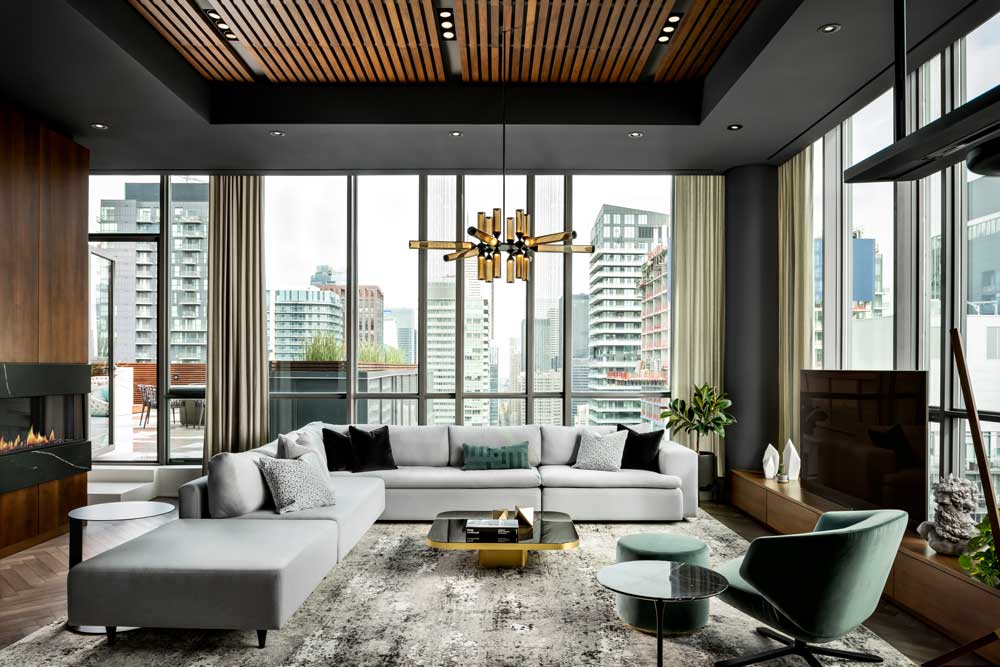 The floor to ceiling windows in the living and dining areas provide incredible unobstructed views of the Toronto skyline on one side and the lake on the other, while bringing in an abundance of natural light. We polished them up by painting the trims in a dark gray and dressing them in light coloured motorized sheer blinds for a touch of texture and elegance.
The expansive terrace with a lively Miami-inspired club vibe was an opportunity to extend the client's entertaining opportunities during warmer months. In this space slatted wood details partially disguise the building's dark brick, while an elevated platform accommodates plenty of lounge seating and tables. Turquoise accents add a bright, water inspired pop of colour. Adding a water element was also important to our client – a fully glazed hot tub for rest and relaxation under the stars and glow of the city scape.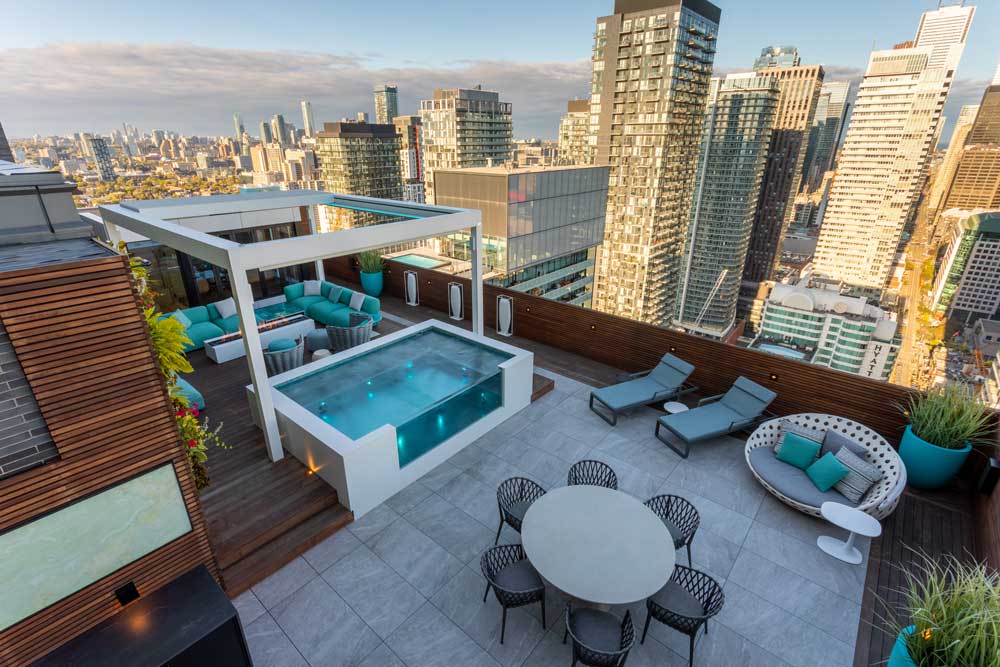 The carefully selected furniture pieces and materials in the re-designed penthouse overlooking the city have provided our client with the perfect contemporary yet warm refuge while also creating an ideal 'venue' for entertaining family and friends.
Related