ARIDO Award: Cavana Ridge Spa
Cavana Ridge Spa is a lofty hospitality project that presents a beautiful balance of design challenges and inspiring potential. Our team's mandate was to transform a run down, vacant water testing facility in the countryside into a luxurious, comforting spa. One of the main challenges we addressed was creating a seamless transition from the spa's original location in Orillia, by designing an interior with the same character and charm, and added grandeur and opulence to entice current clientele to travel to the new location in the countryside.
Interior Designers: Geenah Ivany, ARIDO; Melissa Franklin, ARIDO
Design Firm: Madison Taylor
Photographer: Niamh Barry
We approached the design process by tuning into our client's passions and focusing on creating a space that facilitated a sense of escapism and unparalleled excellence. We carefully assessed their current constraints, planned for an expansive future and meticulously curated a concept that brought our client's design dreams to life through form, feeling, and function.
To create a seamless transition from the old location to the new we implemented a modern neo-classical design characterized by dramatic use of columns, grandeur of scale, and simplicity of geometric forms. We thoughtfully incorporated these elements into the architectural form and interior detailing of the building to achieve the wanted effect of splendor and luxury.
We softened the rectilinear form of the existing exterior brick structure with a light, neutral colour palette and established a feeling of luxury and opulence by adding two elongated, more traditional towers to the front and side of the building. A variety of exterior textures including brick, stucco, and stone interact to create a dynamic and visually intriguing exterior that highlights the grandeur of the design.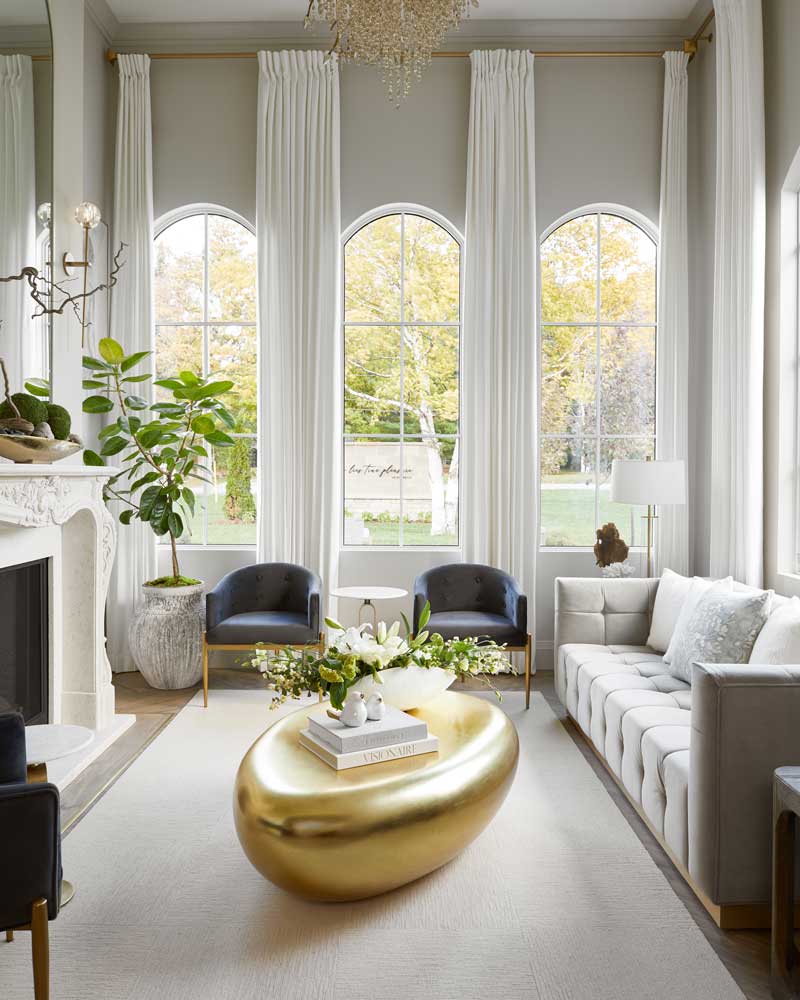 The overall client experience was at the forefront of the design, with multiple lounges incorporated throughout the space, to provide a tranquil, inviting space for community to be built through conversations between staff and clientele. Immediately upon entrance, an expansive atmosphere is established by maximizing the height of the new 14 foot towers, thus creating the sense of relaxation while optimizing the flow through the interior.
Thoughtfully placed relaxation areas and lounges greet the spa clients and create a welcoming and calm space that provides a seamless experience for patrons to meander through. Meanwhile, private treatment rooms and spa services are tucked away in dedicated zones for added sense of privacy, calm, and relaxation. Making treatment spaces cozy and compact, efficiently maximized the square footage in those rooms, while wasted space was eliminated through custom millwork solutions.
Texture, pattern, and use of scale were layered throughout, creating an undeniable warmth. Soft white walls are juxtaposed with light grey mouldings and gold archways; a modern twist on traditional form. Marble tiles and luxury wood vinyl floors were detailed with mosaics and brass inlays, effectively combining elegance with much needed durability. Spaces such as hallways, a traditionally overlooked space, became an experience of their own through textured, barrel- vaulted ceilings and intricate panel moulded walls.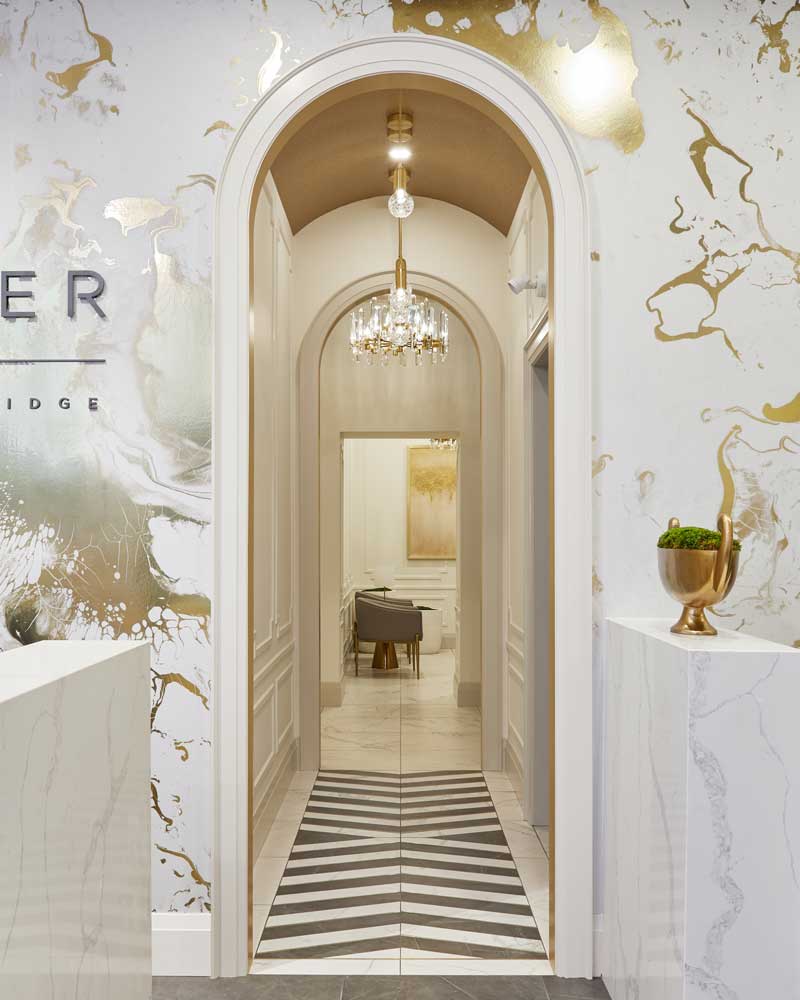 Elements such as light fixtures and furniture were inventoried by the design team and implemented into the design of the new location. By incorporating these in the design of the interior we reduced the amount of waste sent to the landfill.
Accessibility was a key consideration in laying out the space. Beyond the basics of universal and accessible design, additional elements were incorporated to further serve their clientele. With a diverse range of clientele with varying abilities, the entire spa was made accessible through the use of a central elevator. The doorways and physical barriers were made more distinguishable from walls through contrasting tone and shading. The differences in contrast assist those with visual impairments to better maneuver throughout the space.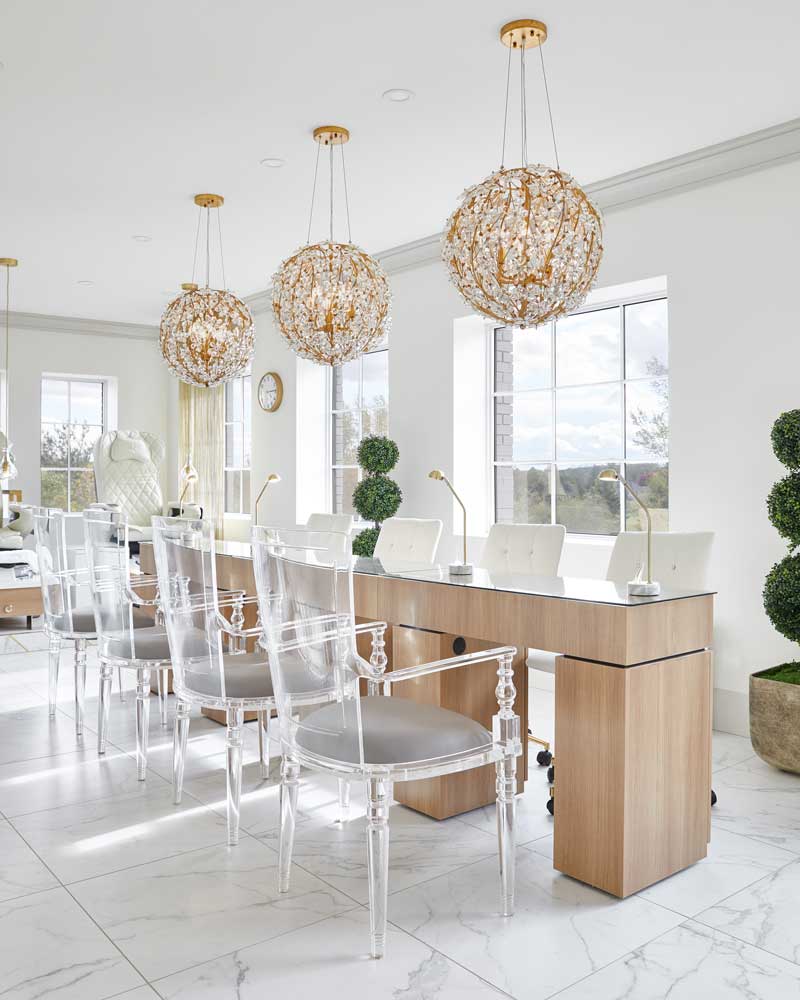 Connection to nature was also implemented in the interior using large, expansive windows, bringing the outdoors in. Guests are greeted by a tranquil fountain and casual seating area establishing a connection to nature that users can immerse themselves in through sight, sound, and touch. Fragrant flowering bearing trees surround the perimeter encapsulating the space with rich scent, creating a truly immersive space where guests can relax.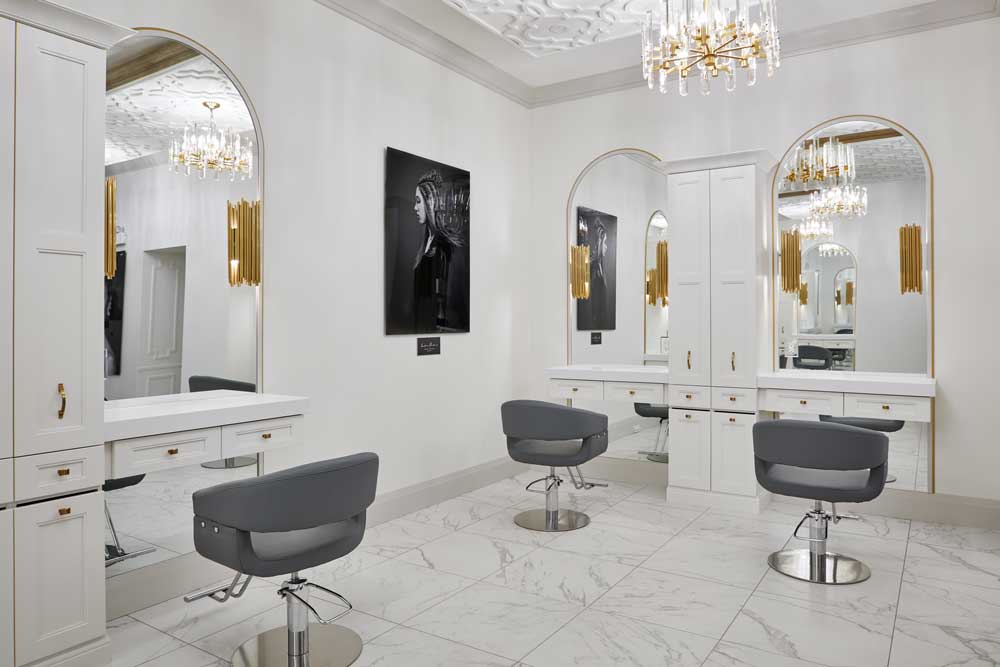 Without a doubt, our design team successfully transformed a run down, vacant plant into a welcoming and luxurious spa. We created a seamless transition from the old location to the new by implementing a modern neo-classical approach to the architectural form and interior detailing of the building. 
The aesthetics of the spa alone create an opulent sense of grandeur and luxury, that effectively lures people to the countryside – transitioning them from the old space to new.
Related
ARIDO Award: Elevator Cabs

The challenge of this elevator cab redesign was to create a mobile portal between a well-aged ground floor lobby that would seamlessly integrate with each of the floors above. Category: DISTINCT Inter ...

ARIDO Award: The Hive

The first of its kind in Canada, this 3D printed masonry wall is the result of a collaboration between design professionals, students, and faculty at an Ontario university. Category: CRAFT Interior De ...

ARIDO Award: Florette Restaurant + Bar

While interior designers traditionally aim for perfection in their projects, this design team chose to highlight the imperfect, comforting aspects of this new restaurant space on Toronto's Queen Str ...