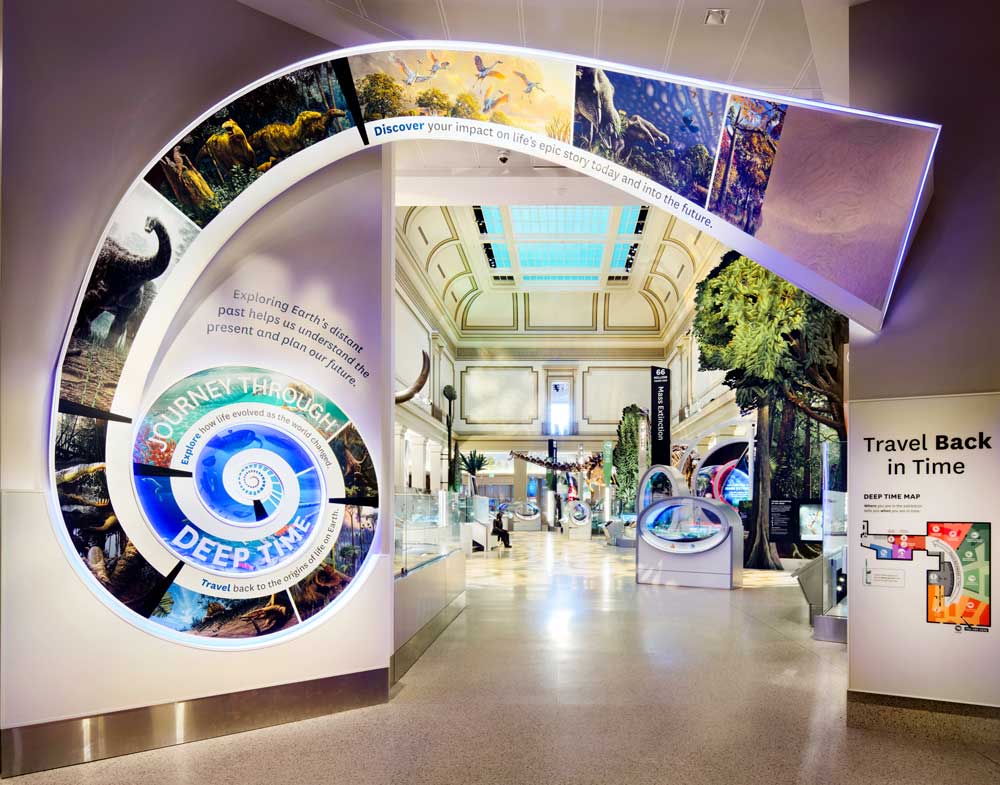 ARIDO Award: Deep Time Hall at the National Museum of Natural History
The design of The Smithsonian's new permanent gallery, Deep Time Hall at the National Museum of Natural History in Washington DC expresses its central message; life flows powerfully forward, dramatic extinctions disrupt and life resets – but is never the same. We as designers had to translate this comprehensive story of 4.6 billion years of life on earth into an engaging and memorable exhibition.
Interior Designer: Cathy Lazo, ARIDO
Design Firm: Reich&Petch
Photographer: Chris Payne, Miguel Montalvo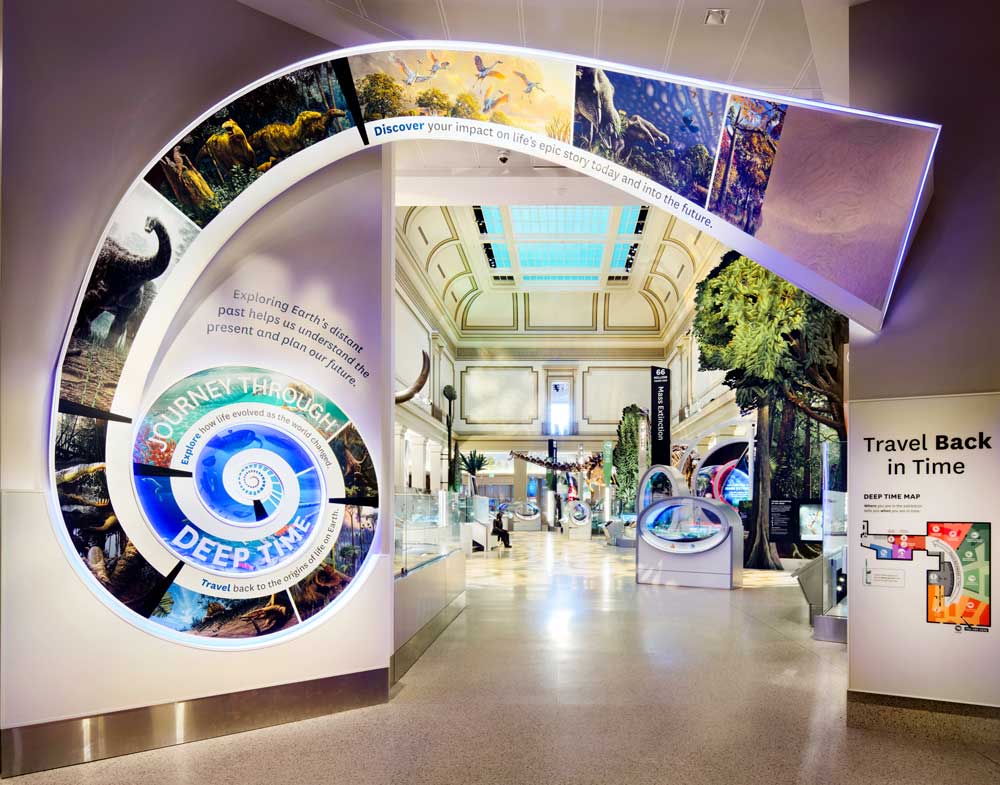 With over 700 exquisitely preserved fossil specimens, miniature environmental models, immersive environments, and interactive media, this interior provides visitors with an understanding of the history of life on Earth. The space is teeming with the power of life, buoyed by the unrelenting forces of evolution.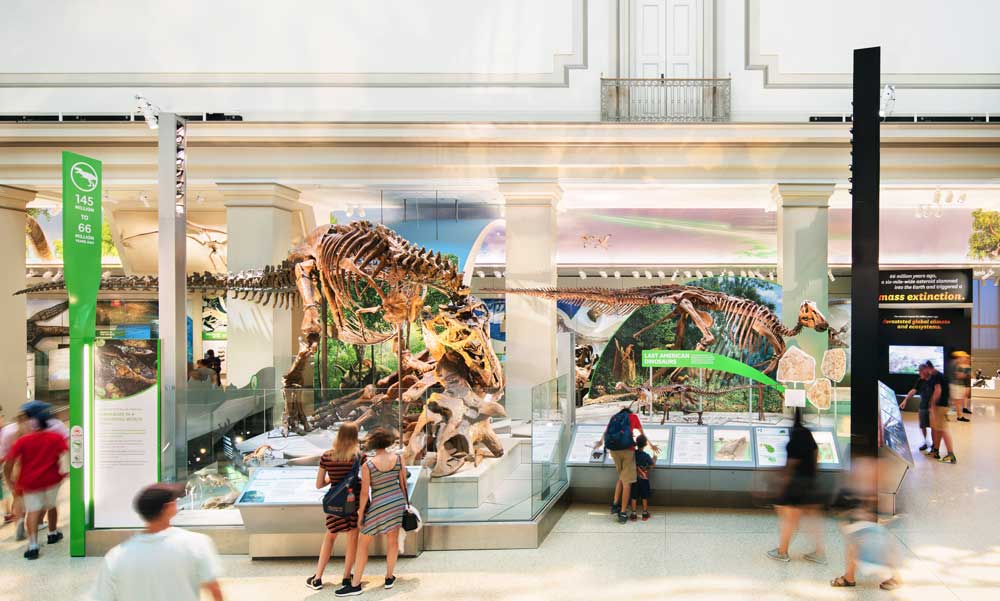 Unlike virtually every other palaeontology exhibit, The Deep Time Hall compares past to present, and continues its story into the future to illustrate the climate crisis and how humans are currently affecting change at a global scale. The rich series of displays provides a comprehensive story of life on earth in a comfortable, newly restored, light and airy heritage hall that welcomes visitors of all ages to explore.
The Deep Time Hall invites visitors to walk along the central path through the heritage column bays and under the glorious daylight of the restored atrium. The hall is lined with long benches that provide spaces to pause and take in the most charismatic fossils in the gallery.
The materials palette – silver metals, white graphic backdrops, and gray stone with pops of accent colours per time period – was chosen to feel timeless and clean and to contrast the warm off-whites and browns of the heritage space, to differentiate the old and the new.
Existing collections and assets from the museum have been interpreted in a new way, like the Triceratops, a long-time feature that has been placed in an updated action pose together with the Museum's new T-Rex model. Important scientific artworks were scanned and incorporated onto the walls of the galleries along with new murals.
Our team carefully created highly custom installations; from the shaping of the shards of stone and gravel across each platform, to the hand painted towering steel tree structures placed as backdrops to the large scale dinosaur models. Lighting has been strategically integrated into the display platforms and positioned carefully to create drama and volume for both the large and small specimens.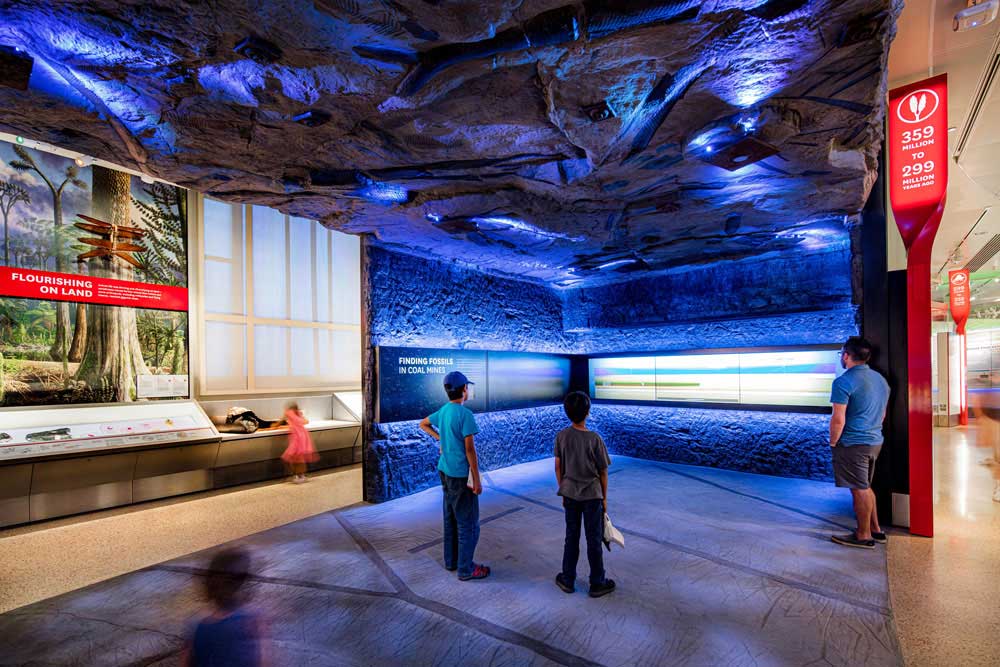 The gallery is a testament to the Smithsonian's commitment to accessibility, diversity, and inclusion. Diversity of voice was critical in determining who was represented in the gallery. Female scientists speaking about their work, African American community initiatives in the Age of Humans theatre, and Native American bronzed figures hunting a Mastodon at the front entrance are all examples of carefully curated imagery which provides a diverse representation. Our AV media 'Your Body through Time' exhibit presents a non-binary animated host to time travel with visitors.
Additionally, physical installations were designed to incorporate accessibility features. Examples include a portal into a periscope interactive installation provided at multiple heights and the many benches with handrails placed throughout the gallery interior. Cane detection was considered for all elements within the gallery, and a motion sensor based interactive display was developed for users of wheelchairs.
Over 40 bronze touchable models are spread across each area of the Hall. The display information has easy-to-read large text. The option of using the integrated audio technology with descriptive audio for the media programs or the Hall's Accessibility App is also available.
The Smithsonian Hall of Fossils - Deep Time exhibition implores the public to remain engaged, informed, and urgently hopeful through many interactive and immersive experiences.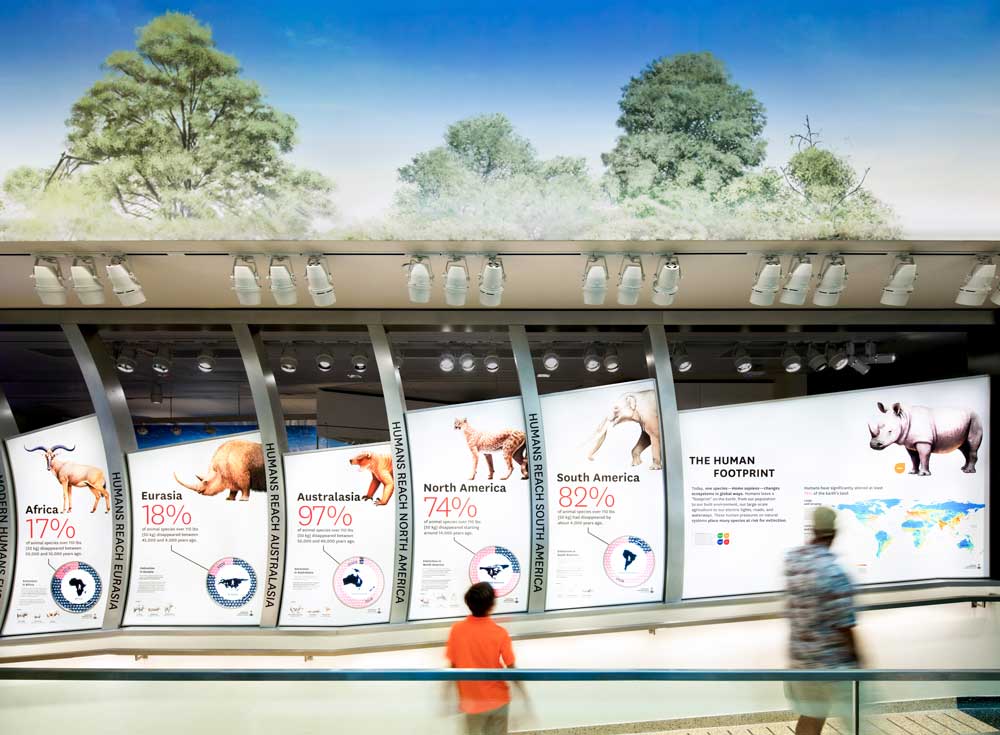 The exhibition reflects on themes of connection, evolution, extinction, and the environment. It encapsulates billions of years of science, summarizing numerous time periods through impressive fossil specimens, informative text, dioramas, murals, videos, interactive touchscreens and touchable objects.
This Deep Time Hall is sure to impact generations of visitors to Washington D.C. It further reflects that we, as a species, do not live within a vacuum and must be attuned and connected to a constantly changing planet.
Related
ARIDO Award: Elevator Cabs

The challenge of this elevator cab redesign was to create a mobile portal between a well-aged ground floor lobby that would seamlessly integrate with each of the floors above. Category: DISTINCT Inter ...

ARIDO Award: The Hive

The first of its kind in Canada, this 3D printed masonry wall is the result of a collaboration between design professionals, students, and faculty at an Ontario university. Category: CRAFT Interior De ...

ARIDO Award: Florette Restaurant + Bar

While interior designers traditionally aim for perfection in their projects, this design team chose to highlight the imperfect, comforting aspects of this new restaurant space on Toronto's Queen Str ...