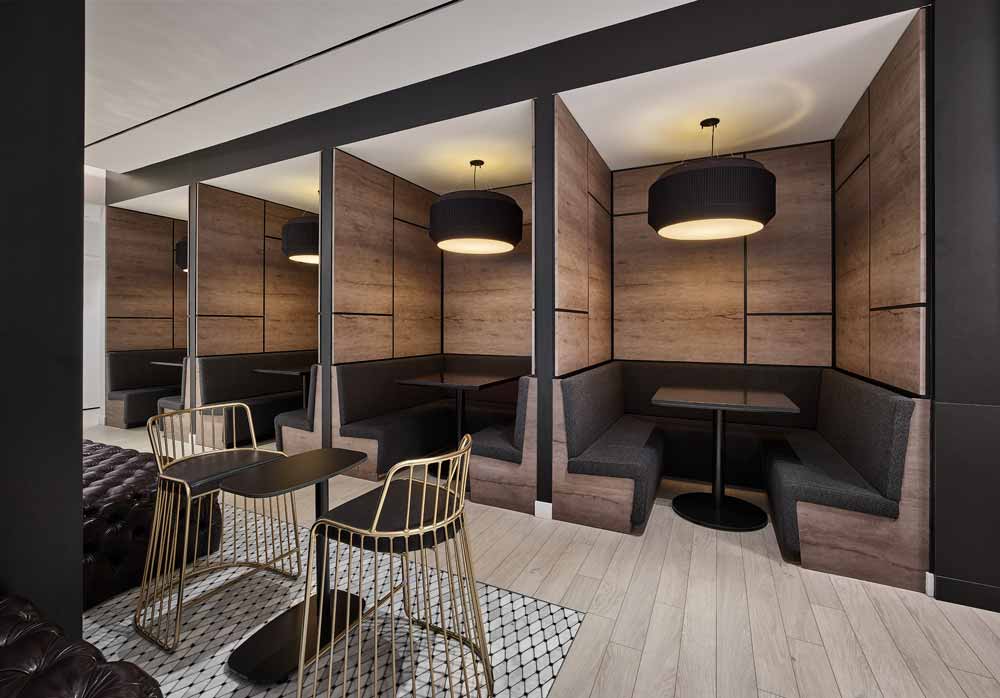 ARIDO Award: 411 Church (Amenity Spaces)
411 Church is the first residential condo building signaling a major shift taking place on Church St. in downtown Toronto. Figure3 captured the unique dynamism and modern luxury desired by the movers, shakers, and collaborators seeking to call this community-based building home.

Interior Designer: Dominic DeFreitas, ARIDO
Design Firm: Figure3

Photographer: Steve Tsai Photography
The design strategy for the amenity spaces focused on collaborative energy, shared workspaces, and a connection to the urban outdoors. This inviting atmosphere features intricate finishing details and expansive window vistas where natural light floods the spaces and creates a sense of calm and wellness in this otherwise bustling area of the city.
As the condo is located in the city's most prominent LGBTQ+ neighbourhood and university communities, it was very important to reflect and integrate the diversity of the area. The building itself, with well–articulated, tree-lined sidewalks with benches and canopy protection, creates a safe and animated public realm with a strong sense of comfort and place. The stylish features and finishes throughout the lobby: natural stone, wood, and metals are carried through the amenity spaces for a cohesive look.
411 Church features an expansive co-working amenity space that caters perfectly to the modern professional and offers residents optimal workspaces with private meeting zones, semi-private booths, a boardroom and a café lounge, all with easy access to an outdoor terrace, and flooded with natural light.
As residents enter the comprehensive space, an open plan business hub unfolds into a stylish lounge complete with plush seating, vegan leather tufted banquettes and sleek booths. Set within the lounge, guests can serve up a beverage in the café inspired entertainment kitchen, featuring an impressive tiled feature wall with open shelving and metallic pendant lights and modern wire frame barstools. Furniture placement creates conversation groupings and seating options provide solutions for casual conversations, private meetings, and video calls – all within the main room.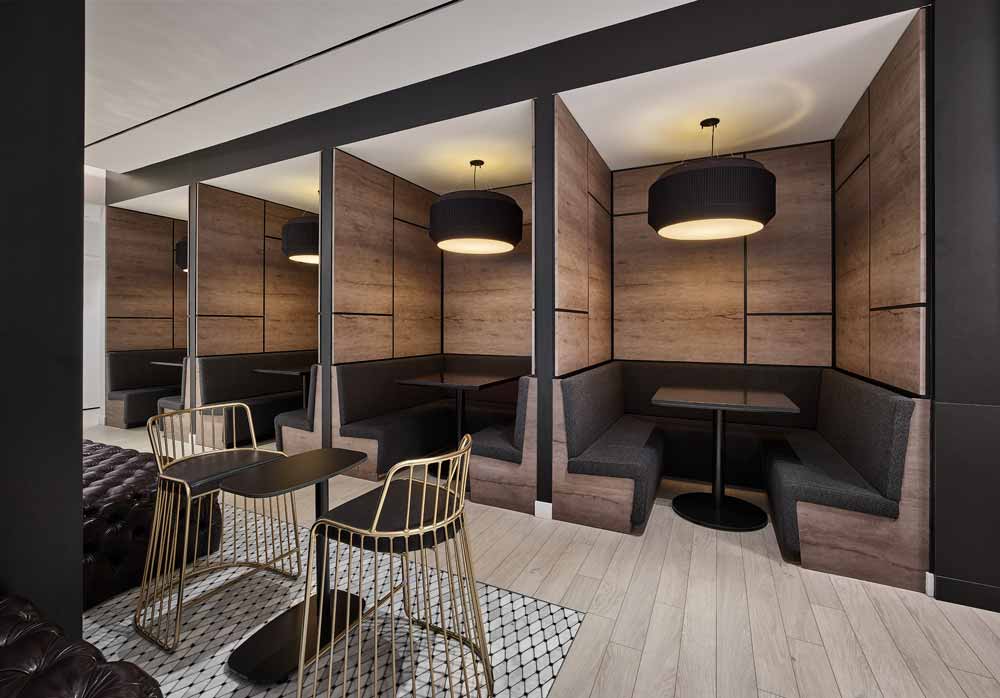 Structural support columns were wrapped with plush seating, and create unique conversation groupings. Open shelving was also constructed into the columns, providing opportunities to showcase art. The intricate tile floor inlays, light walls, and sophisticated black cabinetry and gold accents pair seamlessly with the vegan leather and velvet textures in the seating to bring an edgy yet sophisticated feel to the lounge area.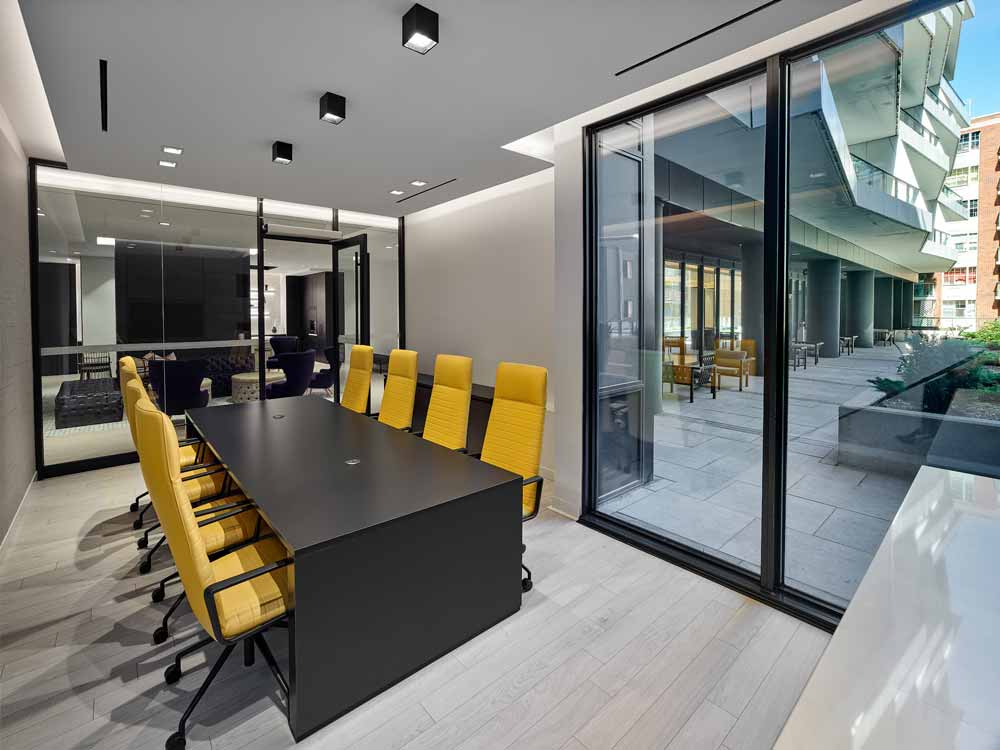 Sitting parallel to the stairway corridor, a series of private meeting rooms take advantage of a long narrow space, while open table seating is placed opposite a full wall of windows overlooking the terrace – a truly inspiring view. Even before the 2020 pandemic, residents could work remotely by using the enclosed boardroom or smaller breakout rooms, fully equipped with the latest AV connectivity.
Understanding the importance of health and wellness to the target demographic, the fitness facility spans 7,000 square feet, including cross-fit training, yoga and spinning room, unisex steam room, with connection to the outdoor green space for lounging and beautiful views of downtown Toronto.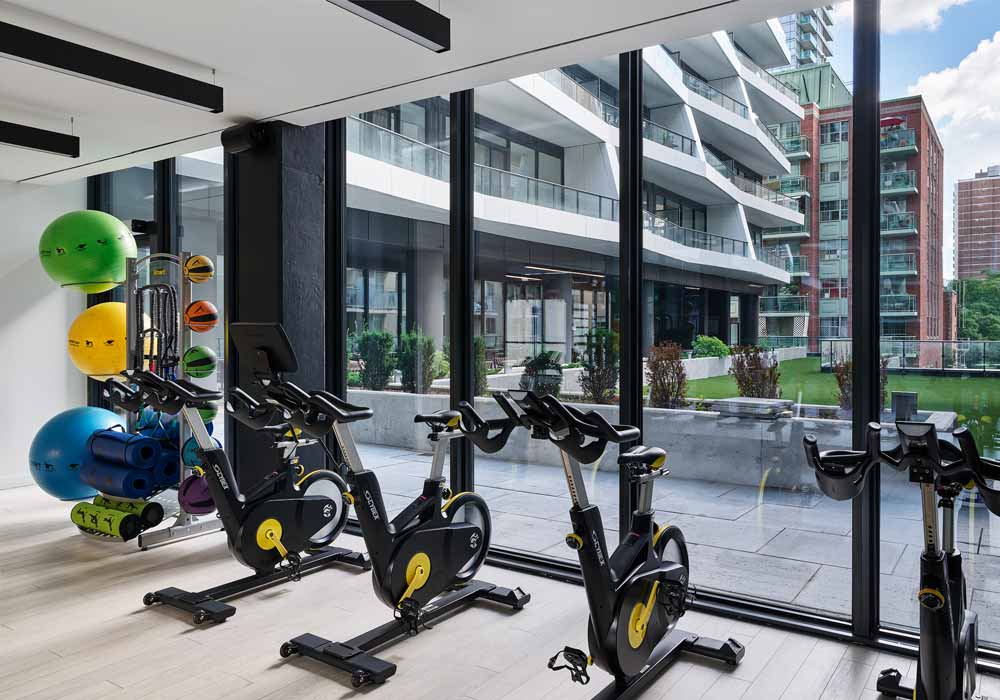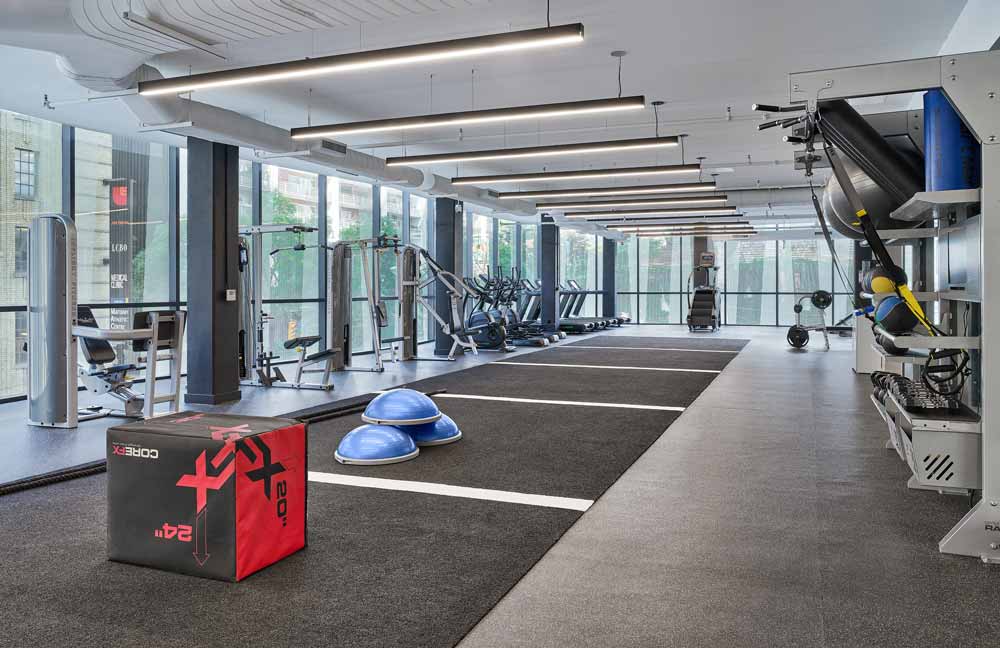 At the centre of the long space, is an indoor turf track, perfect for CrossFit training. Sleek LED lighting helps to improve energy efficiency, and produces less heat. An expansive, fully equipped fitness centre, features modern equipment, an extensive CrossFit zone, and stunning views of downtown.
Including a café and access to the outdoor terrace within the business hub allows residents to break and refocus without leaving the space. The overall design of the amenity spaces worked to highlight the incredible views and allow natural light to flow in. Throughout the amenity spaces, Figure3 considered accessibility to ensure an equitable experience for all residents.
Related
ARIDO Award: Cavana Ridge Spa

Cavana Ridge Spa is a lofty hospitality project that presents a beautiful balance of design challenges and inspiring potential. Our team's mandate was to transform a run down, vacant water testing f ...

ARIDO Award: York Condos

York Condos is a three-building complex in Markham, Ontario. The buildings line an above-grade parking structure crowned by an extensive landscape and amenity terrace providing a shared community spac ...