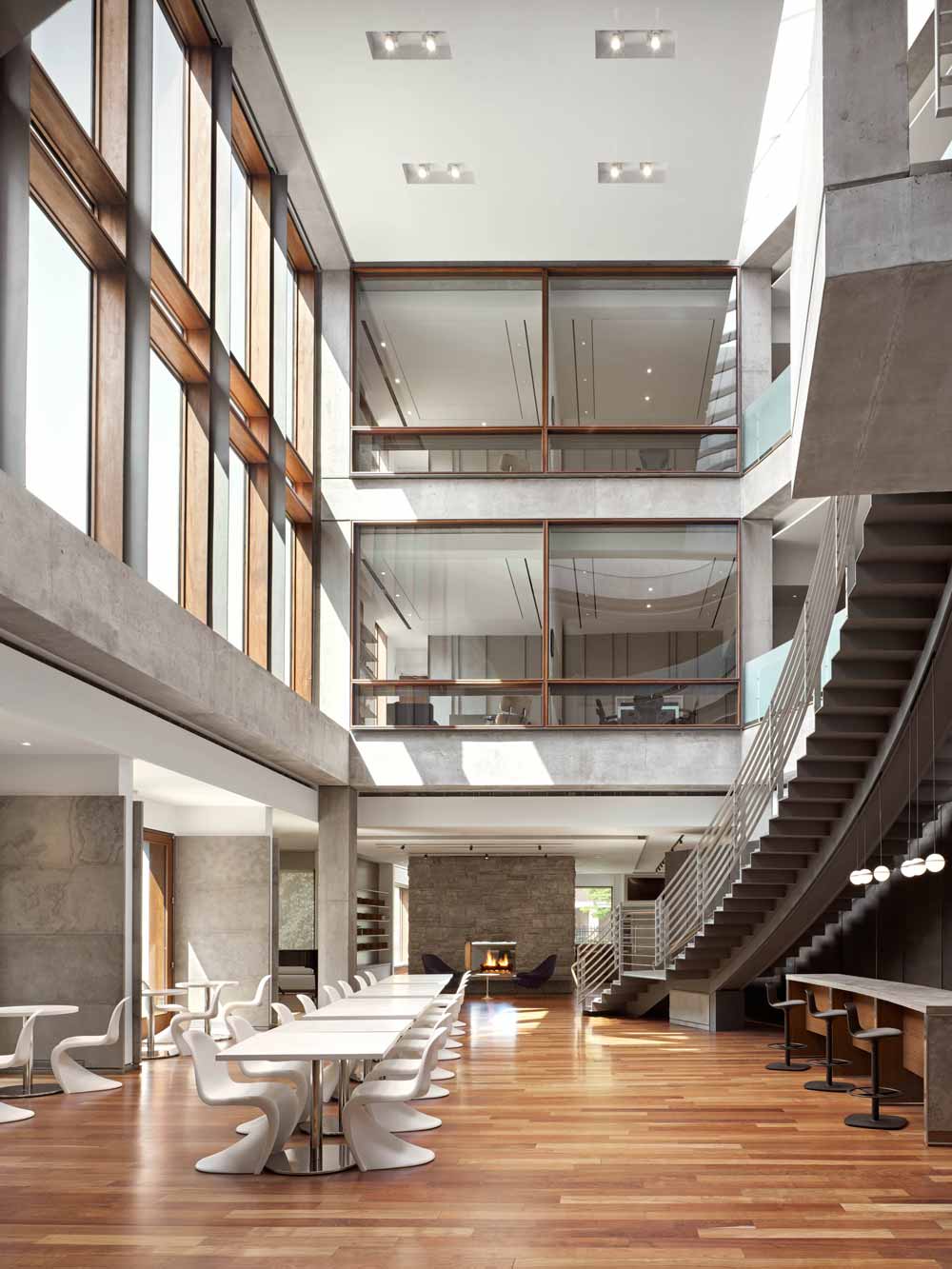 ARIDO Award: Management Consulting Firm
Our client, who occupies this heritage status building, had outgrown their space and needed facilities that could accommodate the dynamics of a growing, tech-savvy team. Working through several scenarios with the client, we knew the space could meet their current needs and accommodate growth in the future.
Author: Guy Painchaud, ARIDO
Design Firm: IN Studio
Photographer: Ben Rahn / A-Frame
The challenge, however, was to implement these tactical changes while preserving the inviolable quality of the original heritage structure. It's relatively straightforward to meet prescriptive requirements. It was another to preserve the spirit of the place: the drama of the atrium, the iconic views, the way light enters, the original commitment to material selection, and the quality of construction.
This approach meant coaching the construction manager and client alike on respecting the vision for a space that was upgraded in function but preserved in spirit. Our success has resulted in a state-of-the-art workplace that compromises neither function nor history.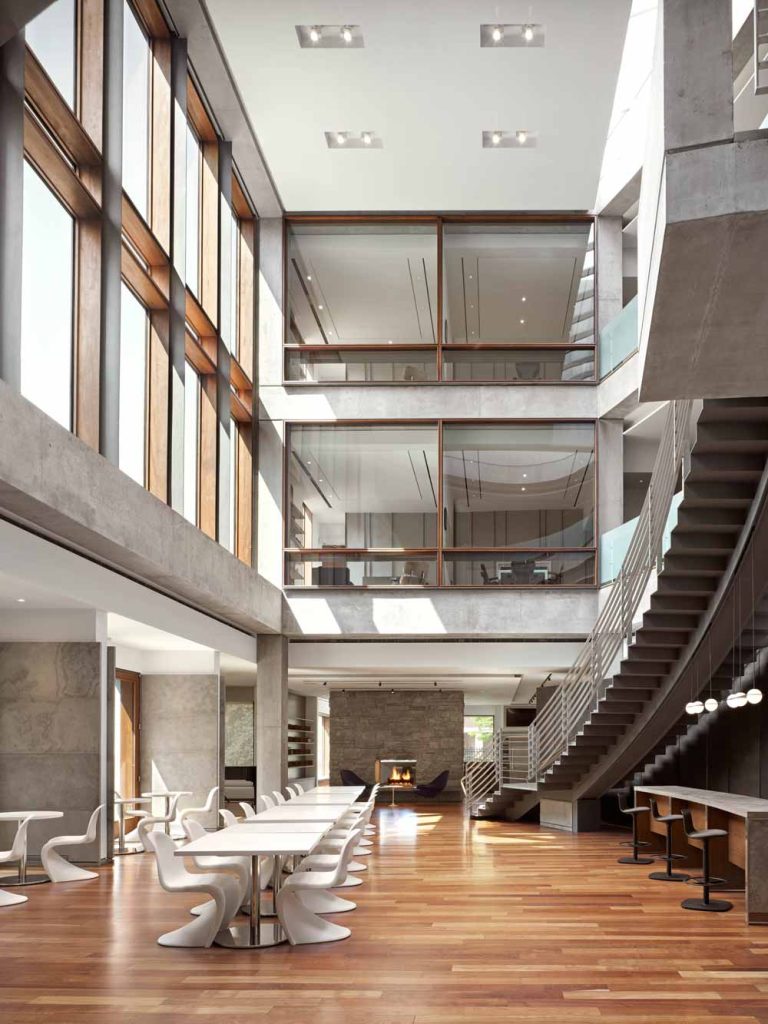 With the upgrades, the client had specific areas to improve, such as the client experience at the reception area, the amount of sound traveling in closed work and meeting room spaces, and more spaces for different work modes including a library space, phone rooms, jump-in rooms, and more small meeting rooms. Acoustical upgrades were a key component of this project, we incorporated floor, wall, and ceiling material that help acoustics for all meeting rooms and closed offices.
The staff complement at this firm is growing, which requires more space to meet and collaborate. More phone rooms, jump-in rooms, and small meeting rooms were added, and this increased growth of the company required redistributing closed and open work areas. Training is a big part of their culture, and a large divisible, technology-supported training/meeting room to meet the company's emergent needs.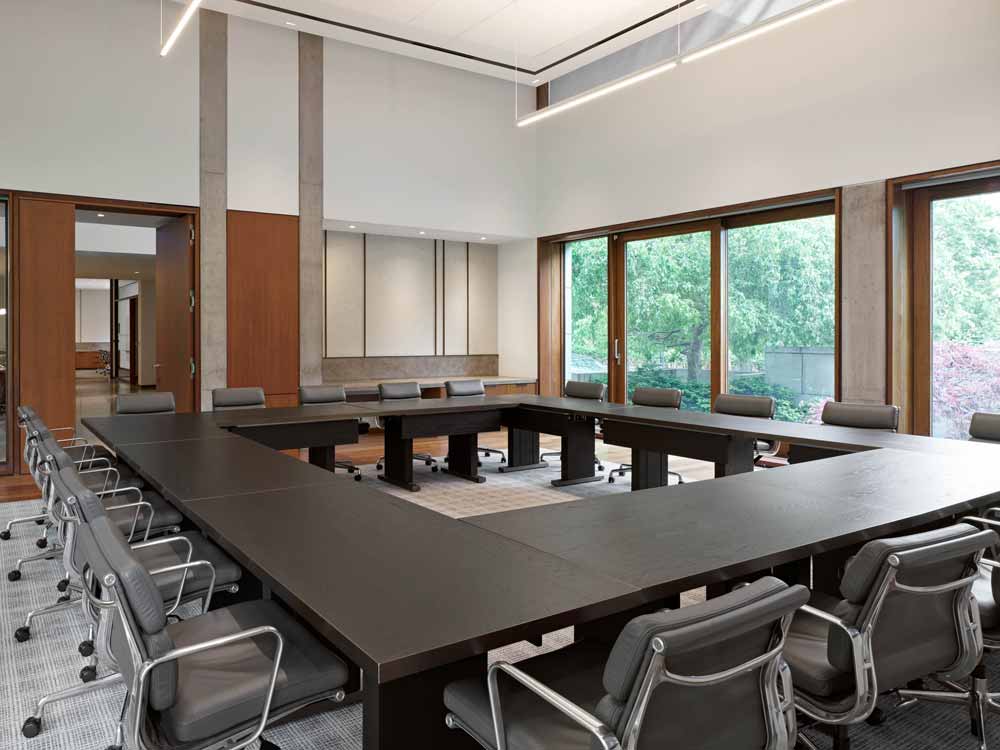 The staff team works in a very agile manner. As such, event offices dedicated to a specific staff member could be used by any employee as a jump-in room if the dedicated user was not in the office that day. By analyzing where the inefficiencies were in the space, our team could find alternate planning solutions to create a more versatile and flexible user focused workplace.
Larger inefficient meeting rooms were divided in more appropriately scaled meeting rooms for smaller team usage. Underutilized ground floor spaces were transformed into a large divisible training space that was not part of the original planning, but was desperately needed.
The heritage preservation recording document there identified and documented specific references to significant elements of the project: the exposed architectural concrete, the atrium, the wood glazing detailing, the Owen Sound stone, and the built-in wood furnishings. These became our areas of focus and our design vision was shaped by determining the viability of preserving, restoring, or re-purposing those items.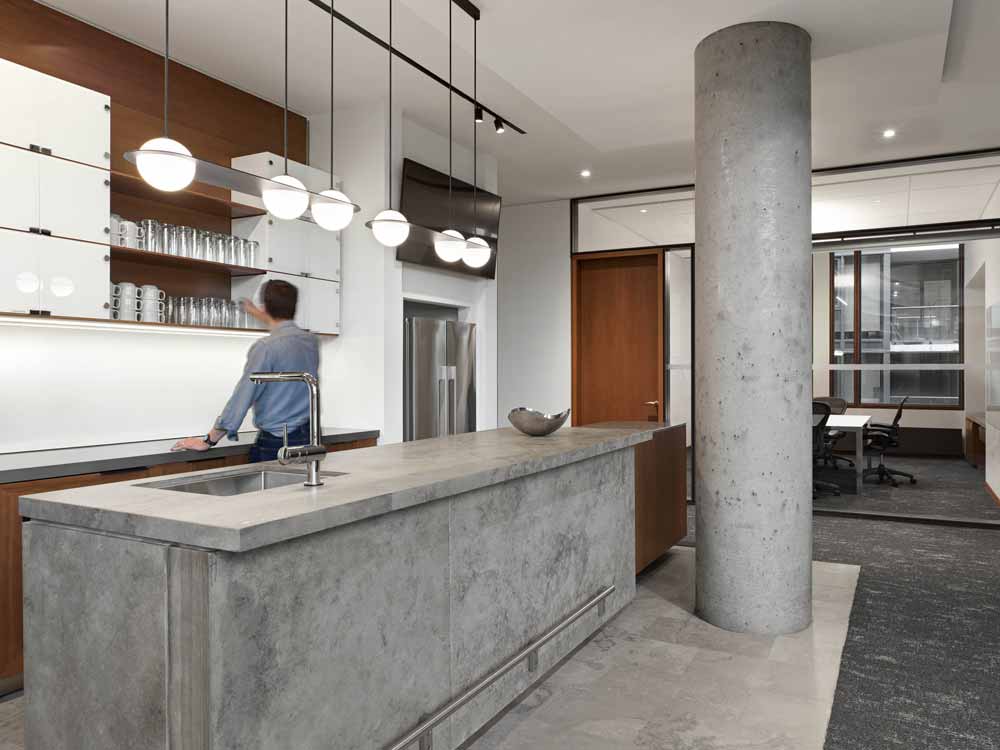 Heritage components like the glazing frames and window coverings were repaired and refinished to their original state. Stone flooring was salvaged for reuse, stone wall panels were protected. Historic concrete in the atrium was maintained. A built-in shelving unit was salvaged, and incorporated in the new plan as storage in the pantry and conference spaces.
All of this original stone was beautiful and historic, but also meant an abundance of surfaces to reverberate sound. Our interventions softened many of these surfaces to improve acoustics, lowering reverberation in conference rooms and allowing staff to have personal conversations in open areas without disrupting adjacent staff.
The original space did have some accessibility limitations. Circulation paths were widened to accommodate a variety of mobility devices and new universal washroom facilities were added which were not part of the original planning. New spaces for personal activities/care were added, including a new nursing room and an additional wellness space.
The client wanted to design to LEED standards without pursuing the full certification process. As such, there was a need to reduce, recycle, and re-use physical materials as much as possible through the design and construction process. For example, exotic wood flooring was salvaged to repair existing wood floors, while new flooring used a matching non-exotic species. Existing wood flooring was refinished, and new woodwork was matched to species and stain colour.
We were able to deliver on all of the client's goals and upgrade the building's technology and systems, but with such a subtle touch that it barely looks like we were ever there.
Related
ARIDO Award: Elevator Cabs

The challenge of this elevator cab redesign was to create a mobile portal between a well-aged ground floor lobby that would seamlessly integrate with each of the floors above. Category: DISTINCT Inter ...

ARIDO Award: The Hive

The first of its kind in Canada, this 3D printed masonry wall is the result of a collaboration between design professionals, students, and faculty at an Ontario university. Category: CRAFT Interior De ...