ARIDO Award: Durand Home  
We preserved the beautiful historic details of this Queen Anne century style home. The goal was to convert the house back into a single family home with a modern floor plan for a busy family. The main living spaces were opened up into an organic and cozy minimal shell with lots of natural light.
Interior Designers: Carrie Stinson, ARIDO; Veronica Martin, ARIDO
Design Firm: Two Fold Interiors
Photographer: Lauren Miller
The overall strategy was to maintain the scale and proportion of the original rooms on the main floor while gently opening them up further to bring in more natural light from all sides of the house. We also wanted to add a ton of storage which is typically non-existent in century homes. Modern and practical rooms like a home office, mudroom, and powder room were added to the main floor. The two original ceiling medallions in the foyer and living room were preserved as showstoppers.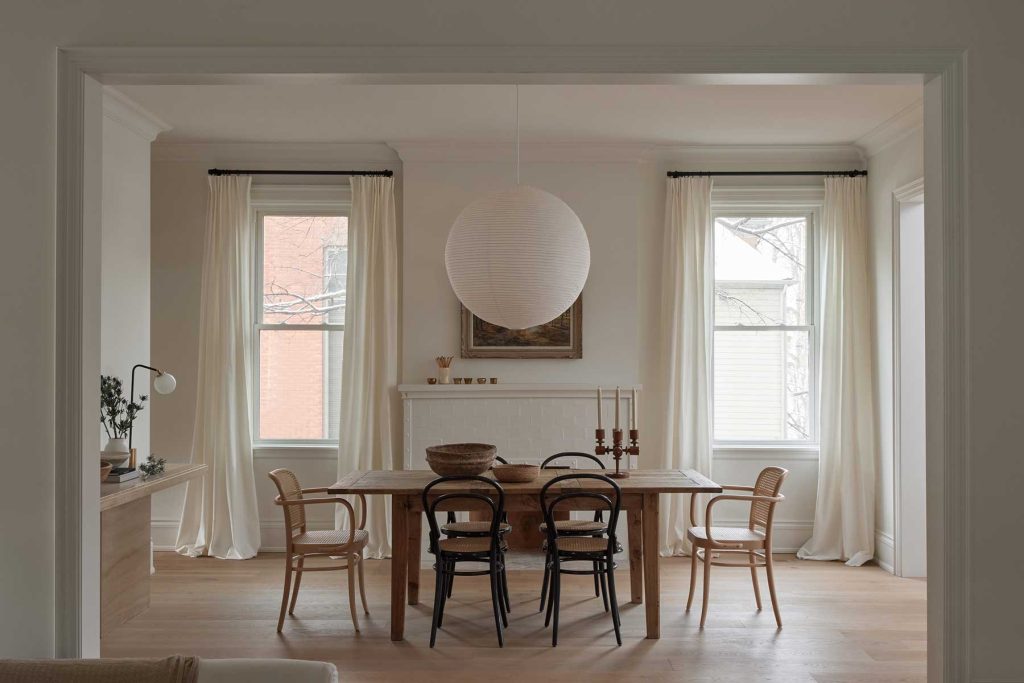 The original staircase was refinished and painted, and a cozy runner applied. The second floor guardrail was non-existent so we designed a modern floating powder coated metal and glass guardrail to completely contrast the original staircase post, handrail, and balusters. This allows a peek into the original staircase details from the second floor.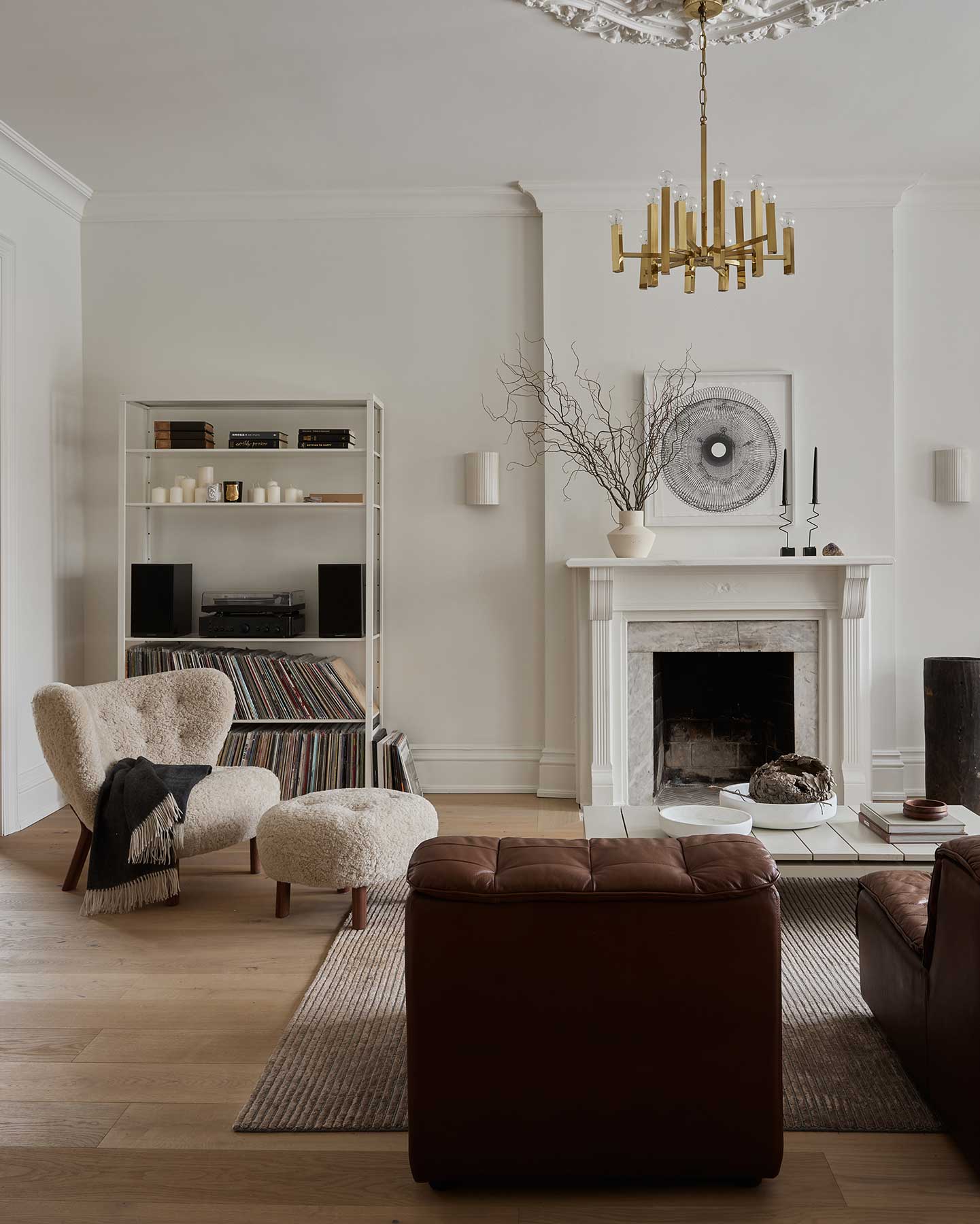 Due to structural concerns, the second floor needed to be completely gutted. This left us with a carte blanche to create a modern layout while tying in the character of the main floor. In the Principal Retreat the layout/plan was based on a luxury hotel suite and classic central axis plan. You enter the room through a beautiful white oak walk-in closet foyer. Then pivot to the bedroom on one side and ensuite bathroom on the other. This plan allows for privacy and a secluded, relaxing retreat.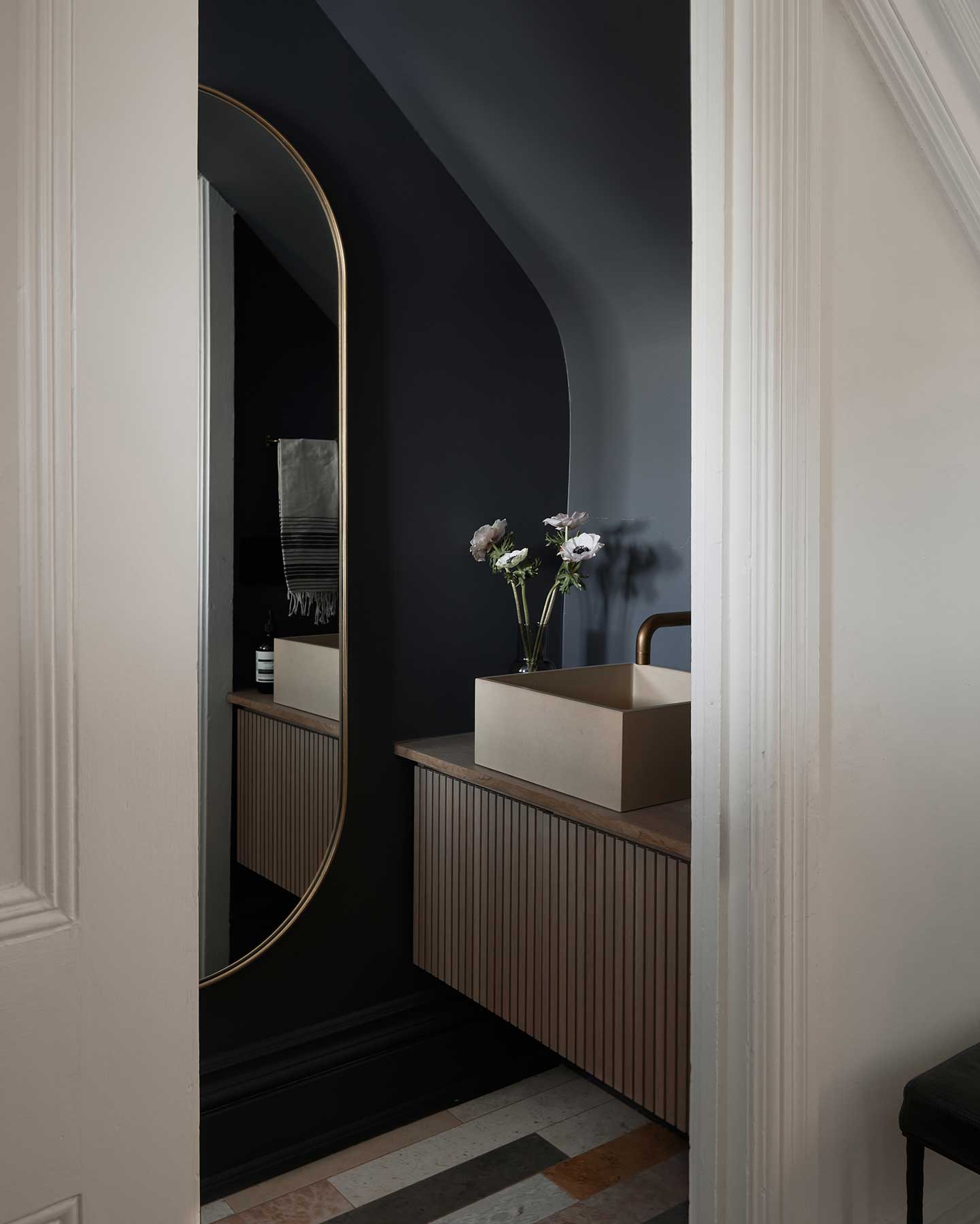 A large French door and full height window system was installed in the principal bedroom where a kitchen used to be. This has a direct view to the lush green mountain escarpment and brings in much more natural light to create a relaxing view in the principal bedroom. A soft and natural colour and texture palette contribute to a relaxing retreat. The recycled stone terrazzo floor tile provides subtle texture underfoot, and the white oak walk-in closet and vanity create cohesion in this room.
Natural stone is used throughout bathrooms, white oak wood flooring throughout for quality hard wearing finishes. The brick flooring in the mudroom, and custom metal handrail pay homage to the city's industrial legacy.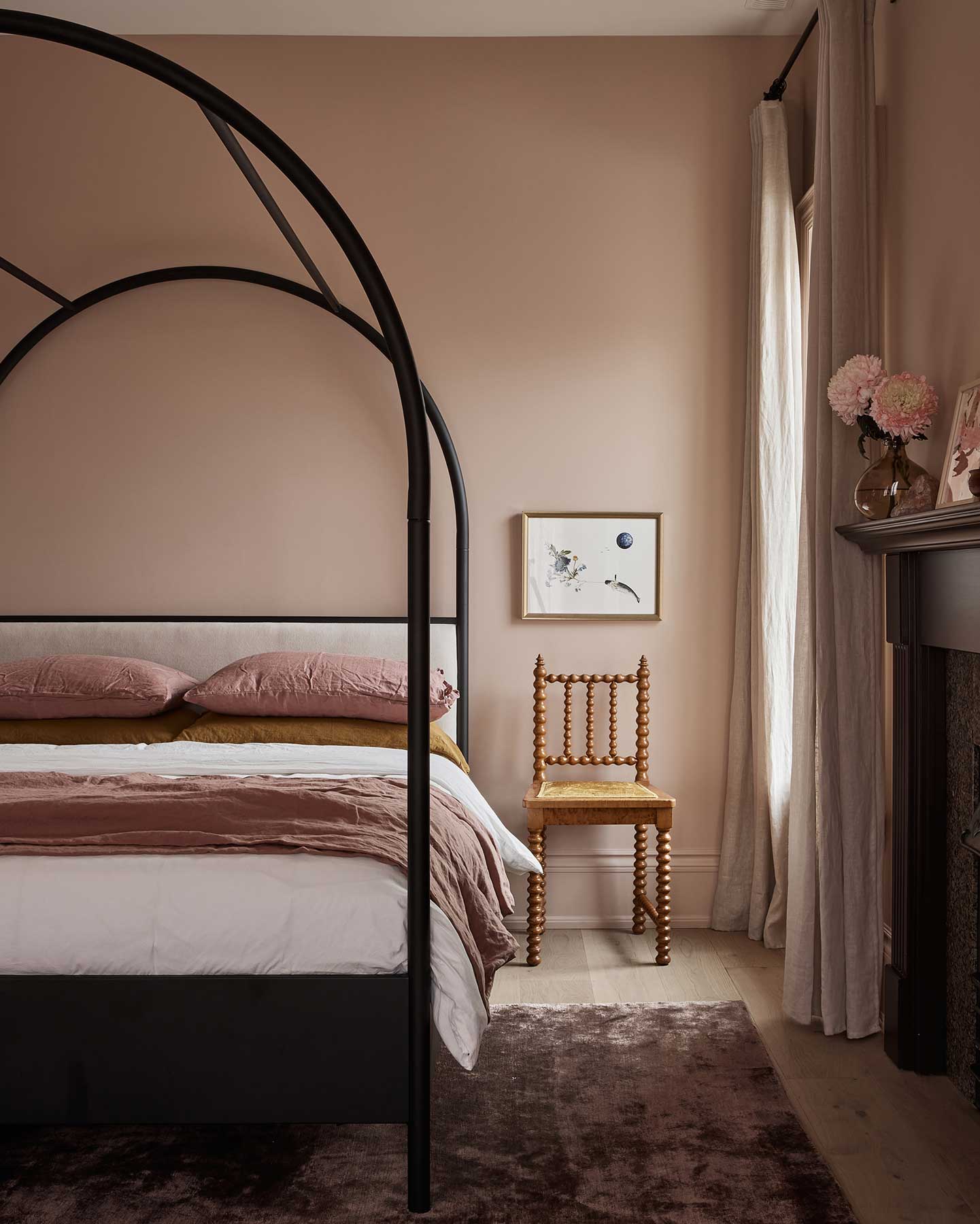 Curated vintage furniture was layered with affordable retail, and investment pieces. Pops of colour and texture balance the classic details in the home. All original details: the staircase, front door, and ceiling medallions were preserved while adding a balancing contrast of modern details and materials.
A few pot lights were subtly added to brighten and modernize the home. We selected this product to not draw attention away from the original beautiful ceiling details.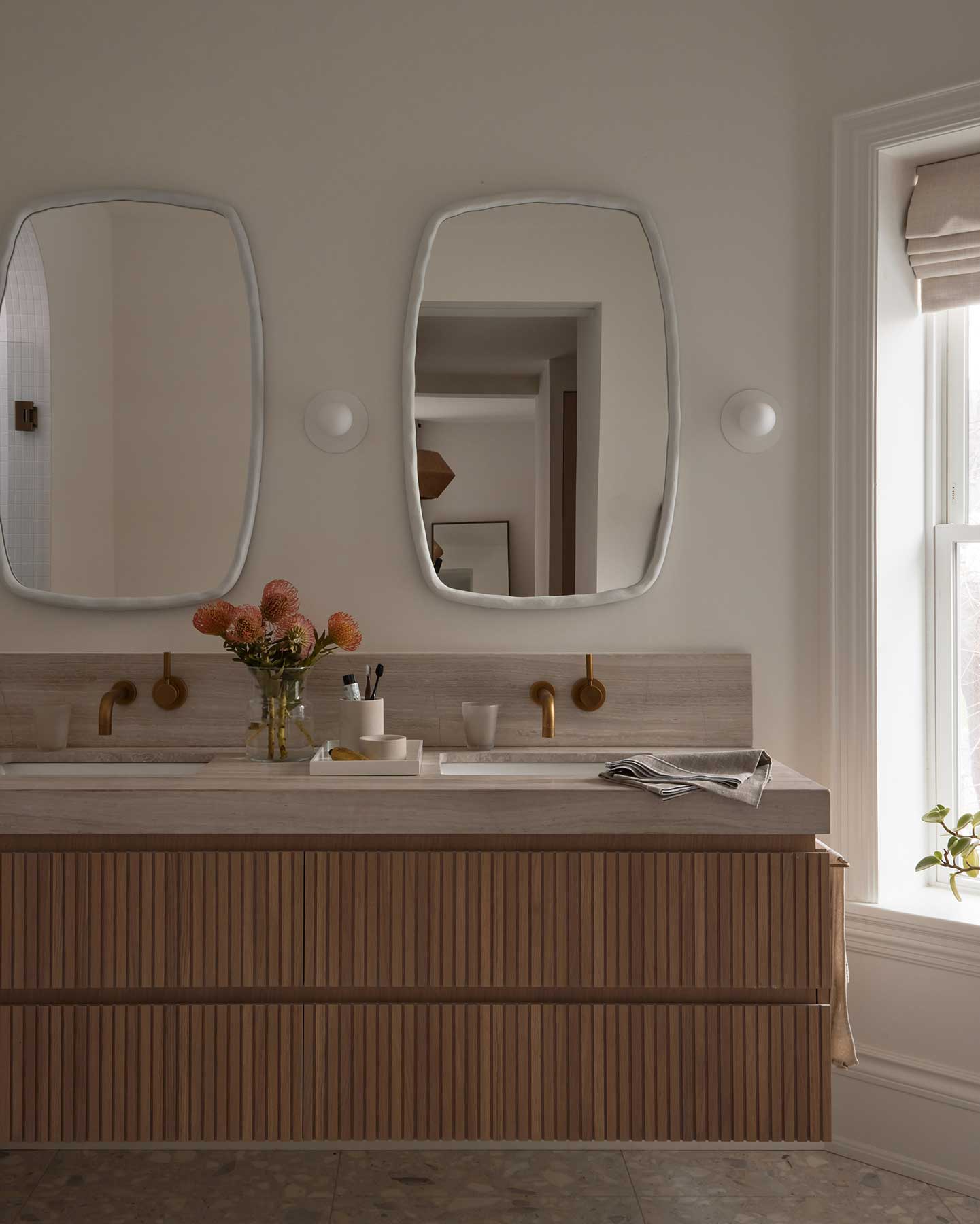 Bulkheads were purposefully coordinated to not destroy the 10' high ceilings on the main floor. There is only one visible bulkhead on the main floor which was tucked away and millwork was built around it and vertical pipes to conceal as best as possible.
The front door was removed, repaired, and re-finished by an expert local craftsperson. New hardware and a doorbell were added to the front door. All of the crown moulding, window trim (including sills and aprons) is new to match what little bits of trim were existing in the home.
We worked with some excellent teams, a contractor and sub trades local to Hamilton where this project is. The restoration specialist was also based in Hamilton. We kept the local representation by sourcing vintage lighting and furniture from Smash Salvage, BD Salvage, and Filter.
We successfully blended old and new by preserving all of the original details we could while thinking of creative solutions to incorporate modern planning to bring this home in step with how a family lives in 2022. Being able to preserve and incorporate the original details worth preserving in this home, while designing a modern plan for this client was a dream. We had an excellent partnership of Designer and Builder, and expert craftspeople which is what created the success of this renovation.
Related
Luxury with a view

Sometimes the shape of a room dictates the furniture and millwork layout. In the case of our Esplanade project, the open living, kitchen, and dining room had an unbelievable view of Toronto with the w ...

ARIDO Award: Elevator Cabs

The challenge of this elevator cab redesign was to create a mobile portal between a well-aged ground floor lobby that would seamlessly integrate with each of the floors above. Category: DISTINCT Inter ...

ARIDO Award: The Hive

The first of its kind in Canada, this 3D printed masonry wall is the result of a collaboration between design professionals, students, and faculty at an Ontario university. Category: CRAFT Interior De ...