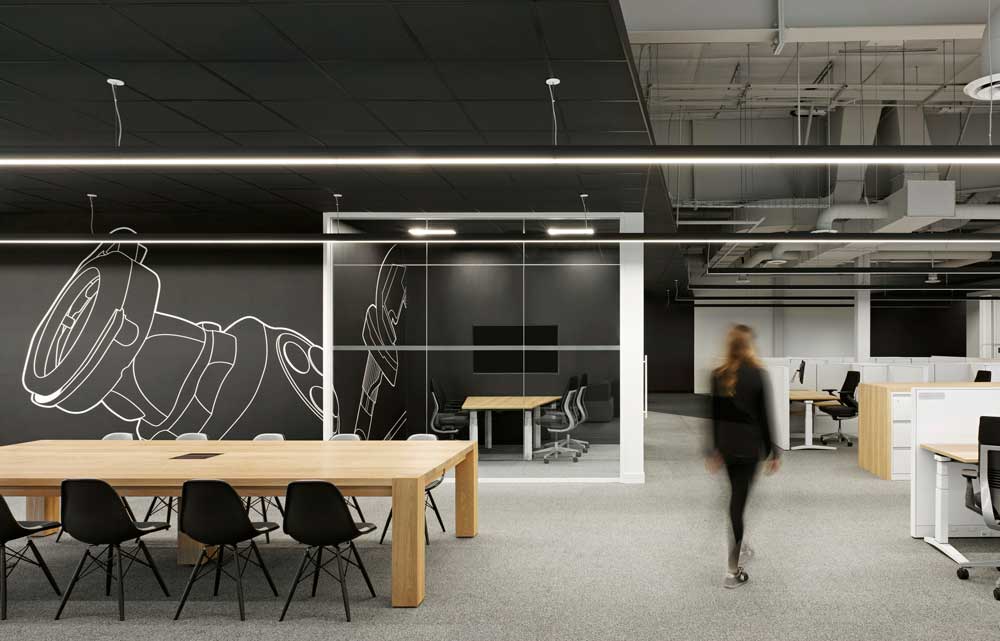 An innovative office interior that pulses with energy
Inspired by the idea that this office space would be the 'heart' of the client's operations in Canada, the team designed the anatomy of the space with the pulse as the central motif. We achieved this through strategic use of colour throughout the interior of the leading medical device company's headquarters. 
Interior Designer: Caitlin Turner, ARIDO
Design Team: Meagan Buchanan, ARIDO; Sharon Turner, ARIDO
Design Firm: HOK
Photographer: A-Frame and Karl Hipolito
Beginning in the lobby, a reception desk was conceptualized to recall a heart rhythm line. In stark black, the piece is contrasted by a two-storey award winning feature light. Constructed using recycled components of various medical device products, the light installation acts as both homage to the client's long history in business, and as a thoughtful reconceptualization of the obsolescence of medical technology.
Collaboration areas feature dramatic dark ceilings designed to naturally increase the pulse to encourage big picture thinking and performance. Softer-coloured social spaces, such as the café and lounge, incorporate lighter tones and biophilic elements to bring the pulse down, producing a more relaxed atmosphere and giving employees zones to step away from high intensity moments and allowing them to reset. The lightness is found in the operable demonstration rooms that now flank the lobby, creating a functional space for learning and listening. A linear light system creates a rhythm of light, guiding users through the experience of the space while also allowing for connection with peers.
The contrast of light and dark found in the lobby reprises the brand colours of black, white, and gold, which are used throughout the office interior to create a strong brand presence, and also to incite different moods by orchestrating carefully choreographed reactions within the body.
A complex 'butterfly' roofline challenged the design team to consider how to best work with the interior. Playing off the concept of the pulse as a central motif, our designers worked with the sloping angles to create dramatic meeting rooms, designed as one of the high-pulse points. With soaring 35-foot ceilings at the highest point of the "performance peak", our design team worked closely with the structural engineering partners to define the specialized construction techniques required for all interior elements to self-support.
The resulting space is a full brand experience: operational demonstration rooms with access to products to create hands-on educational experiences for clients and staff, reduced travel, and the instillation of pride in employees of their company history and forward-looking mission.
Custom graphics of products, anatomy, and historical company moments mark different zones throughout the space – allowing users to orient themselves as well as providing moments for learning and education. The result is a workplace that embodies the history of innovation of the client, supports employee wellness, as well as the health of the wider environment and community through their target of a LEED Gold building.
Related