Glam-living in the heart of Yorkville
Our clients wished for the design of their small condo apartment interior to capture their style, reflect the luxury and elegance of the lavish Yorkville neighborhood, and to inject playful and fun elements without sacrificing sophistication.
Interior Designer: Siavash Mahdieh, ARIDO
Design Firm: PULSINELLI
Photographer: Steve Tsai
Our designers were challenged with creating an open concept interior with optimal circulation throughout the entire space of this corner unit with full-height windows, which was difficult to achieve in the limited square footage available. Another challenge was to create sufficient storage without sacrificing the luxury theme of the interior.
At the entrance, sculptural brass-shelving units are the elegant displays for the owner's beloved dinosaur collection. A tall mirror provides elegance and the illusion of widening the space of the narrow foyer. Soft shadow patterns of brass and black pendants create a mystical atmosphere that adds drama to the space.
Off-white wood floor and textured kitchen cabinets were selected to brighten up the interior and create the impression of an open space. Meanwhile brass floating wall-mounted plates placed throughout add to the fun yet luxurious theme of this Yorkville condominium.
Black natural stone tiles in the bathroom surfaces as well as black kitchen countertop and backsplash perfectly complement the brass elements throughout the space. To add softness to the overall design and keep a unified aesthetic throughout, the upper kitchen cabinets were clad with faux-leather panels to match the leather furniture in the living area.
The clients asked us to create abundant storage, as well as provide solutions to reduce sound transmission in between condo units. We included slide-out trays in kitchen and bathroom cabinets to create smart storage. A king size bed, with drawers all around, adds additional storage to satisfy the requirements. However, in order to accommodate the king size bed, we had to turn the swing door of the bedroom into a sliding door.
Sound transmission problem was solved by adding 3D textile wall covering on non-woven backing in the bedroom. In addition, a full width area rug in the bedroom and living room, combined with silk window drapery, increased sound absorption.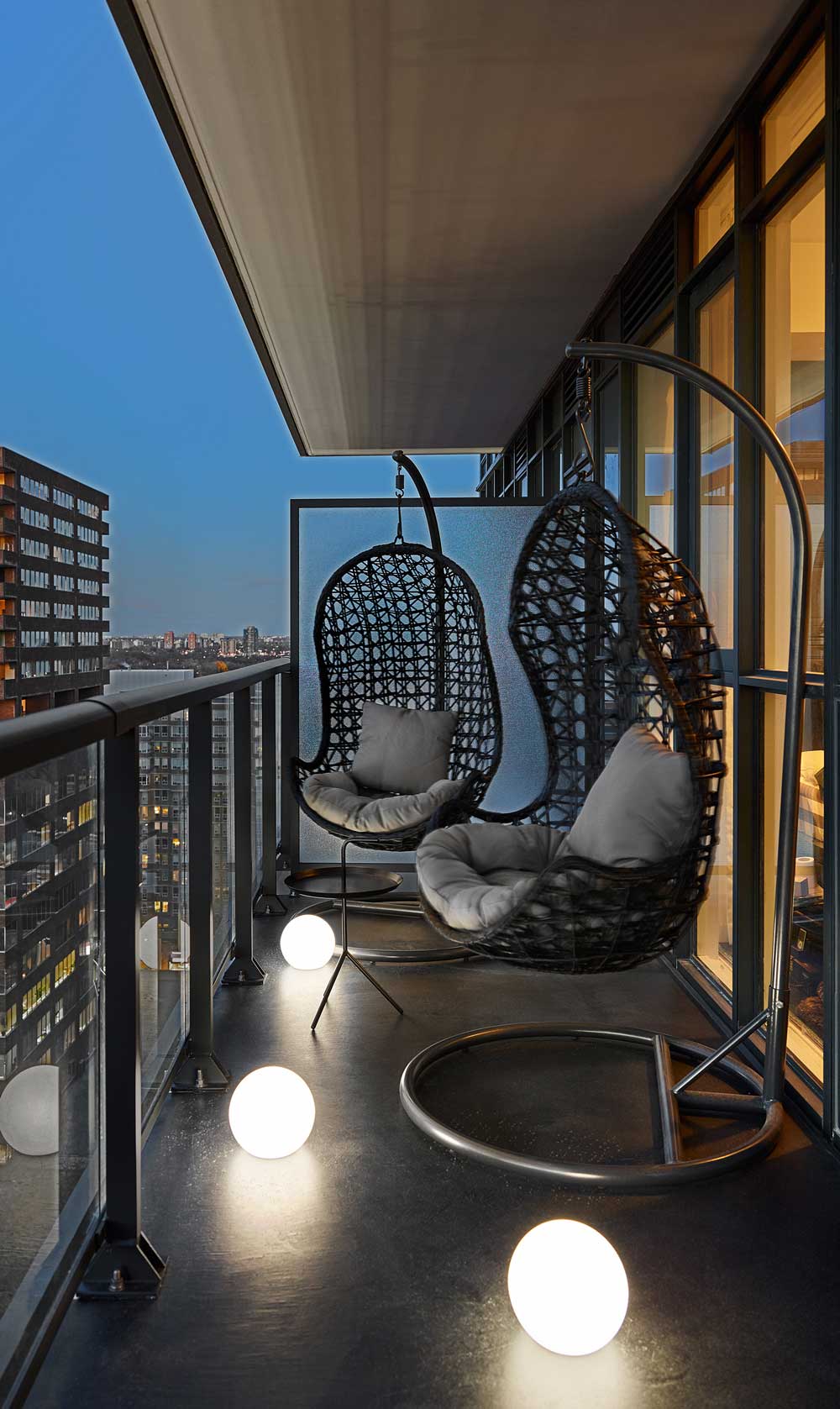 At night, a soft swing on floating outdoor chairs accompanied by LED mood lights, provide the perfect outdoor space for this young couple to enjoy by themselves or with company and take in the stunning views of the city.
Related