News
Emancipation Day – August 1st
Published on: Jul 30, 2022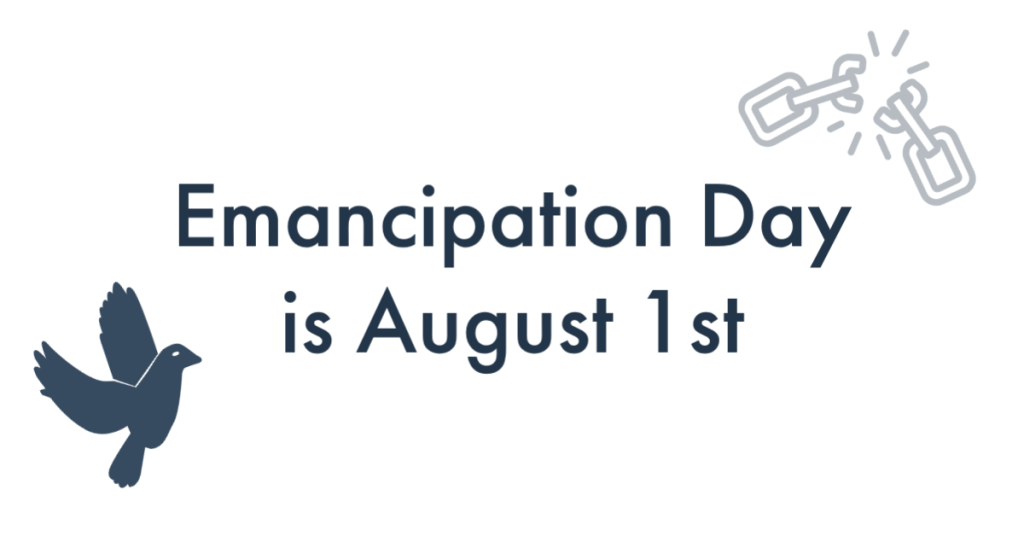 Emancipation Day is a day which commemorates the Slavery Abolition Act becoming law on August 1st, 1834. That day, the Act prohibited the enslavement of most African peoples throughout the British Empire, including Canada. 
At the time, there were more than 800,000 enslaved people of African descent throughout the British Empire, including in Canada. The Act confirmed Canada as a free territory for enslaved African Americans, however the Act did not apply to children under 6 years old, and many enslaved people were required to keep serving their former owners as apprentices for several years.
The Slavery Abolition Act became law due to the unyielding work by enslaved and free people of African descent, as well as Black and white abolitionists. Emancipation Day has been an important day to Black communities around the world since it became law in 1834, however, the day was only adopted by the House of Commons as a recognized day in Canada in 2021.
Emancipation Day is also a day to recognize the historic and current racism and marginalization faced by Black individuals and communities in Canada, celebrate the strength and perseverance of Black communities, and continue to address anti-Black racism in our country. 
You can share how you're marking this day or if you attend one of the events with the hashtag #ARIDOAwareness.
There are events taking place throughout Ontario to recognize Emancipation Day, including:
Celebrate Emancipation Day 2022 - Uncle Tom's Cabin Historic Site | July 30th, Dresden, ON (This event will also be livestreamed.)
Ontario Black History Society: Emancipation Day Celebration 2022 | August 1, Fort York, Toronto, ON
Town of Oakville & Canadian Caribbean Association of Halton Emancipation Day Picnic | August 1 Oakville, ON
Emancipation Day Ceremonial Flag Raising Event and Community Gathering | August 2, North York, ON
Windsor Essex Emancipation Jubilee  | July 28 - August 1, Windsor, ON
Durham Region Emancipation Day Celebration | August 6, Whitby, ON
Other resources:
Emancipation Day in Canada - Canadian Heritage
Black Enslavement in Canada - The Canadian Encyclopedia
Freeup Freedom Talks - CBC | Black changemakers, artists and activists reflect on the meaning of freedom in Canada.
Recording: Black Canada Talking™: Emancipation … Reconciling Canada's Black Histories a conversation from 2020 featuring Hon. Senator Wanda Thomas Bernard (Nova Scotia), Rosemary Sadlier, VP Toronto Branch, Royal Commonwealth Society, Peter Hanes, Coordinator, Washington DC Emancipation Day Commemoration in recognition of Emancipation Day.