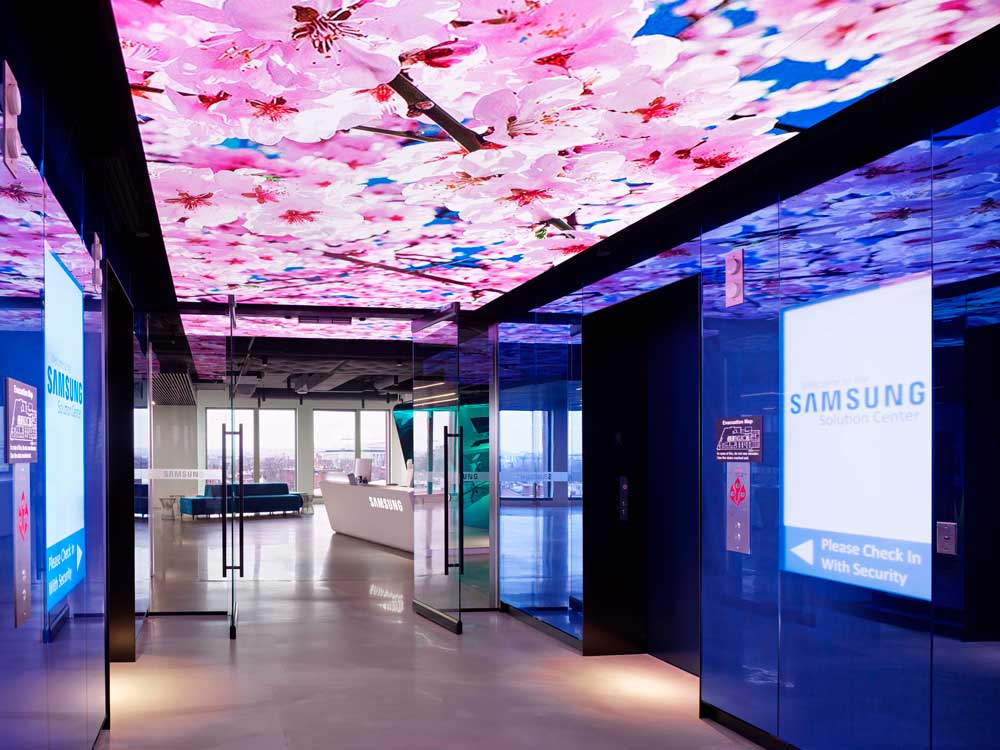 The future is calling! This company is answering with an interactive, tech-driven office interior
Challenged with creating a future forward technology experience center focused on expanding Samsung's Federal Government relationship, the vision for this office space in Washington DC resulted in an "Infinitely Immersive" flexible showcase environment driven by seamlessly embedded interactive technology.
Interior Designer: Jane Juranek, ARIDO
Design Team: Nisha Sewell, Intern ARIDO
Design Firm: IBI Group Architects (Canada) Inc.
Photographer: A-Frame Ben Rahn
The design concept evolved from developing unique customer experiences through an interactive proprietary app used on the Samsung mobile devices. This provided a technology driven link for each individual to have full control on their prospective needs from the interior. Our intention was also to include a seamless branded environment for a public facing new technology Future center, Event space and Office of the Future.
The display and support of future technologies was a critical component of what was to become the backbone of this interior. Capturing Samsung's history and promoting their future were imperative elements for this office project.
An interactive design process was enabled through the use of a digital twin model and virtual reality project reviews at key milestones. This was very powerful in depicting a highly resolved vision and enabled a quick consensus for all design elements. The Virtual Reality experience also aided as a clear change management tool for staff to be engaged in visualizing the project's potential.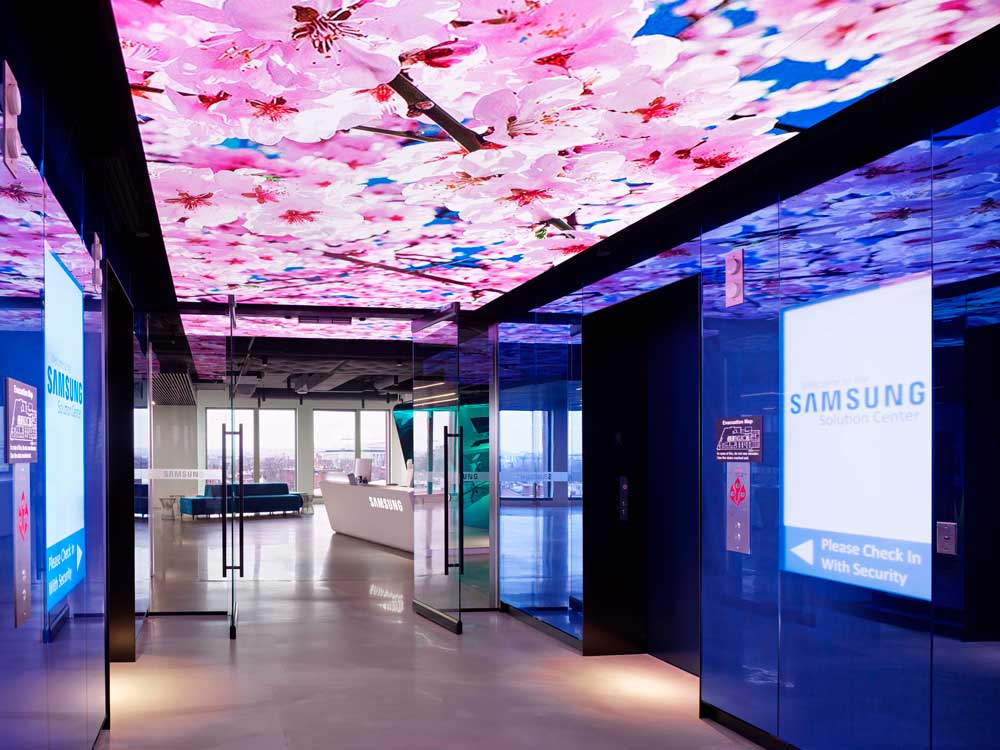 The moment they step off the elevator, visitors are completely immersed in the brand as they are greeted by an interior inspired by Samsung's translucent iridescent phone case. With walls clad in custom mirrored blue glass and the ceiling capped with ultra thin LED screens, one is completely surrounded with an interactive digital narrative, reflected around the space, making this interior 'Infinitely Immersive'.
The new Samsung Solutions Centre was strategically positioned in close proximity to Capitol Hill to provide employees with not only a cutting-edge office to work from, but also to engage visitors from the Federal Government in a space to touch-down. Technology enables users to interact with Samsung products in everyday activities.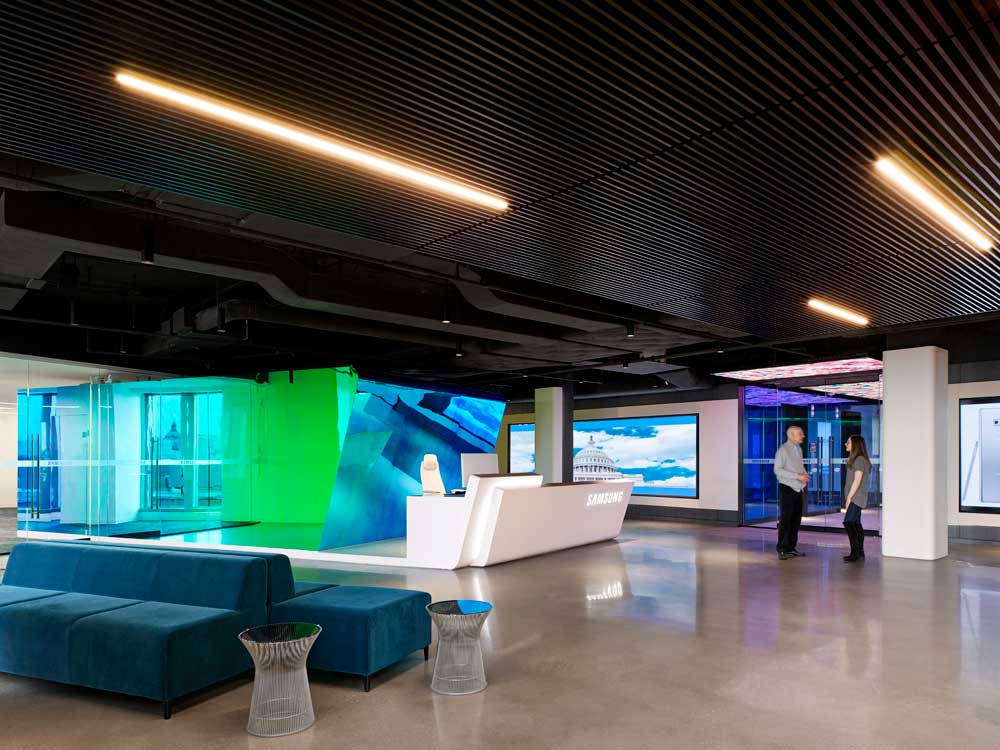 The reception desk is anchored by a Jewel Box/VIP lab. This reflective container encapsulates future technology advancements for preview and demonstration purposes by "invite only" for government VIPs. The objective was to hide this in plain sight by camouflaging it with dichroic film that reflects different colours depending on the angle it's viewed from. The jewel box is recessed into a transparent Virtual Reality and Demo lab used for both product development and customer engagement.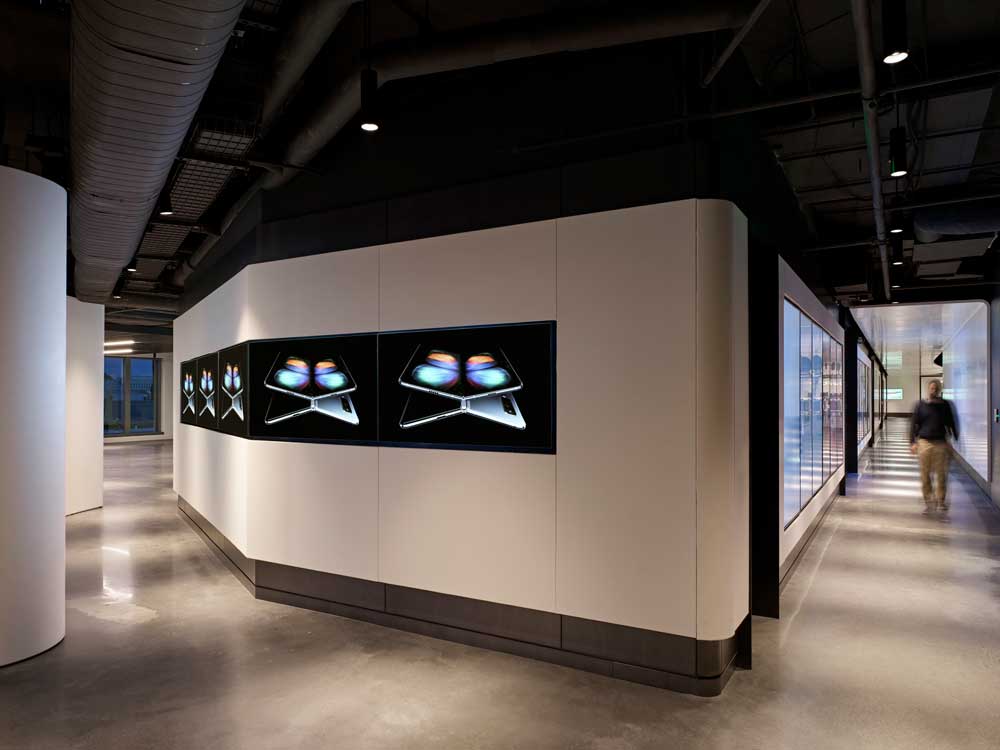 Primary circulation in the space is connected by an "Infinity Loop" of displays around the building core. The story of Samsung's past, present and future evolves along with the visitor's route through the space. This path transitions into a smart kitchen showcasing their latest appliance line and continues on to the workplace of the future, enabled by their latest technology driven tools. The Infinity Loop serves not only as a branding element but also as an educational, news feed tool that ultimately empowers the Solution center.
Related