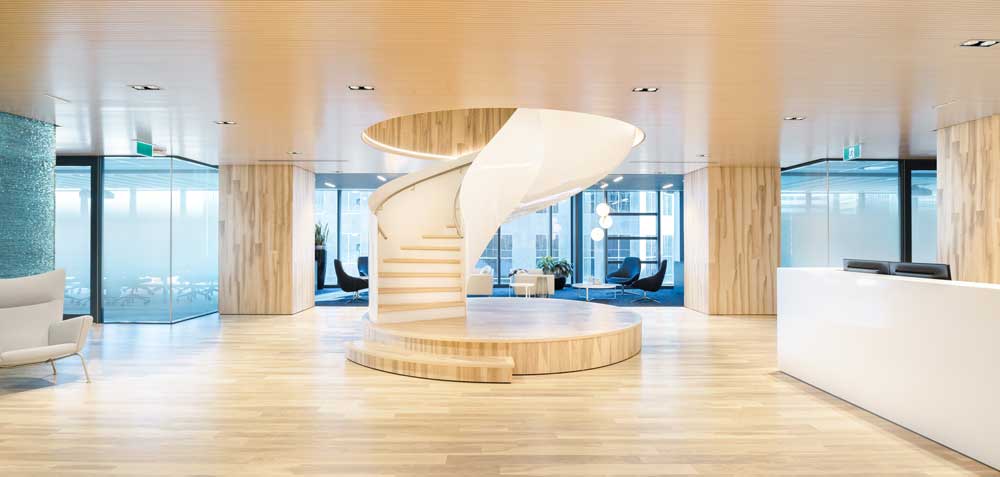 Vibrant energy flows through this bright office interior
Three key design intentions were established early in the process for the new Canadian Headquarters of this Malaysian state-owned energy company in Calgary, Alberta with the fluidity of the nearby river as the main inspiration.
Interior Designer: Jerilyn Wright, ARIDO
Design Firm: Jerilyn Wright & Associates Interior Design Consultants Ltd.
Photographer: Caleb Salomons
First design consideration was to create a clean, crisp, vibrant space to enhance employee satisfaction and productivity. Secondly, it was important for the design to speak to the importance of the company's major position in the energy marketplace. Third, we had to do so subtly. Overall, the design is a bold and commanding representation of inspiration.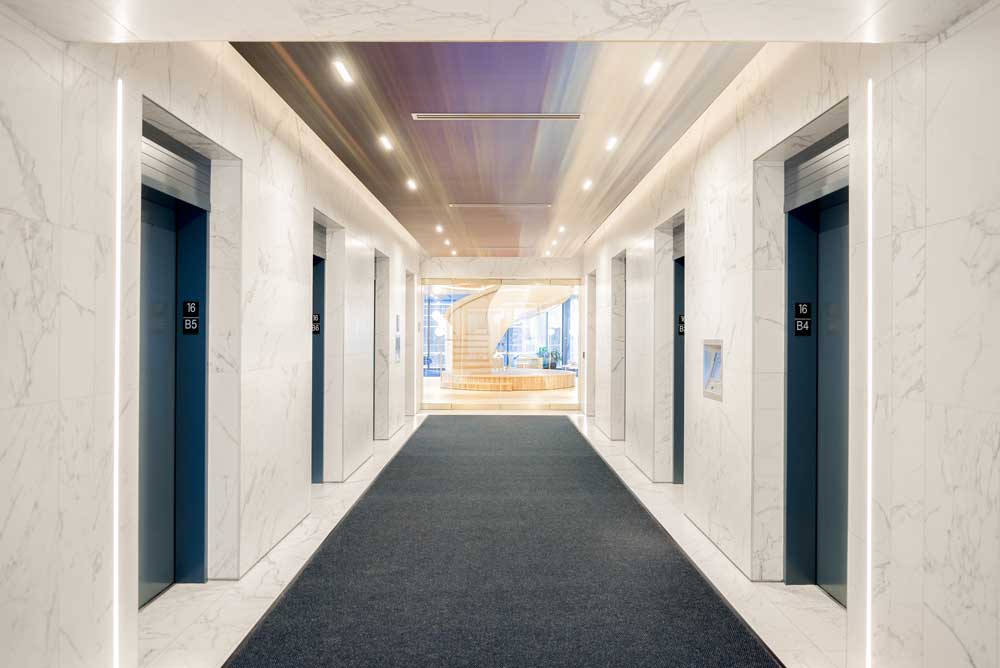 The design was carefully applied to a standardized set of floor plans as well as the central reception and meeting spaces. These areas of the interior were intentionally stacked over two floors to ensure views of the adjacent river were available from all guest spaces. Using the river view as inspiration, our interior designer created a design solution based on the fluidity of liquid.
Movement and fluidity relate specifically to the company's core business of transporting natural gas across land and sea. This inspiration was expressed through expansive amounts of windows, reflectivity, daylight and views, stacked ripple glass feature wall, and the bold, immersive expressions of blues, teals and whites signifying river and ocean waters.
Two twisting ribbons of steel that form a dramatic stairwell to the guest spaces above the reception area becomes the centrepiece of the space. This staircase is self-supported from the two 19mm thick, plate steel ribbons. Even though the process of designing and creating this centrepiece was quite elaborate, it was definitely worth the effort. It was formed in Quebec, fully assembled in a local manufacturing facility, then disassembled, transported to site, re-assembled and site finished, requiring a full automotive grade paint booth to be built within an operating office tower.
The concept of movement is applied with bold brushstrokes and balanced with an overall minimalist and more subtle aesthetic. We used a neutral and restrained palette of nature-based materials and employed symmetry-based planning of the interior.
We added custom graphics throughout the space, taking industry related images and editing them until they appeared abstract (and more liquid) in appearance, further reinforced the main inspiration for this office interior.
Related
ARIDO Award: The Hive

The first of its kind in Canada, this 3D printed masonry wall is the result of a collaboration between design professionals, students, and faculty at an Ontario university. Category: CRAFT Interior De ...