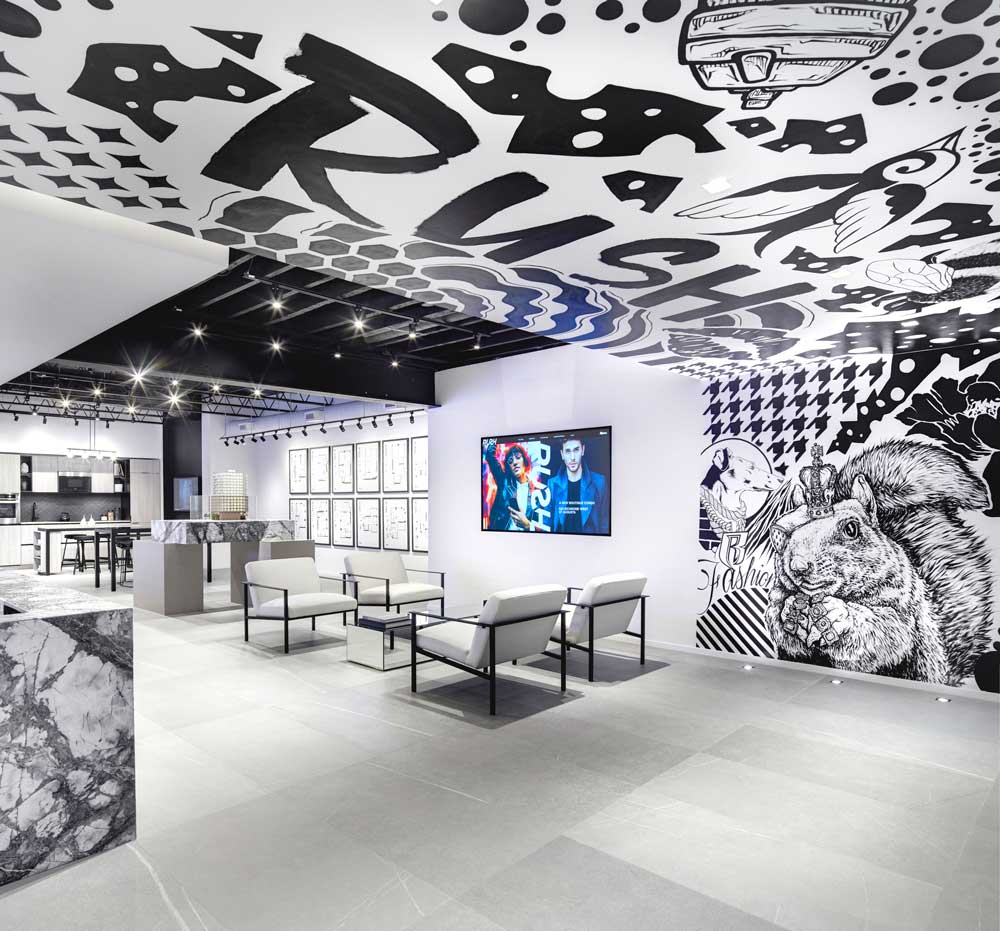 Discerning buyers RUSH to claim units at this lively Toronto condo
'Rush', a 1,700 square foot presentation centre, situated in Toronto's trendy Queen Street West retail strip, was inspired by nearby 'Rush Lane' - a famed alleyway filled with graffiti-painted buildings. The playful black-and-white commissioned artwork by 'En Masse', a Montreal-based art collective, offers a hint of what's to come in the boutique residence as feature graffiti walls are planned in the final residences' lobby, party room, fitness, and outdoor terrace overhang.
Interior Designer: Kelly Cray, ARIDO
Design Team: Neil Jonsohn, ARIDO; Christianne Barbuto, Intern ARIDO
Design Firm: U31
Photographer: Jac Jacobson
The objective of the project was to create a presentation centre that would reflect the final boutique condominium, and attract design savvy urbanites who already live in the area, or others who aspire to be part of the dynamic, off-beat and creative neighbourhood scene. As the vision for the residence was to express a refined, high-contrast industrial edge, the centre articulates this by combining old meets new, and raw meets polished. For instance, our design team deliberately kept the ceiling exposed and sprayed it out in matte black, but incorporated polished elements and surfaces to create the desired polarity.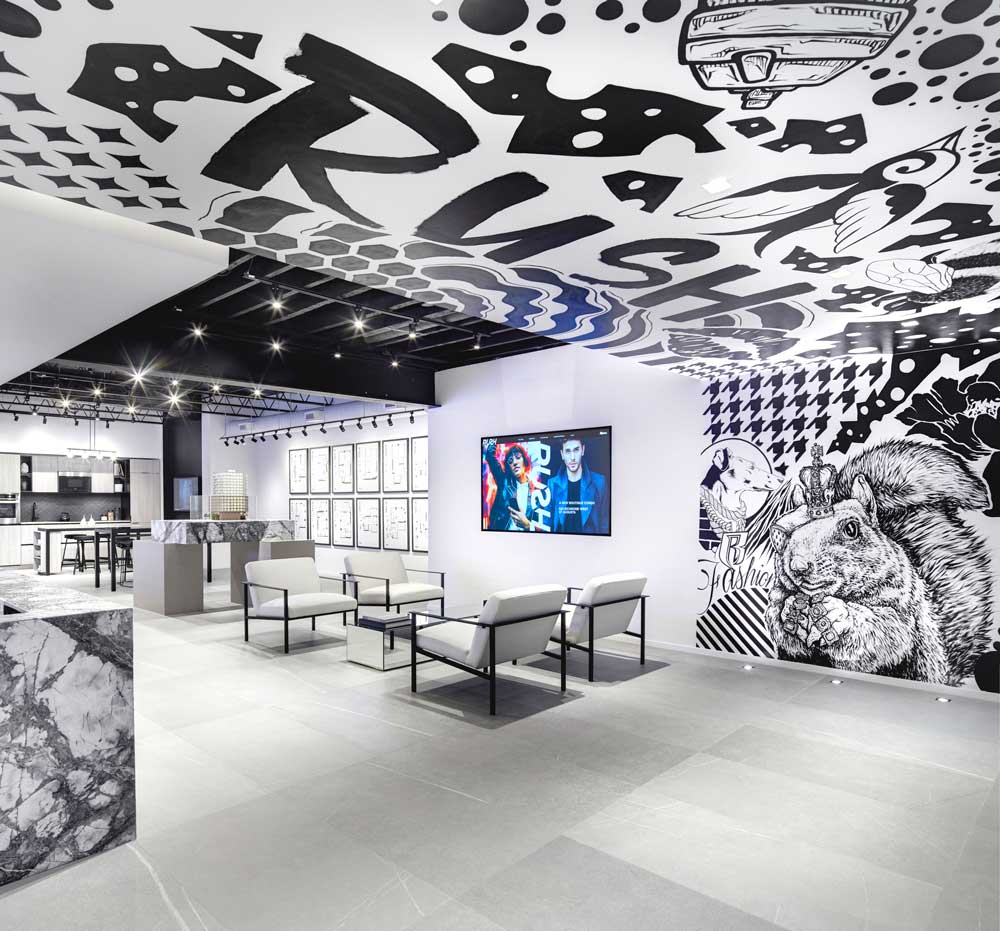 As the animated entry walls and ceilings create an energized atmosphere, our design team kept the remaining scheme clean, contemporary, and functional. Visitors encounter a space that is at once dynamic, yet quite approachable and easy to navigate. Closing areas are casual fostering a less intimidating sales experience for the younger or first-time home purchaser.
The open concept layout ensures that all key marketing assets, including intricate scale 3D model, fashioned with a luxury 'invisible' grey marble base, wall mounted framed floor plans and kitchen/bath vignettes are close at hand for the essential sales experience.
This impactful interior incorporates finishes and elements envisioned for building amenities: natural stone, custom statement lighting, and black fashion-forward accents unite beautifully for an edgy, contemporary, high- contrast look. Pops of neon, with a punchy 'A Collision of Culture' sign slogan, continues the dynamic branding campaign.
The elongated 'invisible' grey marble reception counter is multi-functional: the far end serves as a suite finishes display, with assets housed under an elegant glass case, as one would find in a jewellery boutique. It also functions as a casual area for information gathering with sales staff.
Hovering above the counter is a dramatic custom light fixture, drawing visitors to peruse the sales assets below. Positioning the kitchen vignette at the far back was meant to pique visitors' interest, and draw them deeper into the space where a closing table is located nearby to 'seal the deal'.
The presentation centre was overwhelmingly popular and attracted 350 visitors when it opened , with the developer selling out of its entire 124-suite inventory by the end of March 2019.
Related