This interior is dressed up in high-end style and luxury
Trafalgar Landing sets a precedent for modern-designed home developments in the historically traditional city of Oakville. This major residential development consisting of three mid-rise boutique condo buildings and 500 townhomes, brings an entirely new architectural landscape to the city. To reflect the client's vision, our team took a modern approach in the design of the lobby and amenities.
Interior Designer: Suzanne Wilkinson, ARIDO
Design Team: Dominic De Freitas, ARIDO
Design Firm: Figure3
Photographer: Steve Tsai Photography
In Oakville, the target market had come to expect comfort and luxury in their living spaces, so our design had to live up to these expectations. The goal was to provide amenities that would complement the clean, strong architectural features of the building exteriors with elegant design and thoughtful details.
Our challenge was to find a way to marry the traditional style and elevated standard of Oakville living with the more contemporary look the client was envisioning for the space.
Through experiential research, we gained firsthand insights into what Oakville residents value in design. One notable observation was that they appreciated high fashion, as it represents luxury, craftsmanship, and enduring style. With this in mind, we decided to use a luxury brand story to bridge the gap between modern and traditional design.
With each of the three condos retaining the same floor plan, we decided each should have its own personality. Drawing inspiration from some of the world's most revered fashion brands, the three spaces reflect the aesthetics of Bulgari, Burberry and Chanel.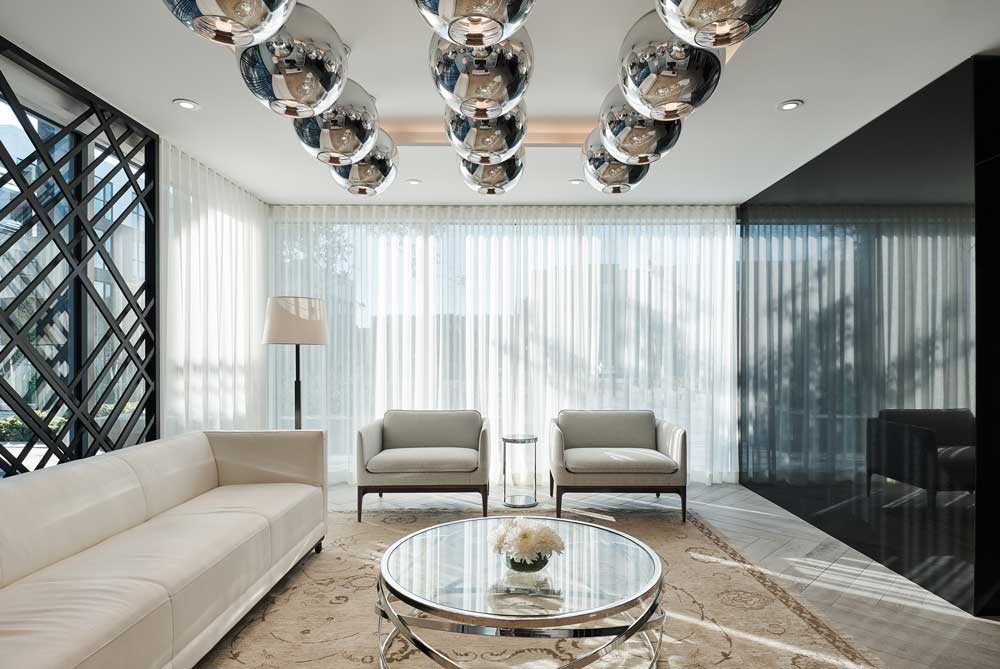 The lobby and amenities at Trafalgar Landing demonstrate how contemporary elements can be incorporated into a space without sacrificing quality. The marriage of thoughtful layouts, luxurious finishes, and a wealth of amenities creates a compelling design that represents the standard of high-end living.
Working closely with the client during the entire process ensured the design vision was wholly accomplished, making this project hugely successful. With such designs typically only seen in urban environments, residents were won over by Trafalgar Landing's exceptional quality and modern yet timeless details, and as a result, it has pioneered a new way of thinking about the Oakville buyer, with contemporary developments now becoming popular in the city.
Related