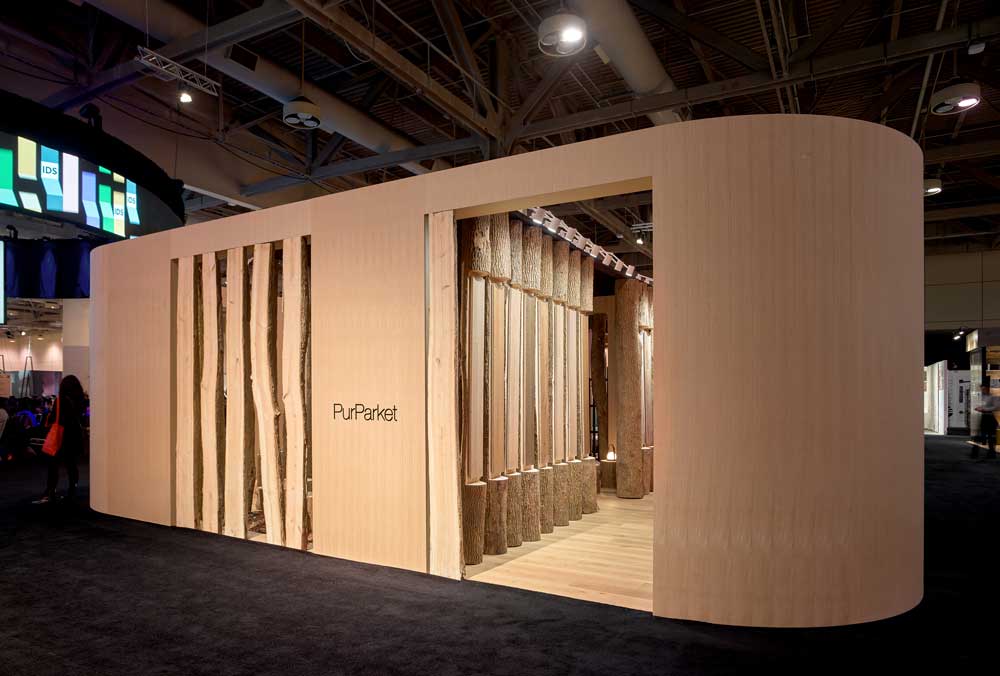 Interior designers go against the grain for this immersive wood themed exhibit
As a main sponsor for Toronto's Interior Design Show in 2019, hardwood flooring manufacturer PurParket sought to create a conceptual space that provides a memorable experience, connecting visitors with the origins of their product.
Interior Designer: Ashley Rumsey, ARIDO; Stanley Sun, ARIDO
Design Team: Marti Hawkins, ARIDO;
Design Firm: Mason Studio
Photographer: Scott Norsworthy
To differentiate from past exhibitions and take advantage of a prime six-hundred square foot location, the design concept focused on creating an immersive space that explores the beauty of wood. Shown in various states of existence, wood becomes both the main feature and the backdrop to the experience.
Visitors to the booth are reminded of the capabilities of wood being both a fundamental building material and a material that can extract visceral emotional response. A full sensory experience of sight, sounds, smell and touch was used to attract the discerning eye of designers and architects triggering memory through a connection with nature.
To reconnect visitors with the natural qualities of the wood product, forest-like forms and activities contribute to an interactive experience while information panels provide an educational component to reinforce the connection between the unprocessed material and finished product.
To offset the intensity and scale of the show, the booth was conceived as a space within a space to shift from public to private; open to intimate. Designed to create only glimpses of the interior space from the outside, it encourages curious visitors to move from the highly active show floor, to enter and discover what exists within.
Upon entry from two access points, guests are greeted by a wall of raw wood logs with integrated product offerings. The hardwood flooring display is as though it has been revealed from within the tree itself.
To provide guests an opportunity to rest and reflect, a flickering fire sits within the innermost portion of the space. Seen through openings within the log walls, guests can gather, sit on log seating, and enjoy a moment of quiet contemplation.
Related
ARIDO Award: Cavana Ridge Spa

Cavana Ridge Spa is a lofty hospitality project that presents a beautiful balance of design challenges and inspiring potential. Our team's mandate was to transform a run down, vacant water testing f ...

ARIDO Award: York Condos

York Condos is a three-building complex in Markham, Ontario. The buildings line an above-grade parking structure crowned by an extensive landscape and amenity terrace providing a shared community spac ...