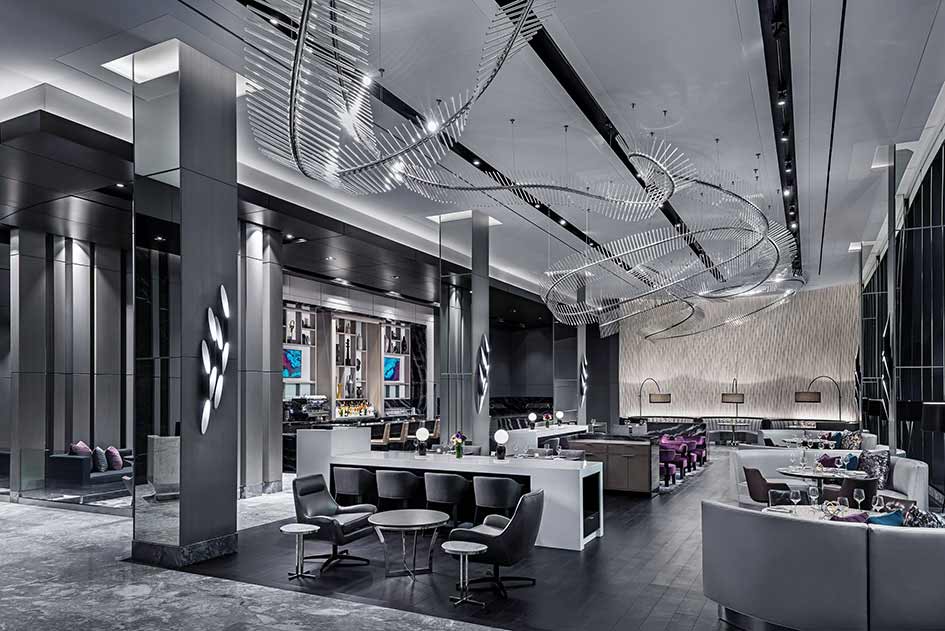 Inspiring streams of colours, textures and forms that celebrate the Marriott brand
At the heart of a rising city centre, the Toronto Markham Marriott hotel was designed to be a glittering embassy for the senses. Recognized as a thriving community, the city of Markham's exciting union of progress and growth is the inspiration for this new hotel; a building that seamlessly integrates hospitality, residential, and retail functions and celebrates Marriott's brand values of creativity and ingenuity.
Interior Designers: Keith Rushbrook, ARIDO; Dan Menchions, ARIDO
Design Firm: II BY IV DESIGN  
Photographer: Gillian Jackson; David Whittaker
Responsible for Marriott's first North American rebrand, our design team reinvented the brand to showcase its true identity – contemporary, classic, and brilliantly inspired by the community. These values are echoed throughout all areas the team was responsible for the reception area, Great room, third and fourth floor amenities, and indoor pool.
The Great room imparts a sense of wonder and enchantment, a central gathering place captivating your attention with a 68-metre long crystal installation that dances across the ceiling, titled Draco. Draco is one of the largest sculptural crystal ribbons of its kind, and the largest in Canada, custom handcrafted and designed with 1,235 crystal rods, and inspired by a dragon's tail.
Complementing Draco's expansive reach, is an undulating ceiling wave, a custom wall feature, connecting the superior Great room height with that of the drastically lower cocktail cubbies and elevator corridors. Unifying the interiors is an impressive illuminated staircase, rounded banquette seating layouts, halo-like lighting fixtures in the Grand Ballroom and elegant custom-carpet design in the third floor pre-function area. Surrounded by an enlightened community, the Toronto Marriott Markham is an opportunity to feel and live hospitality at its finest through the excellence of design.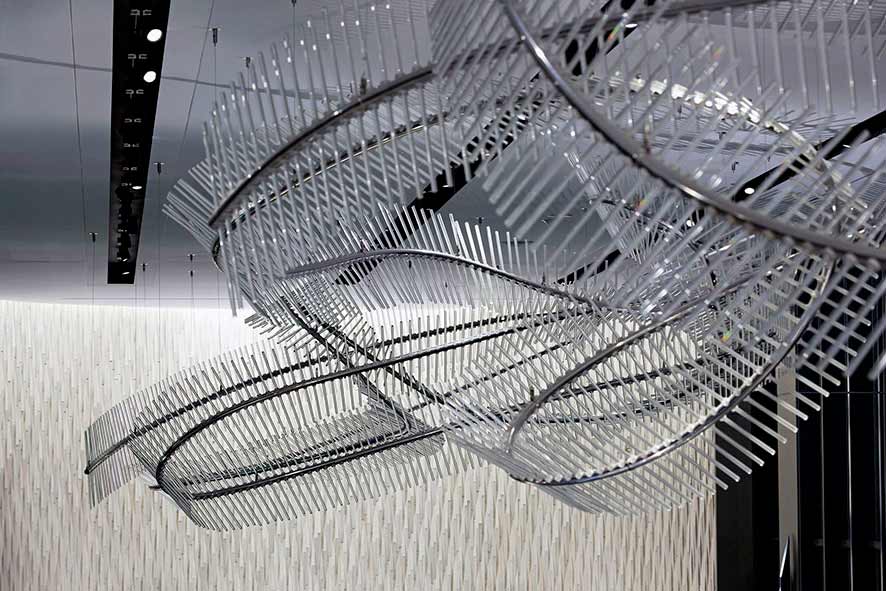 Creativity, collaboration, and ingenuity are Marriott's brand values that are celebrated in the design. Marriott's hospitality team goes above and beyond, striving to nurture an environment for guests to imagine, conceive, and live the stories that make each of their journeys unique. This narrative is reflected in the design, dedicated to move and motivate through inspiring applications of colours, textures, forms, and finishes.
Resembling what could be the setting of a modern public place, the warm and regal neutrals effortlessly cultivate a feeling of hospitality and belonging. The space evokes a sense of elegance and approachability, reminiscent of the luxuries of home but offering premium services at every opportunity.
Our team worked closely with the client to refine and incorporate the brand's identity through improved details and fabrication techniques. A great importance was placed on allowing the movement of air and energy to freely follow the curves and flow of the interior. Thoughtful space planning resulted in flexible seating areas, cocktail cubbies added with built-in monitors, charging areas, and power ports. The operational and functional features provide many opportunities for guests to socialize in the lobby and fully enjoy the space.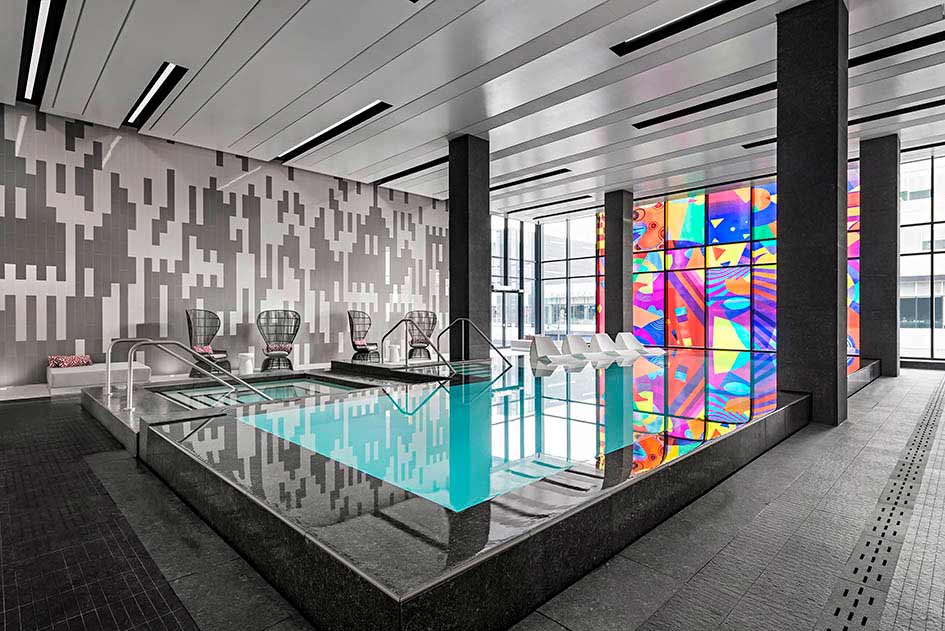 Creating designs that resonate, bring forth feelings of empathy, discovery, and connection – was the driving inspiration behind this project. Toronto Marriott Markham personifies what great design really is, which is to honour the brand and the neighbourhood – reimagine them, give them life – and remind people why they are there in the first place.
Related