A contemporary interior deserving of its own hashtag
Our client's vision of marketing their 49-storey downtown Toronto condominium was to create an unconventional presentation centre and media campaign. By partnering with Toronto Life , the go-to magazine for the city's cultural beat, 'VIP' passes were given to community influencers to attend the project's sales launch along with other special events at the presentation centre.
Interior Designers: Kelly Cray, ARIDO and Neil Jonsohn, ARIDO
Design Team: Christianne Barbuto, Intern ARIDO
Design Firm: U31
Photographer: Jac Jacobson
Inspiration for Maverick's two-storey presentation centre, located in a heritage building on King Street West's 'restaurant row', was drawn from the social thrust of the campaign and the target market of entrepreneurial thirtysomethings. Mindful of this, our team conceived an aesthetic that is contemporary with an eclectic edge.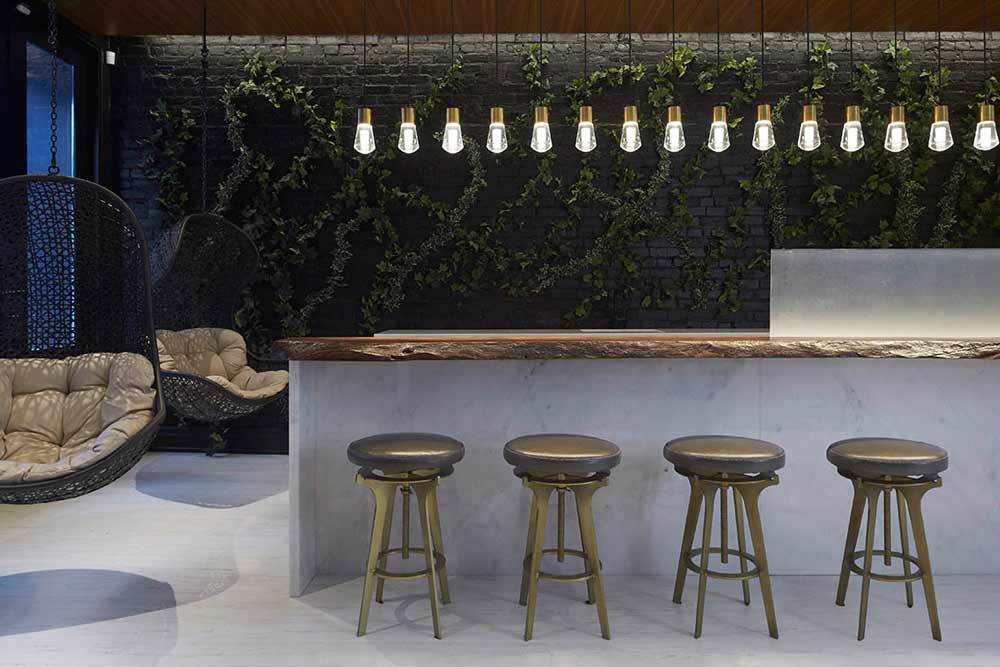 Multiple objectives were at play in this project: it needed to communicate a neighbourhood vibe and pilot the concept of a 'social club' pop-up on the second level, while simultaneously promoting the building's amenities and company brand.
The vision to market this concept in an innovative manner, resulted in establishing an unconventional presentation environment. Instead of a reception desk, visitors are greeted by a cafe style entrance where an elongated marble coffee bar, with a 12 screen media wall sets the tone of a sophisticated retail boutique. Instead of the usual marketing assets, pieces of lifestyle photography convey to the target customer what the project is all about.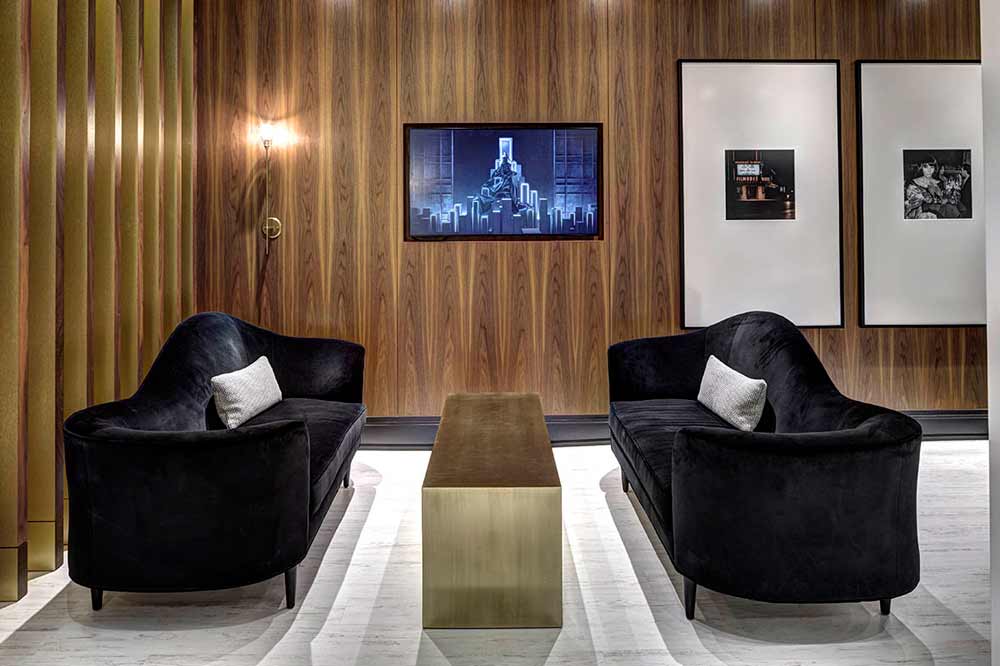 This space quickly puts visitors at ease: outdoor inspired hanging woven swing chairs and a feature botanical wall contribute to the overall warm, welcoming environment. Suite finish selections and scale building model are displayed as artwork, conveying an elegant retail space.
The visitor experience continues on the second level with zones reflecting the condominium's multiple amenity offerings. Having potential purchasers navigate through lounges, games room, beauty bar, and co-working spaces, provides an immersive experience and offers a glimpse of what's to come in the finished project .
The overall mandate was to create a private social club vibe that would appeal to individuals with their 'fingers on the pulse'. The design captures the look and feel of a trendy VIP destination – casual, yet sophisticated with materials that are eclectic, while dramatic: sumptuous velvet and leather upholstered contemporary furniture forms, rich woods and bold black accents.
A major challenge to overcome was the existing, old, uneven floors. Leveling wasn't an option due to budget constraints, so we did minor building-up of floor sections with plywood, and covered the ground and secondlevels with a very forgiving laminate flooring that possessed a measure of flex. It was a very successful solution.
Two well-planned 'swanky' events in the second level social club, attracted over 550 attendees, including many of the city's well heeled cultural and design influencers. These parties created buzz around the upcoming development making the entire marketing effort an enormous success.
Related