A journey through eclectic luxury in this condo presentation centre
Condo buyers today look for luxurious, hospitality-inspired features when considering a condo for their new home. At Phoenix, our main focus was on how the potential homeowner would use and enjoy the spaces, not just design those which are visually stimulating. In addition to stunning residential units, the condo building features a variety of amenities that appeal to a higher-end target market with modern sensibilities, such as a chic lobby lounge, spa oasis, outdoor luxury pool, and modern gym.
Interior Designer: Dominic De Freitas, ARIDO
Design Firm: Figure3
Photographer: Steve Tsai Photography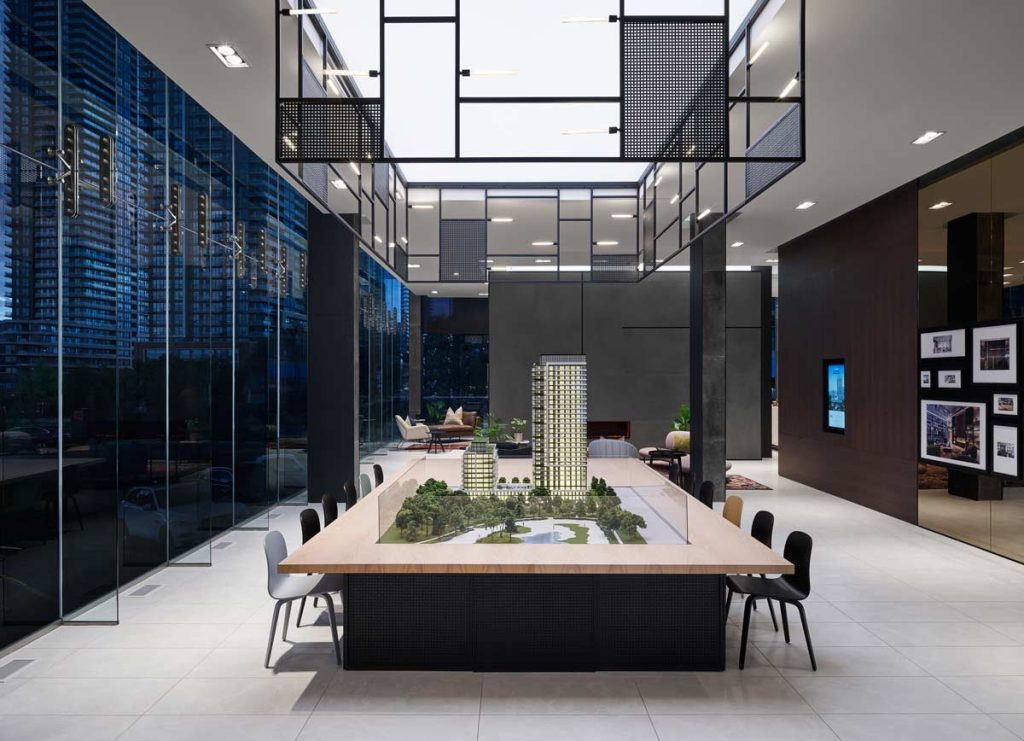 The presentation centre was designed to reflect this luxurious lifestyle, leading potential purchasers on a journey through the space, from reception, through multiple seating areas, to the final reveal of the condo space.
The Phoenix presentation centre was built in an existing space which needed to be retrofitted specifically for this project. With a limited budget, our team had to find creative ways to repurpose and reuse as much as possible of the existing infrastructure with minimal waste, yet create the look and feel the client's marketing team aspired to achieve.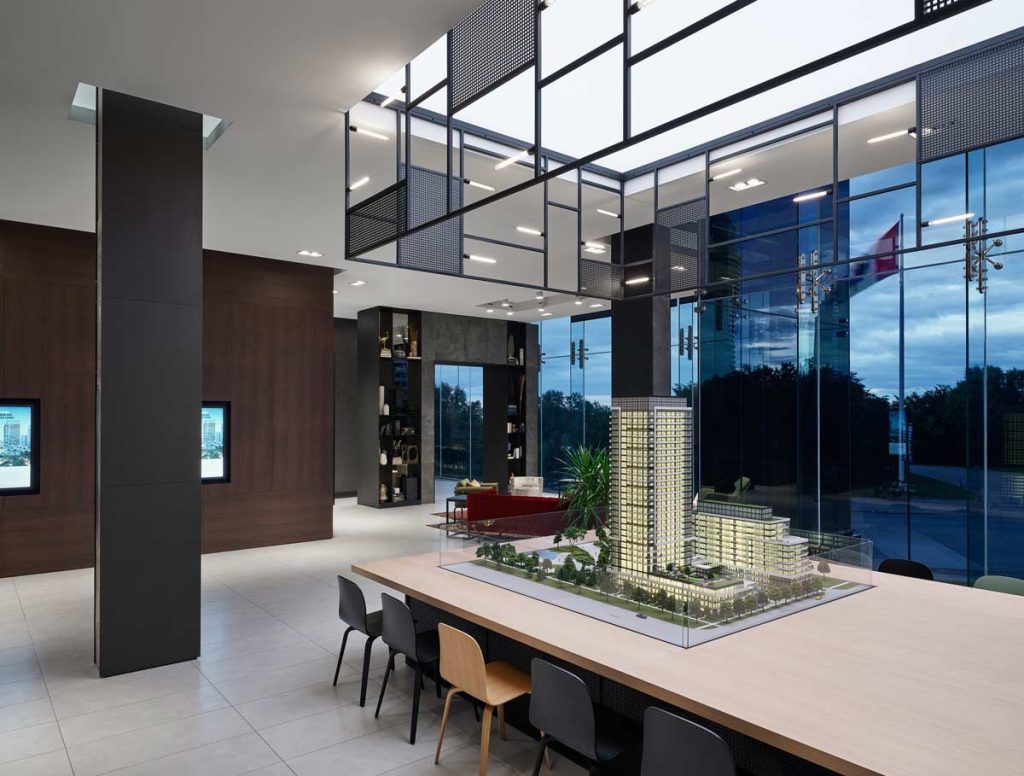 Located in Mystic Pointe, outside of Toronto's downtown core, it would not receive foot traffic from the street and potential buyers would have to go out of their way to visit. The presentation center therefore had to embody the alluring Phoenix lifestyle and become a destination that would attract potential buyers to the location, and facilitate a curated program of compelling activities and experiences.
Guests enter the presentation center through the reception area, where they are met with the substantial building model highlighted by an impressive lighting feature. Built around a backlit canvas on the ceiling, it mimics the effect of the skylight which is present in the Phoenix condo lobby. The sculptural fixture is made from an industrial black metal frame with vintage filament bulbs that were later repurposed in the condo building itself.
A dramatic reveal is created as guests transition into the sitting area by walking around a European style fireplace, clad in charcoal stone. This area was designed to have a hotel-like atmosphere, with two seating zones that welcome guests in and encourage social activity.
The space features a mix of old and new, and a combination of raw and refined materials. Earthy colours and fumed wood finishes are offset by richly coloured furniture and accessories such as contemporary sofas and Persian rugs, made to resemble an eclectic collection of pieces acquired over time.
The model suite is located at the end of the customer journey encouraging the customers to walk through the entire space, their curiosity piqued along the way. Empire's award-winning Phoenix marketing campaign included a series of after-hours "adulting" classes, focusing on the lifestyles of their target customers, facilitated by the impressive design experience of the space.
With features that recall luxury hospitality, and user experiences which connect with buyers' sense of community and modern sensibilities, the repurposed Phoenix presentation center became a marketing hit which led to exceptional sales results. Since launching in June 2018, all 447 units sold out within 9 months, far exceeding expectations and demonstrating how strongly their campaign, and this design, resonates with buyers.
Related
ARIDO Award: Cavana Ridge Spa

Cavana Ridge Spa is a lofty hospitality project that presents a beautiful balance of design challenges and inspiring potential. Our team's mandate was to transform a run down, vacant water testing f ...

ARIDO Award: York Condos

York Condos is a three-building complex in Markham, Ontario. The buildings line an above-grade parking structure crowned by an extensive landscape and amenity terrace providing a shared community spac ...

ARIDO Award: 411 Church (Amenity Spaces)

411 Church is the first residential condo building signaling a major shift taking place on Church St. in downtown Toronto. Figure3 captured the unique dynamism and modern luxury desired by the movers, ...