A design playground to delight both customer and consultant
The Lobby, Tridel's new headquarters and design studio, is an interior that inspires innovation, supports the community, and stimulates workplace evolution. The client had a vision of integrating their multiple studios across the city into one location and creating a one of a kind, multi-functional workplace environment that pays tribute to the brand's long-standing legacy and achievements as one of Canada's top developers.
Interior Designers: Keith Rushbrook, ARIDO, Dan Menchions, ARIDO
Design Firm: II BY IV DESIGN @iibyivdesign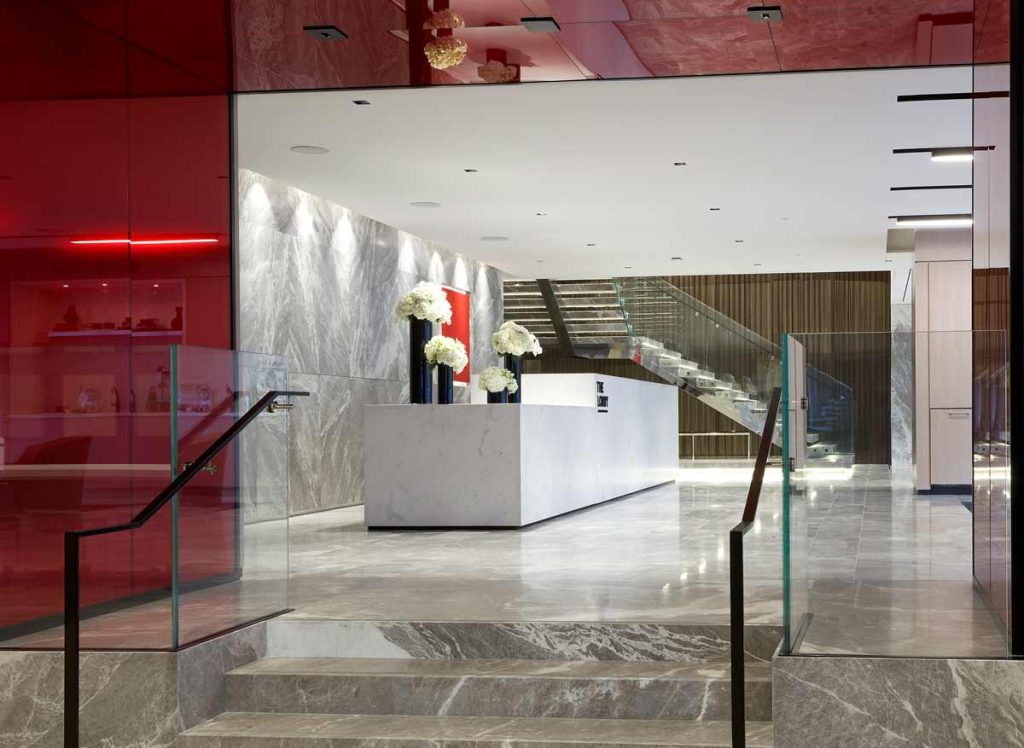 Visitors and clients are welcomed by an impressive marble reception area, balanced by an architecturally spectacular staircase. It is surrounded by bronze-tinted mirrors and floating on a spine supported by risers and self-illuminated LED treads. Our team felt it was crucial to reconstruct the old staircase and have it repositioned in the existing opening to establish a captivating first impression.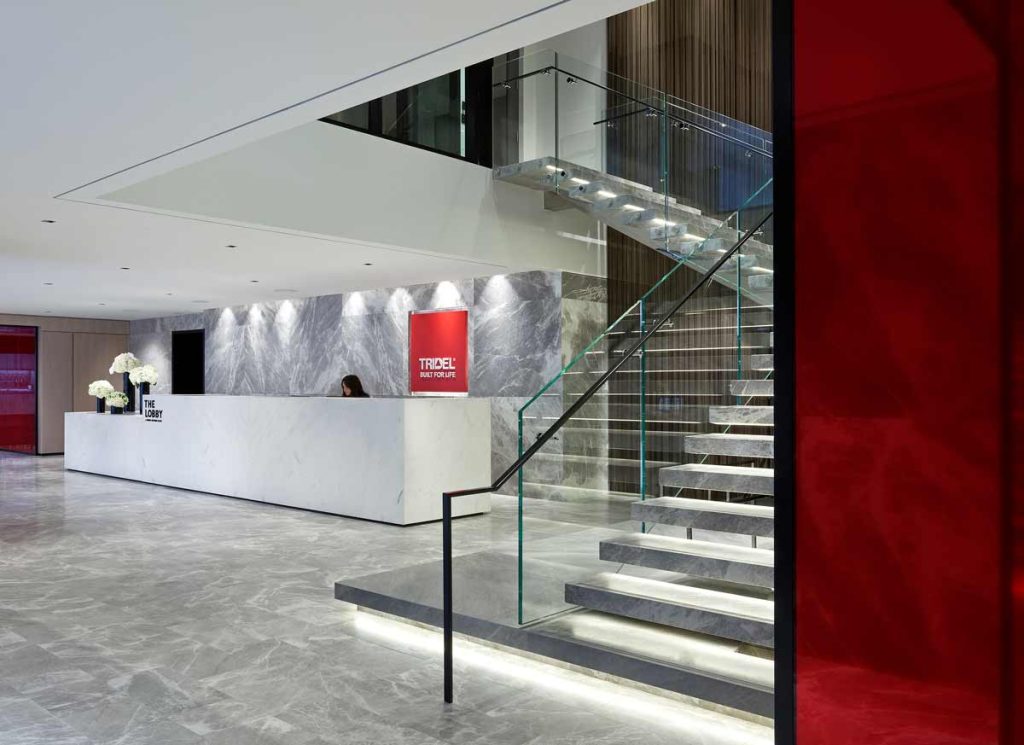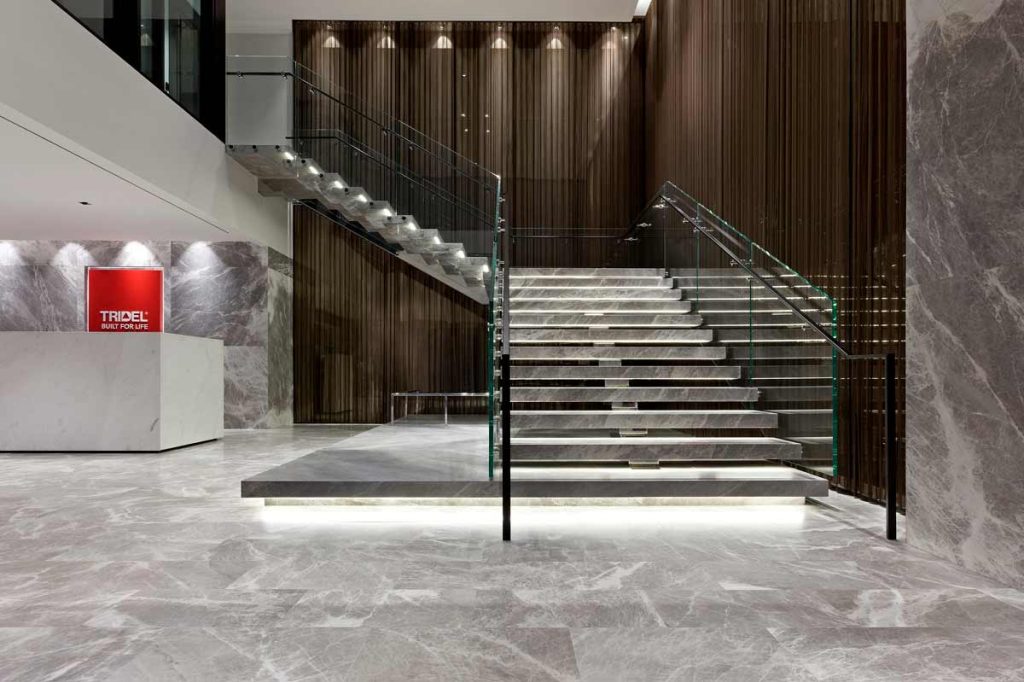 The showroom is a transformative runway, featuring contents tailored to any project with the ability to move all of the fixtures and dividers. A multi-digital screen unites the entrance with the showroom environment, transforming it into a design playground that inspires both the customer and design consultant.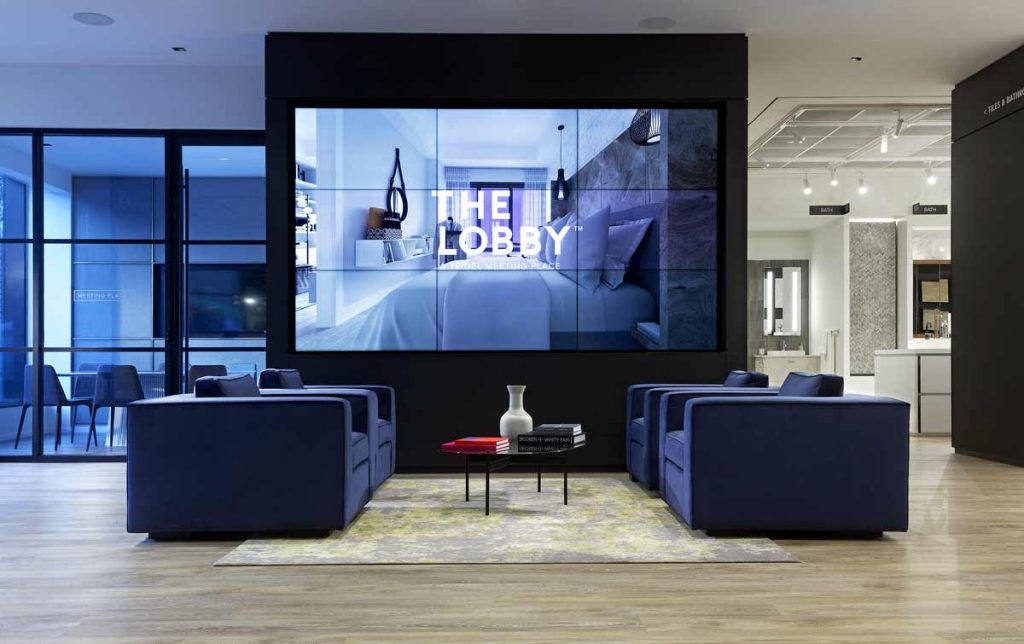 The success of merging Tridel's corporate office with their design studio is evident in the human experience this space provides. The Lobby environment creates an opportunity to connect, educate, enliven, and to make life at work more enjoyable and fulfilling.
More than just a design studio, this interior reinvents what it means to be in the workplace today. It is a meeting place – corporate office, head office, event space, showroom, and educational facility. Flexibility was key in design planning, allowing the space to transform based on the needs of the employees and their clients. Great design adapts without compromising beauty, innovation or quality – and that is exactly what The Lobby delivers, the opportunity to enjoy design to the fullest.
Related
ARIDO Award: The Hive

The first of its kind in Canada, this 3D printed masonry wall is the result of a collaboration between design professionals, students, and faculty at an Ontario university. Category: CRAFT Interior De ...

ARIDO Award: Spadina Workplace

Designing for human behavior and fostering innovation were the two key strategies for this workplace redesign. The design team aimed to inspire a return to the office not from necessity, but a genuine ...