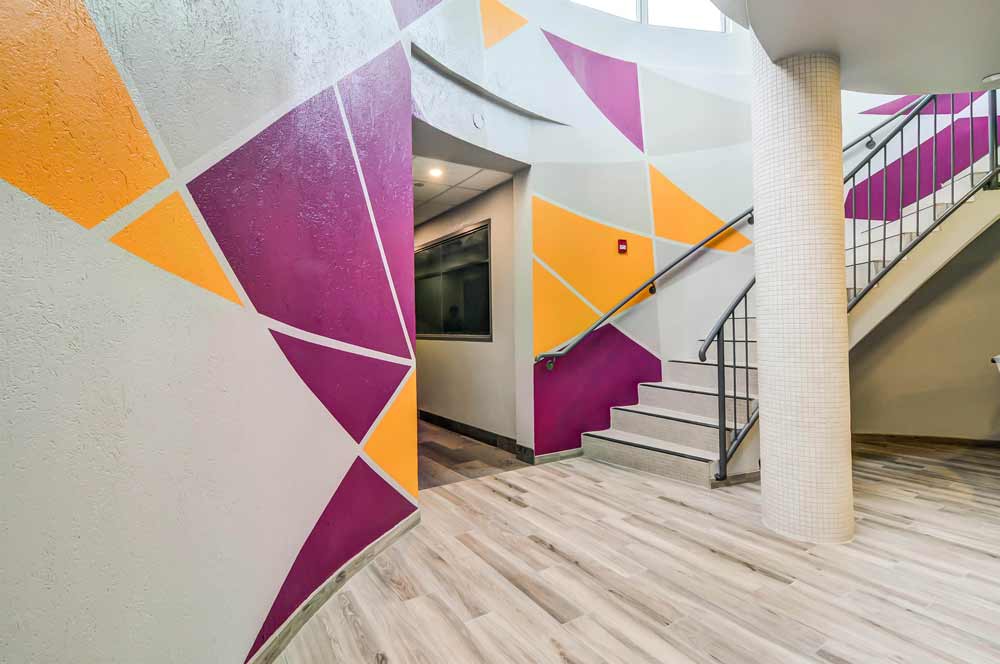 Barrier-free amenities make a splash in this Toronto condominum
These condominium pool change rooms were in dire need of an update due to the poor maintenance program over the past 25+ years. So, the board hired Shields and Associates to reconfigure, redesign, and update pool and fitness area change rooms and the ground level pool deck showers to meet barrier free codes, and freshen up the circulation spaces around the change rooms.
Interior Designer: Vitorhya Shields, ARIDO
Design Firm: Shields and Associates Interior Design Consultants
Photographer: Imagine a Home
The space was gutted back to bare structure and reworked as much as possible, keeping the existing plumbing and drains in their locations due to space restrictions from below and within the scope of work. The circulation spaces, showers, toilets, and vanities were all to be reworked to meet the client requirement for better accessibility.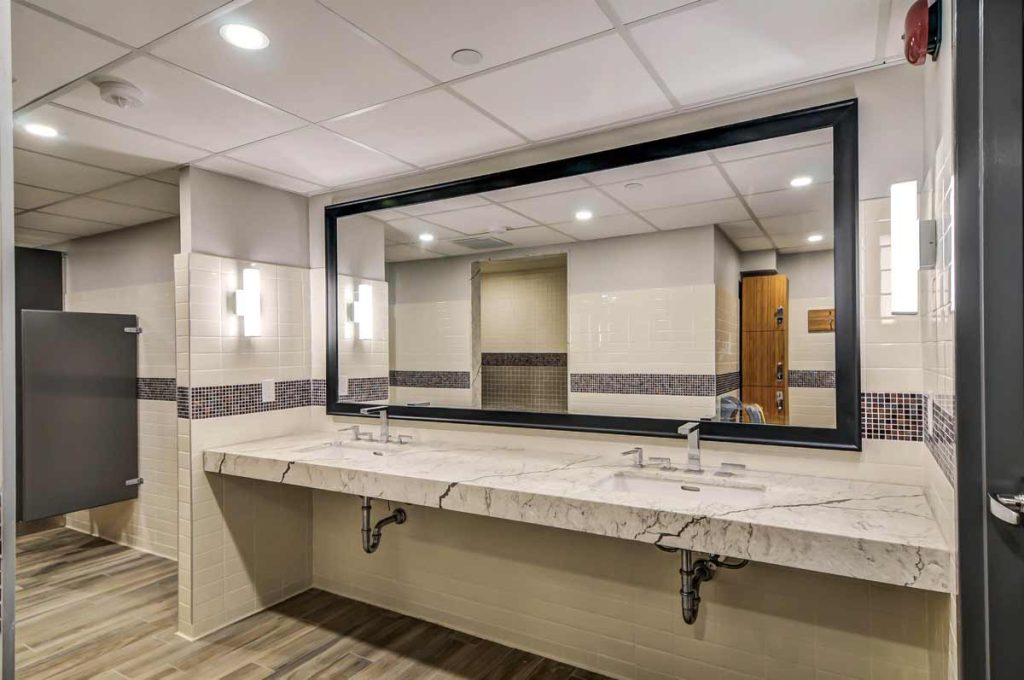 Space was borrowed from locker and change areas to accommodate vestibules fitted with large doors for better access. The existing large locker space was changed to smaller cubbies holding keys, phones, and shoes with hanging hooks for towels, clothes, and robes, while the fixed benches adjacent to the cubbies created a single change area.
We also managed to create additional space by converting three individual showers and the corridor leading to them into three larger showers with barrier free fittings, by using all the combined space with direct entry from the vanity area.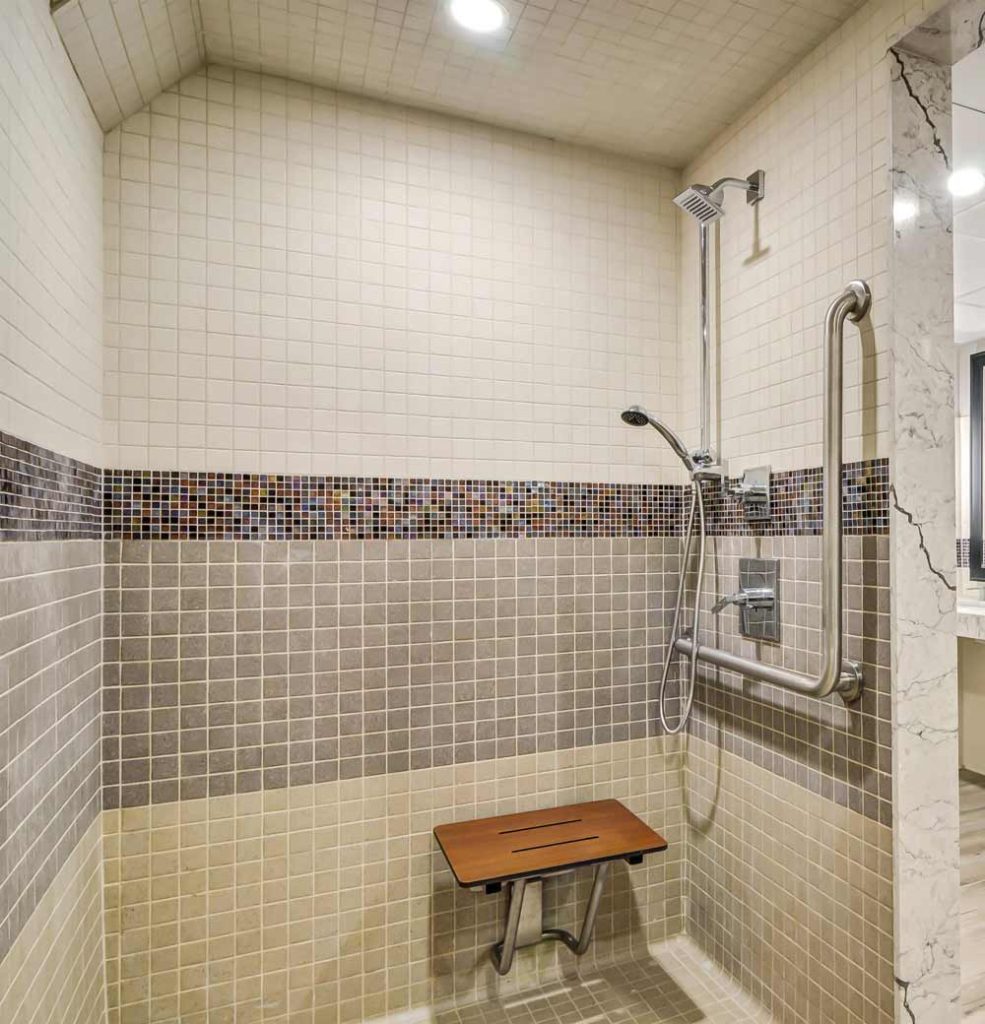 Toilet stall sizes posed the most challenges for accessibility due to drain locations and the remaining sauna location. Stalls and doors were relocated to provide one larger stall complete with barrier free accessories.
For the flooring we selected a wood plank tile with appropriate non-slip properties, which was also used in a semi polished finish on the wall to provide a visual connection of finishes. The wall tile flowed from a mosaic feature above the vanities down the walls into a cove base.
A soft white main tile blended extremely well with the aged white pool deck tiles. A glass mosaic feature tile ran around the entire change room space in a modern red/purple colour scheme to coordinate with the existing burgundy coloured accent tiles on the pool deck.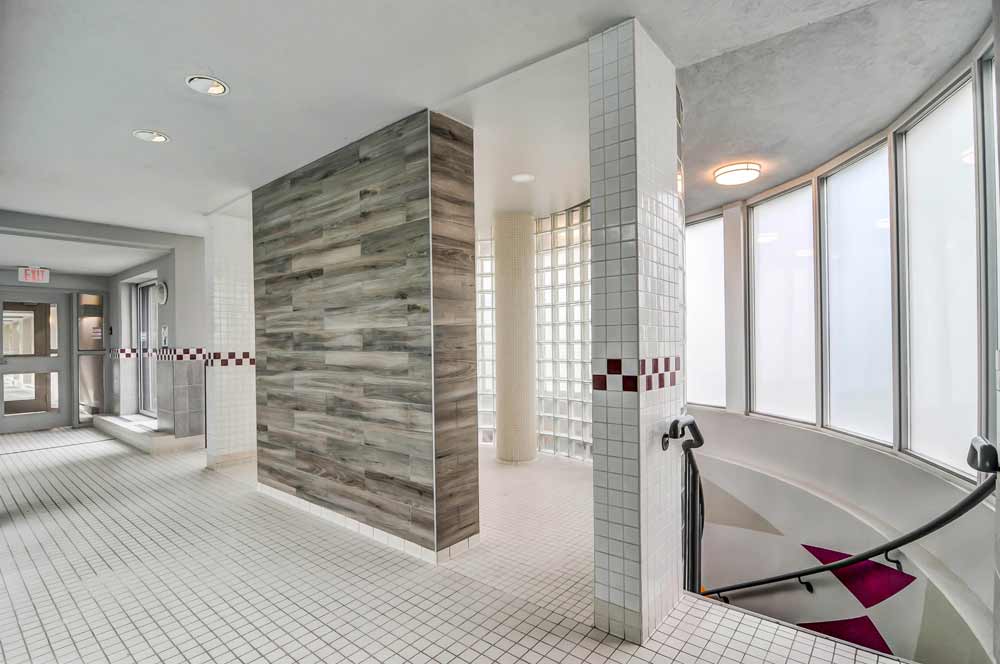 The warmth of the textured wood floor tile combined with soft matte white wall tiles and a hint of shimmering glass accent mosaics create a residential feeling the client loves. The tiles and coves make maintenance easy and the colour scheme transitions well from old spaces to the new updated ones.
Related
Luxury with a view

Sometimes the shape of a room dictates the furniture and millwork layout. In the case of our Esplanade project, the open living, kitchen, and dining room had an unbelievable view of Toronto with the w ...

ARIDO Award: Elevator Cabs

The challenge of this elevator cab redesign was to create a mobile portal between a well-aged ground floor lobby that would seamlessly integrate with each of the floors above. Category: DISTINCT Inter ...