A perfectly IMPerfect restaurant oasis
The design of this restaurant IMPerfect Fresh Eats in Toronto had to exemplify brand values and vision of imperfect and host customers in a countryside vineyard atmosphere. The owners wanted to raise awareness of the wasteful practice of produce ending up in landfills due to their perceived imperfections like a small bruise or scratch. Their vision resulted in a chain of restaurants where consumers can enjoy healthy foods offered at an accessible price made possible by incorporating "imperfect" produce, purchased directly from farmers at a discount, into the menu.
Interior Designer(s): Tatiana Soldatova, ARIDO
Design Team: Patrick Augustynowicz; Sharon Murad, ARIDO
Design Firm: Syllable Inc.
Photographer: Revelateur Studio
The design would need to attract and retain customers by leveraging the sharing economy. On top of being an inspiring environment, the interior needs to offer an efficient flow during rush hour while also offering a sense of calm for those who dine in.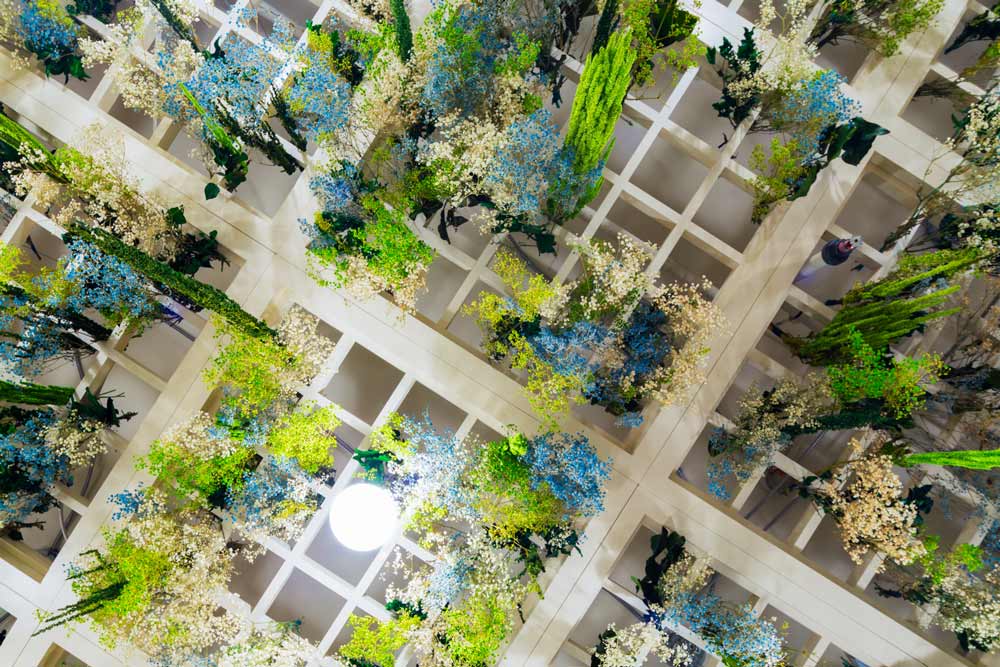 The new restaurant interior was inspired by the experience of dining outdoors at a countryside vineyard under a vegetated trellis with sunlight streaming through the vines. The dining area was conceived as an urban oasis offering a sense of calm and restorative ambiance through the integration of biophilic design. Real vegetation preserved by glycerin hangs from wooden trellises suspended from the ceiling, while choreographed undulating light-droplets come together to create an ethereal effect.
The interior detailing was deliberately muted to allow the vegetated ceiling feature to take the center stage. Chevron patterns that mimic the look of building rafters undulate throughout the restaurant to further build on the farm-inspired theme. A linear condiments bar houses disposal bins and physically separates the dining area from the high-traffic barrier-free entry walkway for customers leaving their order, or picking up their meal.
The washroom on the other hand, was conceived as the antithesis of the dining space and used dark monochromatic material finishes with a jungle themed wallpaper that envelopes the visitor.
Without any efforts in marketing, the immense social media engagement and the visual interest generated by the design of the interior has helped IMPerfect Fresh Eats attract customers organically. Eating out becomes a virtuous act here, diverting perfectly edible produce from landfill, without sacrificing taste or style.
Related