Sophistication and drama are at play in the OVO Athletic Facility
The Raptors organization wanted their 3,400 square foot office space to exude a level of sophistication and class to reflect their steady rise of the team's profile in the NBA. High end finishes and details were desired to transform the space from a common office into an impressive and polished environment that would allow for expansion.
Interior Designer: Sabrina Giacometti, ARIDO
Design Team: Katelynn Marshall, Intern, ARIDO
Design Firm: Straticom Planning Associates Inc.
Photographer: Tom Arban
The footprint of the space was small and therefore the original boardroom and office layouts had to remain, creating a challenge for our designers of how to inject a sense of intrigue in an otherwise uninspiring floor plan. Sound transmission posed an issue between the compact offices and open workstation area which meant acoustics became a main concern of the client.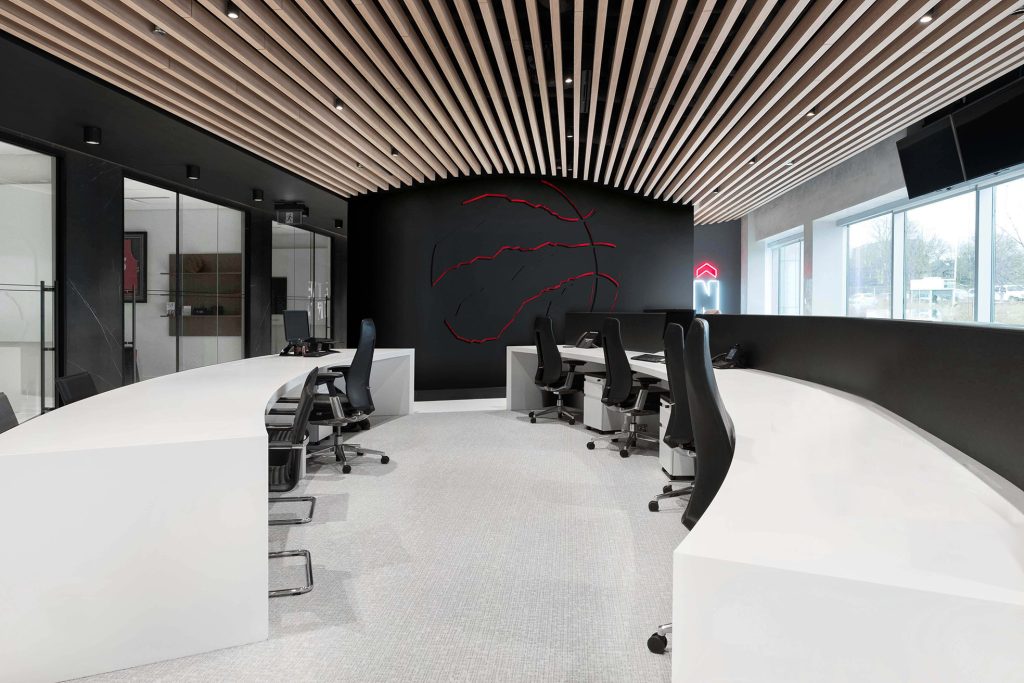 The design concept needed to respond to the client's aesthetic and functional goals, while exemplifying a creative approach to the aforementioned challenges. The footprint of the interior was limited, and needed to generate the sense of volume and grandeur to impart a dramatic "wow" while playing on the concept of athletic movement.
This was achieved by removing the existing grid ceiling and installing a ceiling feature that would become a motif throughout the space. A custom engineered framework of wooden ribs cascades across the ceiling, creating a sense of movement and flow throughout the open office area. Acoustical panels and lighting were integrated and concealed within the ceiling framework to make the installation look stylish and seamless.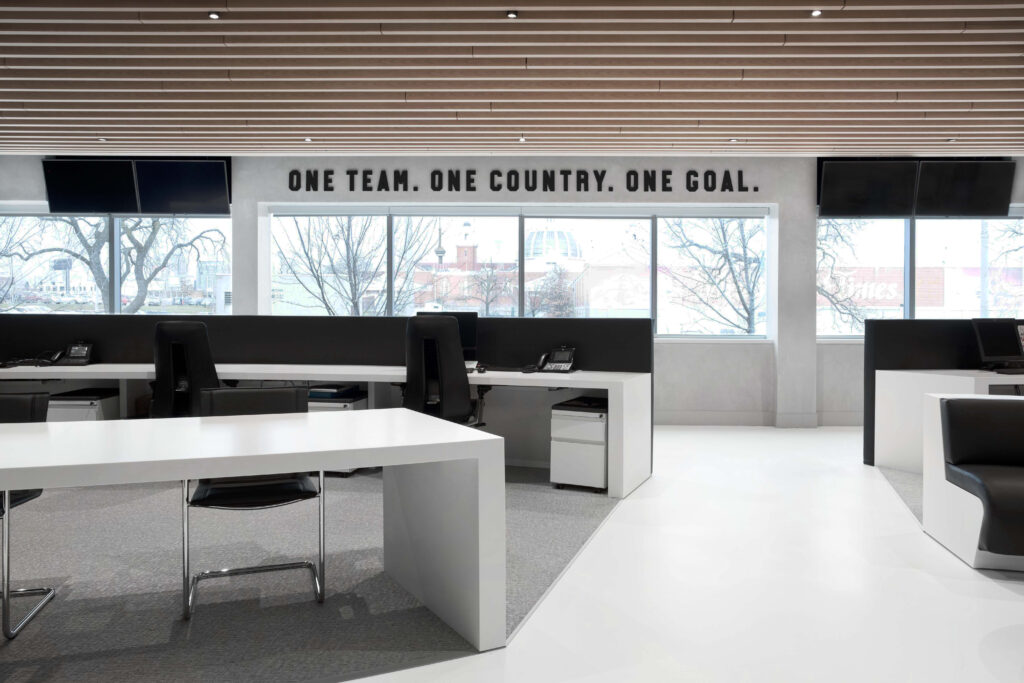 The aim of the materials palette was to introduce  an understated, timeless backdrop to a modern cityscape, complemented by classic materials. Selections of walnut, black marquina marble, venetian plaster, and leather finishes were used in conjunction with stark white Corian and epoxy to create an elegant atmosphere. 
Custom workstations were engineered with organic curved lines, while offering multiple functional stations for the staff. Subtle branded elements were strategically designed to be a subtle reminder of their identity without becoming a gimmick in the space.
Related
ARIDO Award: The Hive

The first of its kind in Canada, this 3D printed masonry wall is the result of a collaboration between design professionals, students, and faculty at an Ontario university. Category: CRAFT Interior De ...

ARIDO Award: Spadina Workplace

Designing for human behavior and fostering innovation were the two key strategies for this workplace redesign. The design team aimed to inspire a return to the office not from necessity, but a genuine ...