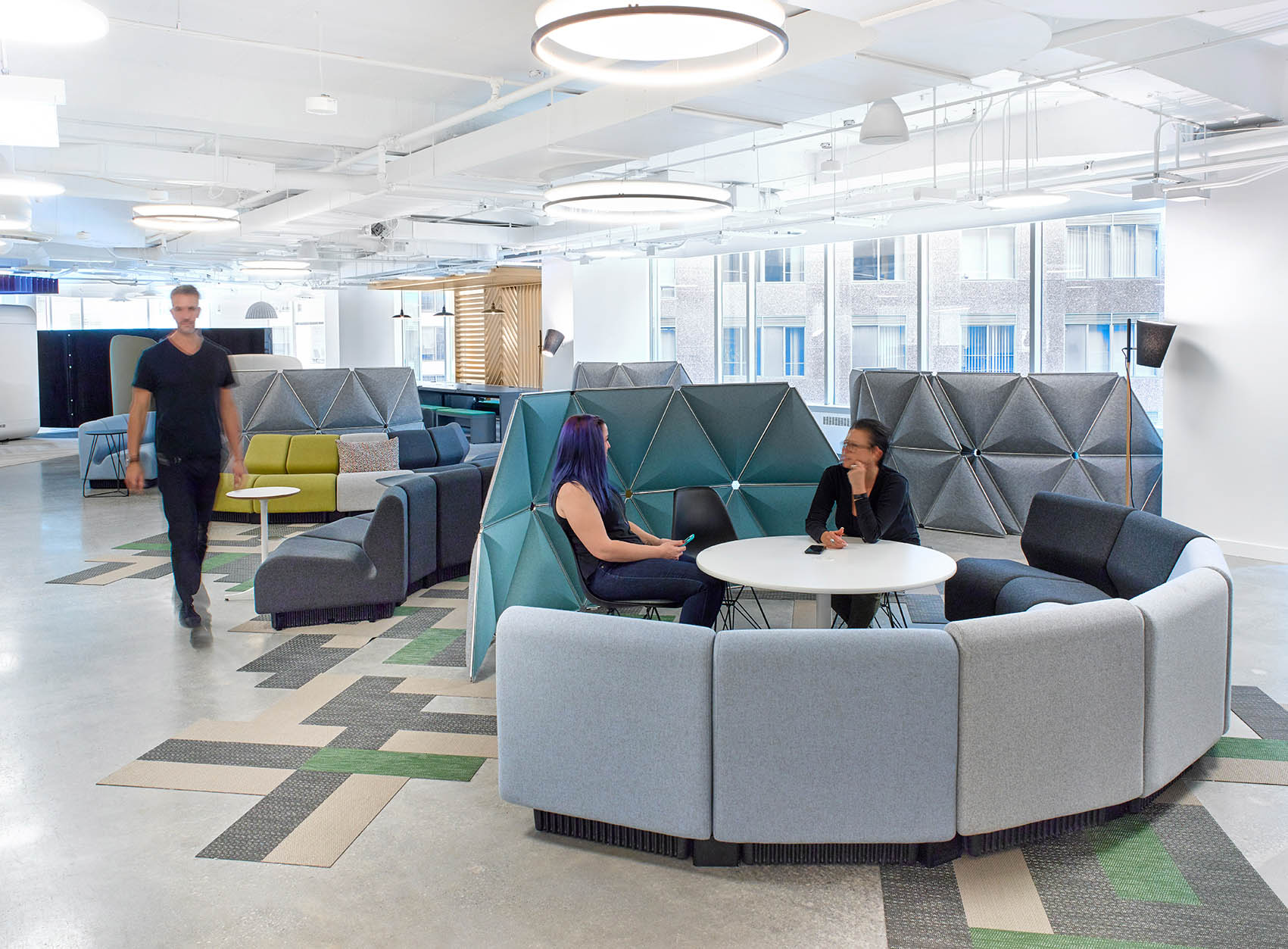 A city within a city design concept in this forward thinking digital marketing company
Having outgrown their four separate work spaces in the downtown core, Dentsu Aegis Network, a large international digital marketing communications company seized the opportunity to consolidate 16 independent advertising agencies into one central location. With this update they could also house their Canadian headquarters on five consecutive floors, over a total of 80,000 square feet of creative work space.
Interior Designer: Isabelle Talbot, ARIDO
Design Firm: Ray Inc.
Photographer: Vincent Lions
The design team was tasked with developing new standards that met the needs of mixed cultures and generations and had to think outside of the box to provide a variety of work styles to enhance flexibility, optimize space efficiency, and encourage socialization and collaboration between groups previously separated by proximity. So, they created a "city within a city" concept with a hospitality focus, essential in recruiting and retaining the best talent in the marketplace.
Open office neighbourhood inspired spaces such as 'apartments', 'cafes' and 'green space' are carried throughout all floors, allowing brands to move and expand with little disruption to the office. Individual work settings consist of focus rooms, phone booths, height –adjustable workstations, window high tops, and high back lounge chairs with views of the lake. A variety of large and small meeting rooms are both open and closed with sliding glass partitions, metal framed 'cabanas', and acoustically sound booths.
This office space provides choice with curated spaces for each individual. Employees log on to the booking system to select their work space all while supporting their tech-savvy culture. The design of this space encourages opportunities for working away from a traditional desk and increased collaboration.
WELL initiatives of mindfulness and movement throughout the day are supported with an internal connecting staircase, nap pod, suspended tent cocoon alongside green mossy walls bringing biophilia into the workplace. Wellness rooms for nursing or meditation on all floors, energy efficient lighting, access to natural daylight and gender neutral washrooms further promote health, wellbeing, and inclusivity. Utilizing 50% of the floor plan for soft seating mimics the comforts of home and helps to drive a work-life balance for employees while offsetting long work hours.
This is a unique office space that focuses on the individual while serving collective goals, and promotes health and wellbeing for increased productivity and collaboration.
Related
ARIDO Award: The Hive

The first of its kind in Canada, this 3D printed masonry wall is the result of a collaboration between design professionals, students, and faculty at an Ontario university. Category: CRAFT Interior De ...

ARIDO Award: Spadina Workplace

Designing for human behavior and fostering innovation were the two key strategies for this workplace redesign. The design team aimed to inspire a return to the office not from necessity, but a genuine ...