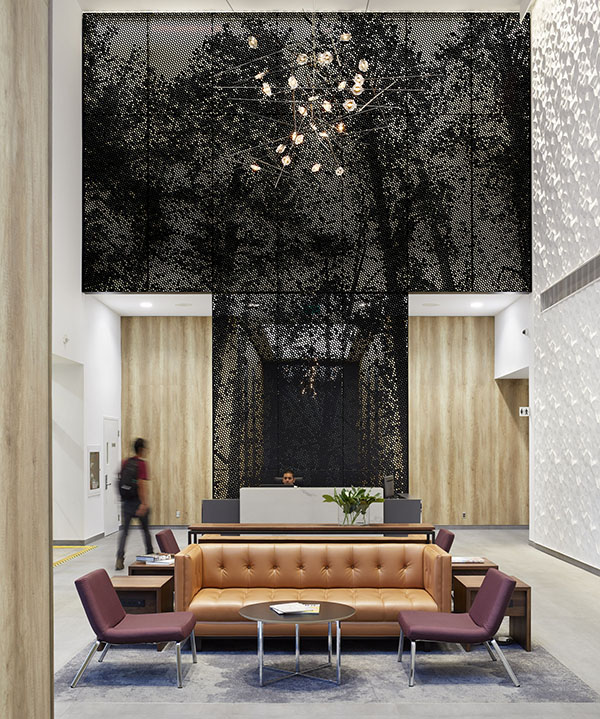 Contrasting design elements create a modern and memorable lobby
This 30 year old Toronto office tower lobby was a series of dark, awkward spaces lacking a clear flow of movement before the design team transformed it into a modern memorable space through a skillful reconfiguration of the architecture and the insertion of several statement-making elements. The furnishings and finish choices offer a timeless aesthetic that will ensure the space looks fresh for many years to come.
Interior Designer: Inger Bartlett, ARIDO
Design Firm: Bartlett & Associates
Photographer: Tom Arban
We were tasked with repositioning the building as a desirable location, attracting vibrant, youthful companies as new tenants and transforming the lobby from a utilitarian transition space into a tenant amenity. The design solution needed to enhance the functionality and accessibility of the lobby and bring a fresh, modern look to a 1980s office tower.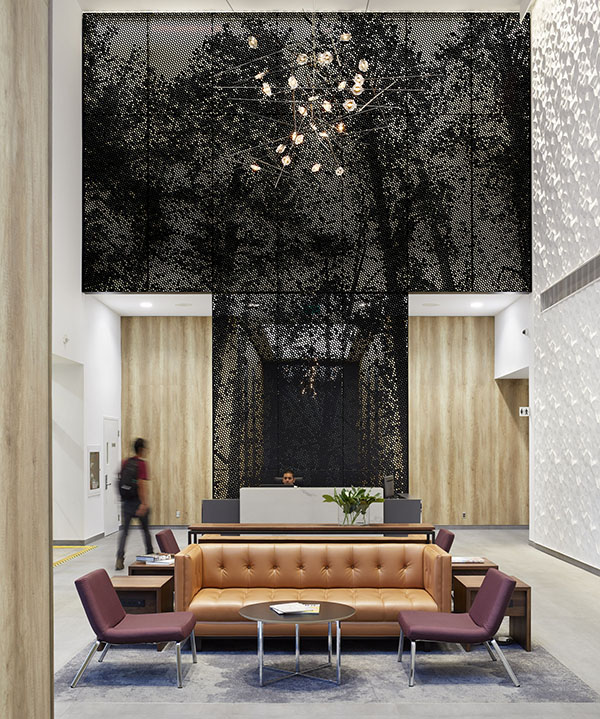 Upon entrance to the lobby interior, the wow factor of the towering screen combined with contrasting colours and textures create a sense of drama to stand out to prospective tenants.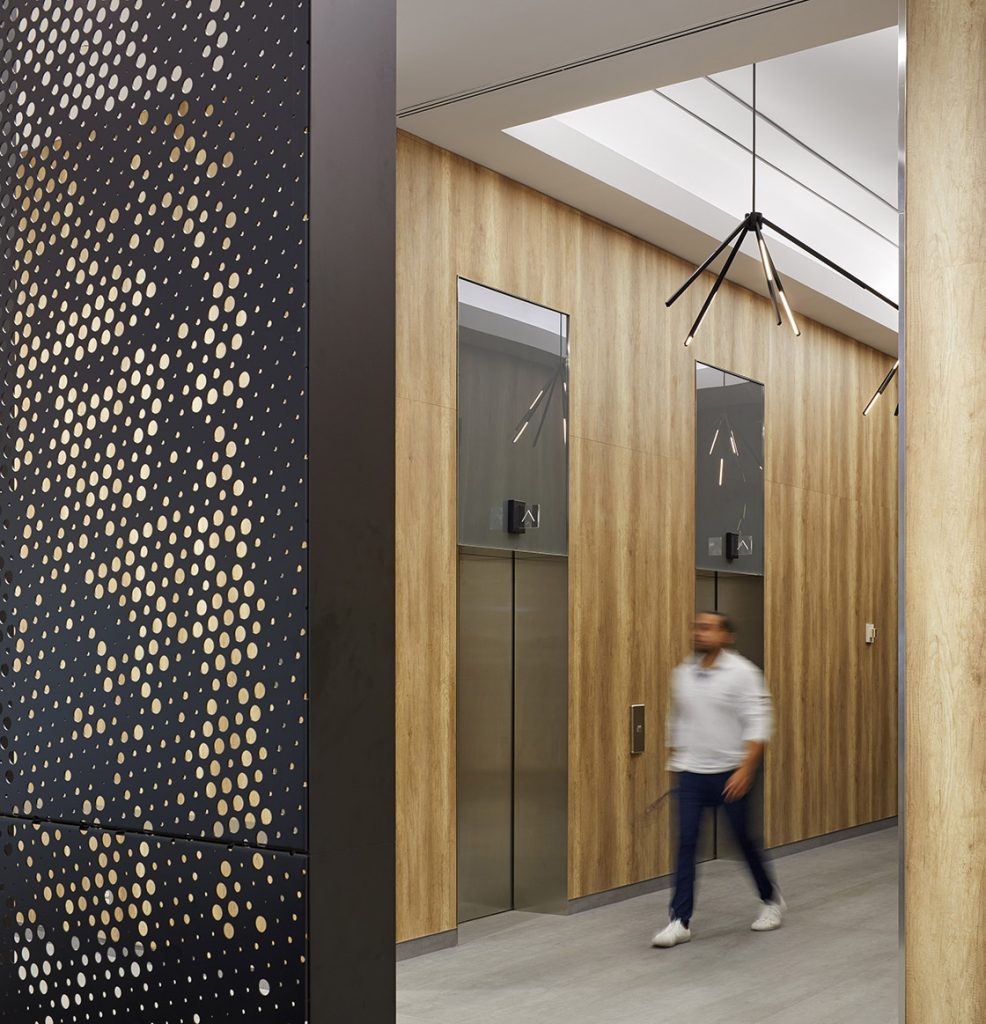 The custom perforated metal screen is a singular feature that instantly transforms the space. It's not just a great piece of art for the lobby, but it also functions as a visual marker drawing visitors in the right direction once they step inside. The lobby was formerly a series of awkward annexes with no clear path beyond the bulky reception desk which felt like a blockade. Drawing the eye upwards, the screen also establishes a new vertical axis and emphasizes the 30 foot ceilings.
A dynamic art piece, an anchor for the desk, and an acoustic intervention, the screen also defines the elevator bay and masks a bulkhead wall above. The sleek black coating is contrasted by an adjacent textured white wall, its three-dimensional surface capturing light and shadow in a manner that evokes a rippling body of water.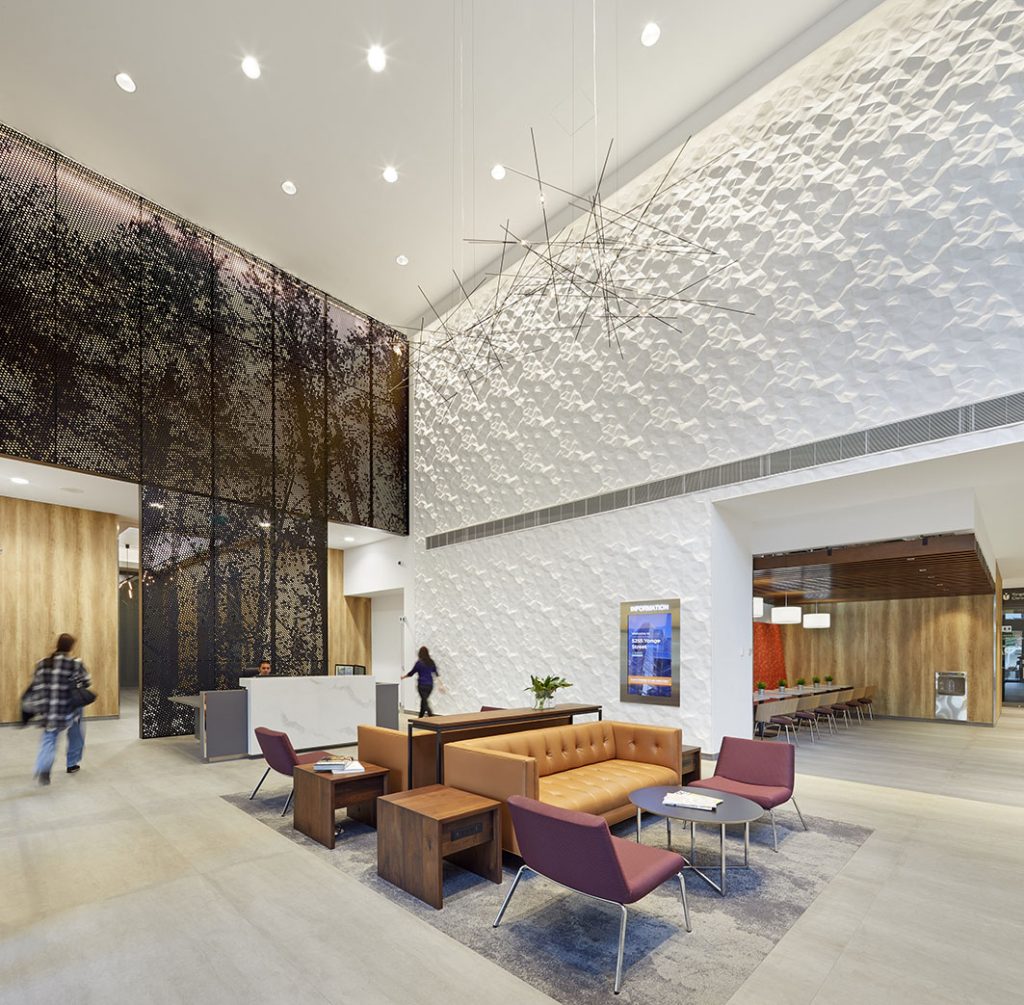 The calming biophilic references continue with the flooring, which includes visually textured carpet and ceramic slabs in stony greys. Marble-like tiles were chosen for their scale – their vast three-by-nine-foot span makes the lobby feel larger.
An injection of colour is finally added in the public café, a cozy space created by opening up an unused storage room. Defined by a high-back banquette in striking red upholstery, it's an ideal space for tenants to eat lunch, or hold impromptu meetings. The café is crowned by a series of walnut slats that serve both to enhance acoustics and to hide mechanical systems.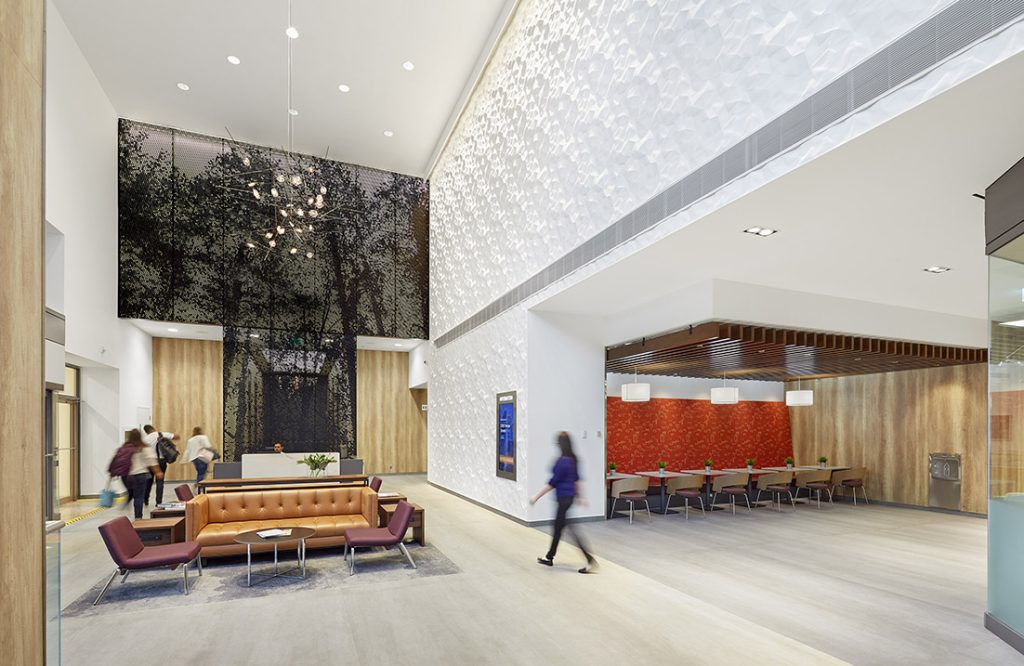 At the center of the main lobby space are two smartly tailored back-to-back lounge areas, introducing a vibe that feels more akin to a hospitality setting than an office tower. An amenity for visitors and employees alike, the lobby is more than just a transition area, it's a flexible space that supports a range of activities, from quiet breaks to company events, that is also completely barrier free and accessible.
Related
ARIDO Award: The Hive

The first of its kind in Canada, this 3D printed masonry wall is the result of a collaboration between design professionals, students, and faculty at an Ontario university. Category: CRAFT Interior De ...

ARIDO Award: Spadina Workplace

Designing for human behavior and fostering innovation were the two key strategies for this workplace redesign. The design team aimed to inspire a return to the office not from necessity, but a genuine ...