Luxury lives in this high-end condo presentation center
Formerly a retail space, this boutique style presentation centre for a church conversion connecting a new four-storey condominium in Toronto's High Park neighbourhood, was envisioned to communicate a luxury lifestyle. The design team's primary approach was to focus on creating well-appointed vignettes that reflected the building's final look, while also creating a special experience for potential purchasers.
Interior Designers: Kelly Cray, ARIDO; Neil Jonsohn, ARIDO
Design Firm: U31
Photographer: Jac Jacobson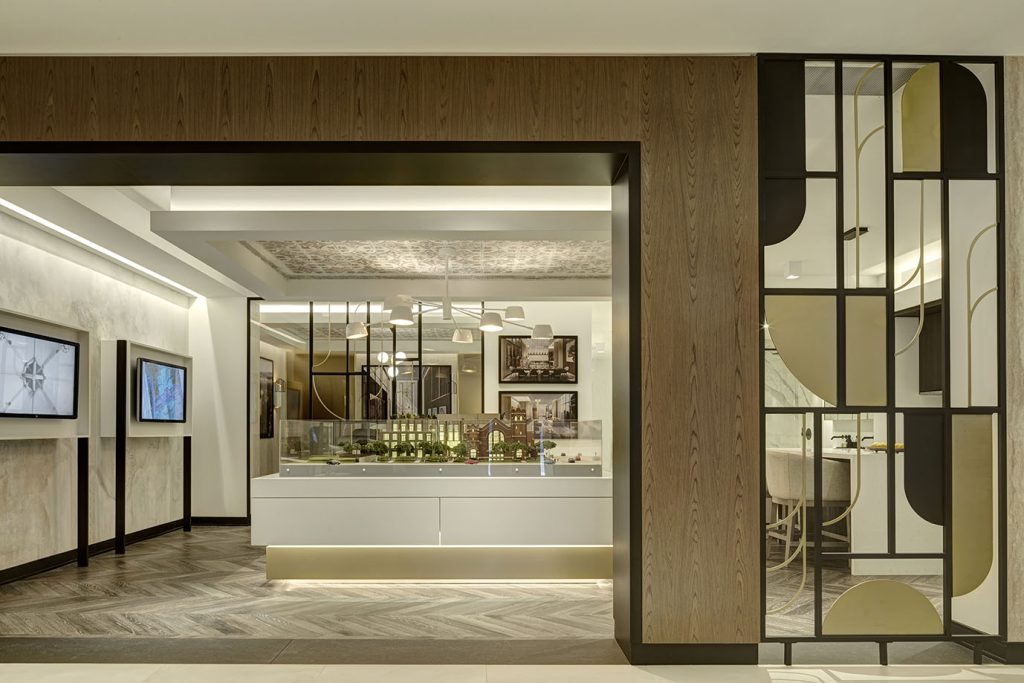 As the client was a new player in the condominium market, it was important to establish a highly credible sales story for potential purchasers. The design team's key strategy was to use high quality materials and elements and setting up a well crafted, high end experience.
The open concept kitchen, bath and living-room vignettes offer a glimpse of the residences' quality finishes: layers of light travertine, marble, lacquer surrounds, and quartz countertops combine with contemporary matte black fixtures and gold accents.
Inspiration was drawn from the century old 'High Park Alhambra' church's Neo Gothic architecture, as well as from a contemporary sensibility. As such, classically inspired details like the artist-crafted mural spanning a longwall and the ceiling treatment of repurposed white washed tin tiles blend effortlessly with streamlined cabinetry and furniture forms.
Transitions between each zone of this presentation centre are fashioned in custom Deco-inspired metal screens, abstractly referencing the development's branding logo, and helping to define reception and sales areas.
Upon arrival, visitors encounter well executed craftsmanship in the reception area and throughout. The luxurious style is evident all around this presentation centre; from the high-end bathroom design featuring marble-like porcelain feature walls and high end fixtures, to the modern, streamlined kitchen, reassuring the purchaser of the upgraded options awaiting them.
The closing office, used for private sales negotiations, is a dining room setting, keeping up with the inviting residential feel. The challenging low ceilings in this interior were remedied by introducing lower surrounds in key areas to give the illusion of a higher overall ceiling height. The layout facilitates an impactful and personalized experience at a crucial point in the home building process and the cozy fireplace and comfortable seating encourages visitors to feel 'at home'.
Related
ARIDO Award: York Condos

York Condos is a three-building complex in Markham, Ontario. The buildings line an above-grade parking structure crowned by an extensive landscape and amenity terrace providing a shared community spac ...

ARIDO Award: 411 Church (Amenity Spaces)

411 Church is the first residential condo building signaling a major shift taking place on Church St. in downtown Toronto. Figure3 captured the unique dynamism and modern luxury desired by the movers, ...

 ARIDO Award: Trailside Presentation Centre

Located in the beautiful Town of Oakville, Distrikt Trailside was designed to create an elevated lifestyle imbued with fine dining, world-class shopping, lush surroundings and luxury living. To provid ...