A design that wakes up the senses
The design strategy for this franchise bubble tea takeout counter was to create an outstanding, creative, and aesthetic storefront and interior within 800 square foot space in a high end Toronto shopping mall. The space was designed to be congruent with other elegant establishments, customer expectations, and also to have an eye-catching facade.
Interior Designer: Peter Yip, ARIDO
Design Firm: TED Design International
Photographer: Eric Lau
The interior design team's approach was to design a bubble tea shop that is both functional and inviting, supporting an intimate tea culture as well as a tasty experience. The mood within the interior is meant to be controlled through precise programmable lighting design.
The designers integrated architectural forms of square and rectangular shapes containing large branded images in varying sizes to create visual interest  through the flowing rhythm of these elements.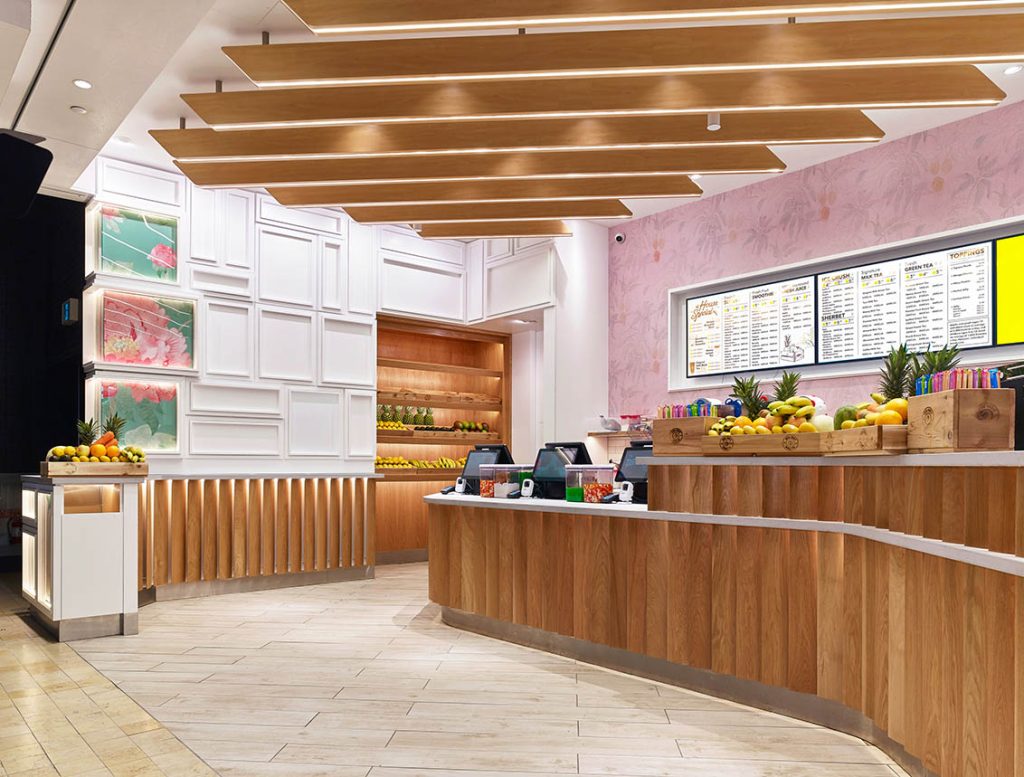 As part of the overall design solution, materials throughout this shop interior and storefront were selected to invoke the feeling of luxury. A simple and natural color palette underscores the company's product, and contrasts with the vibrant colours of fresh fruits.
Individually lit white stained wooden boxes with Asian inspired graphics dress up the storefront and are designed to stand out. Seen from afar, the brightly illuminated storefront becomes a beacon for the fatigued shopper to take a moment with a refreshing fruit drink.
Customer flow is subtly directed by the natural wood planks which float overhead. Brightly lit by LEDs, the diagonal direction of the planks directs customers right to the counter where they place their order.
A wide working counter allows for customers to queue comfortably and to watch their drink being made. By cutting away a section of the store's wall, passersby have a better view of the entire shop and staff at work.
Related